Kitchen appliances are some of the most basic purchases lots of households make. This is why it shouldn't come as a surprise that there are tons of brands offering air fryers nowadays.
But as name recall doesn't always guarantee quality, you might also want to consider less popular manufacturers.
This Rosewill Air Fryer review will help you know more about this relatively fresh brand. So in case you don't want to spend so much for brand names, you have a nice alternative to turn to.
Top 2 Rosewill Air fryer Reviews 2021 – Comparisons and Top Picks:
| Rankings | 1st Choice | 2nd Choice |
| --- | --- | --- |
| Top-Rated Rosewill Air Fryers 2020 | | |
| Name | Rosewill RHAF-15004 Black 1400W Multifunction Electric Air Fryer | Rosewill 8-in-1 1500 Watt 2.5 Liter Low-Fat Healthy Air Fryer |
| Brand | ROSEWILL | ROSEWILL |
| Color | Black | Black |
| Rating | Excellent | Excellent |
| Dimensions | 16 x 14 x 13.8 inches | 16 x 14 x 13 inches |
| Weight | 12 pounds | 6 pounds |
| Material Type | Plastic | Plastic |
| Get Started | | |
Top 2 Rosewill Air Fryer Review 2020 – Our Best Picks:
Ready to shop? Here are two Rosewill Air Fryers that might help you make a choice.
Rosewill RHAF-15004 Black 1400W Multifunction Electric Air Fryer Review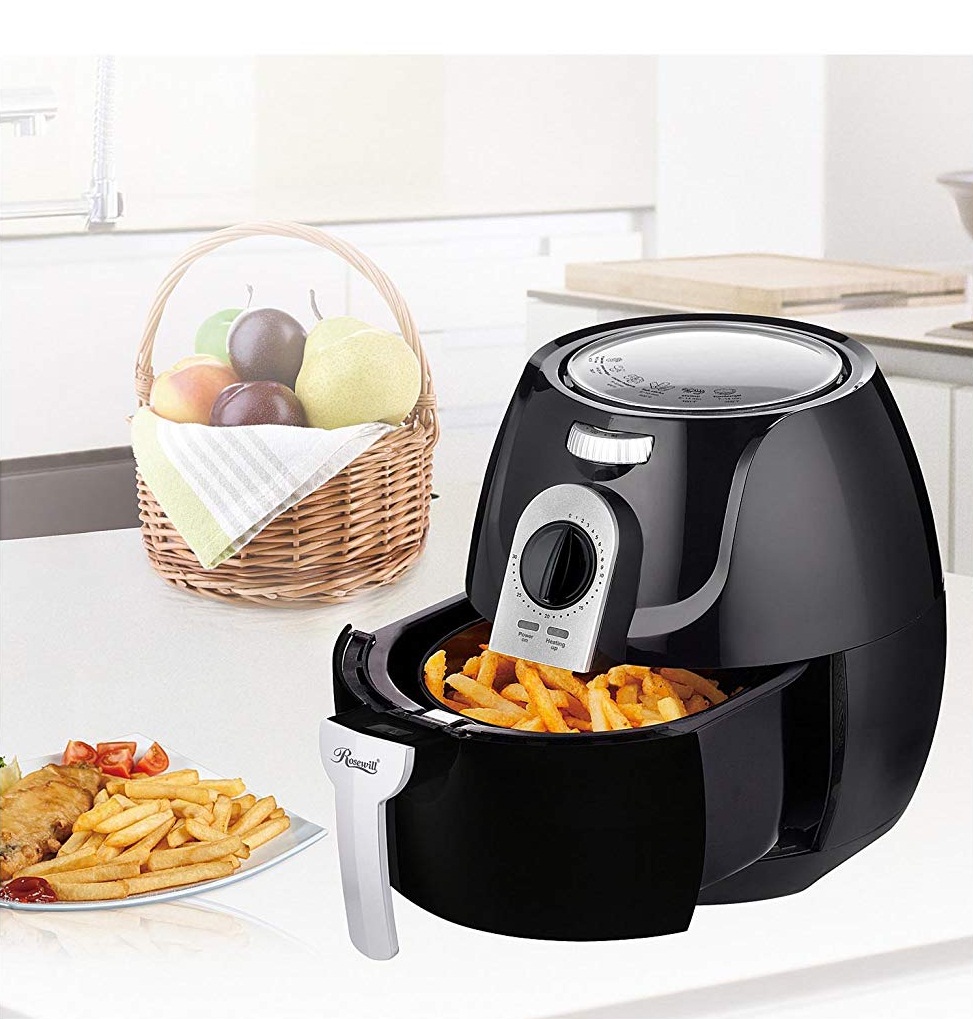 The Rosewill RHAF-15004 is one of the best-reviewed budget-friendly air fryers available today. Despite its low price, it was able to wow users of its quality and top-notch performance.
As one of the latest models of Rosewill air fryers, this product also has a notably traditional design.
It looks a lot like the more expensive air fryer models in the market today with its sleek curves and modern styling. This gives it a distinctive air fryer look and even helps it look more expensive.
To learn more about this product, here's a list of its key features:
3.3 Qt Capacity
When cooking, you always need to choose the right equipment size for efficiency. This is why the RHAF-15004 3.3-quart cooking capacity is a solid choice for lots of homes. It's just the right size for a household with a couple of kids or for homes who love having a few friends over for dinner.
You can already serve a nice dish to satisfy the hunger of up to 6 people with this air fryer's capacity.
However, due to the cooking basket's size, it might take up a good amount of space on your kitchen counter. If you have limited room at home, you might also want to consider this detail.
Manual Dials
Another major draw of this product is its simplicity. Equipped with manual dials, selecting the settings you need is just as easy as a single turn of the knob. While digital features are all the rage today, practical homeowners may not find them essential as manual dials can also easily be as effective.
This unit comes with two control knobs, one for temperature control and the other serves as a timer. You can set the cooking temperature from 170 to 400 F and set the timer for up to 30 minutes, offering ease of operation and efficiency in cooking various dishes.
Advanced Air Circulation Technology
What makes the Rosewill Air Fryer work is this very feature. This creates the hot air and circulates it at top speed so every piece of ingredient is cooked thoroughly.
This key feature of Rosewill Air Fryer promises to cook your dishes with precision and fewer health risks. It may not be very unique, but for the price of the unit, it's already more than enough to help make any kitchen even more functional.
Timer Alarm
Another notable feature of the Rosewill RHAF-15004 air fryer is its timer alarm. While most air fryers are equipped with this feature, this one comes in really handy. Not only will it go off as soon as the timer runs out, but it will also keep on beeping until you take out the food basket.
Unfortunately, the beeping doesn't turn the cooking off, so you will really have to take out the food right away if you don't want it to get overcooked.
However, it's still nice that there's an insistent reminder that your food is ready so you won't just forget about it and end up with burnt food.
Dishwasher Safe Parts
Cleanups are some of the worst parts of cooking. It's messy and can get quite complicated if the food gets stuck into some tight spaces. If this is the very thing that's stopping you from getting an air fryer, fret not.
The Rosewill RHAF-15004 actually has dishwasher safe parts, so all you have to do is rinse the dregs and oil out of the food basket, place it on the top shelf of your dishwasher, and you're good to go.
[su_row][su_column size="1/2″][su_list icon="icon: check" icon_color="#ef2d26″ class="posbox"]
Product Benefits
Indicator lights will tell you if it's powered up and in operation
Very easy to clean
Non-stick coating makes cooking fuss-free and with minimizes food wastage
Large cooking capacity
Effective and efficient cooking
Great price
Multifunctional as it can fry, grill, bake, and roast in a single unit
Simple interface makes it very easy to use
Makes tasty and juicy food
Helps you save money by using a little amount of oil
[/su_list][/su_column]
[su_column size="1/2″][su_list icon="icon: warning" icon_color="#ff0000″ class="negbox"]
The Negative Things
Doesn't come with auto shut off feature for when the timer runs out
Doesn't come with a cookbook
[/su_list][/su_column][/su_row]
Rosewill 8-in-1 1500 Watt 2.5 Liter Low-Fat Healthy Air Fryer Review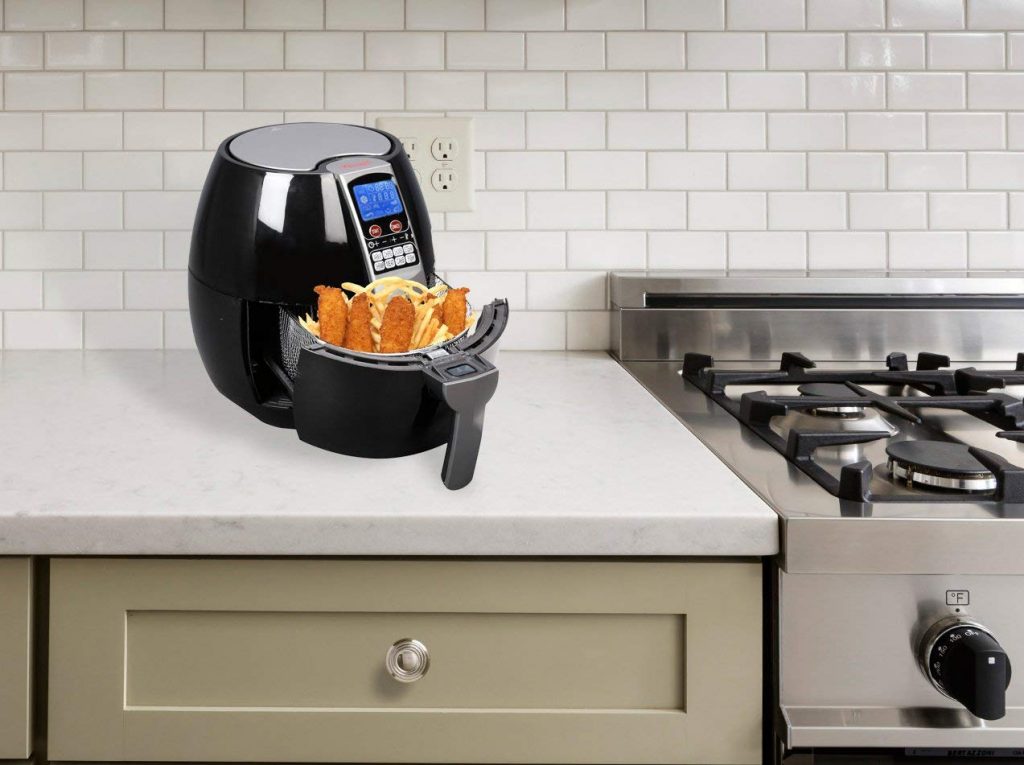 As most air fryers are very easy to work with, the biggest challenge in its use will be in knowing the right timer settings for different dishes.
Those who cook from scratch might find themselves stumped from time to time with how long they should set the timer for without a recipe to guide them.
With the Rosewill 8-in-1 RHAF-14001's presets, you won't have to worry about this dilemma ever again. This air fryer has pre-programmed settings for chicken, steak, chips, meat, shrimp, fish, and cake, making it even simpler for you to cook various dishes.
To learn more about this product, here's a quick rundown of its key features:
2.5 L Cooking Capacity
Smaller homes require smaller cookware and equipment, not just because you have fewer bellies to fill, but also because you probably have more limited space to work with. This is why the 2.5-liter size of the RHAF-14001 is also a big hit among consumers.
It's just right for most growing families and small households, ensuring efficiency and even proper portioning for just a few people.
8 Cooking Presets with Dedicated Buttons
The Rosewill RHAF-14001 is best known for its 8-in-1 design. This means that it has eight pre-programmed cooking modes that will make cooking a lot simpler.
If you're ever planning to cook chicken, steak, meat, chips, shrimp, or even cake, you won't have to fuss with the temperature and timer settings anymore. A single press will do and you can find yourself with some free time on your hands.
The best part about its design is each preset comes with a dedicated soft touch button. They're labeled properly as well, so you won't get confused or have a hard time finding which button to press.
Digital Interface
A good number of Rosewill Airfryer reviews also note that the digital interface on this unit very easy to work with. Again, the dedicated buttons for the presets help, but as there are also dedicated buttons for timer and temperature adjustment, you also won't have a hard time tweaking with its settings. Each is labeled clearly, too, so you can avoid getting confused.
Adjustable Temperature and Timer Settings
If you want to get the most out of your air fryer, it should have adjustable temperature and timer settings. As different dishes require various settings to get the best results, you should be able to select the heat level and cooking duration for what you're cooking, right?
True to this need, the Rosewill RHAF-14001 also comes with an easily adjustable timer and temperature settings. With the help of the product's digital interface and dedicated buttons for each function, you can create the perfect cooking condition with ease.
You can set the temperature from 170 to 400F and the timer for up to 30 minutes, which will already be more than enough to cook a wide range of dishes.
Advanced Air Circulation Technology
Being Rosewill's signature air frying mechanism, you can also expect the RHAF-14001 to have the Air Circulation Technology as its key feature. This guarantees that the unit has enough hot air and moves it around the cooking chamber quickly to effectively cook every ingredient inside.
It's easily comparable to other brand's air frying capabilities as this item can produce dishes that are just as tasty and enjoyable as the ones made with more expensive air fryers.
[su_row][su_column size="1/2″][su_list icon="icon: check" icon_color="#ef2d26″ class="posbox"]
Product Benefits
Cooking automatically stops when the cooking basket is removed from the unit
Completely adjustable settings give you freedom in how to cook your dishes
Digital interface is designed for the most effective and efficient operation
Makes healthy dishes with great ease
Large LCD display ensures precise setting selection
Fuss-free cooking
Good sized cooking basket that will suit most small households
Easy to clean
Excellent price
Modern look will complement contemporary homes
Can be operated with ease by inexperienced cooks
[/su_list][/su_column]
[su_column size="1/2″][su_list icon="icon: warning" icon_color="#ff0000″ class="negbox"]
The Negative Things
Requires shaking or turning to ensure even and thorough cooking
Basket fit issues can be a bit bothersome
[/su_list][/su_column][/su_row]
Getting to Know Rosewill Air Fryers:
You might be wondering, who are these Rosewill folks and are they any good?
Established by a group of expert e-tailers in 2004, Rosewill started out small. They first carried computer components and slowly expanded their range to consumer electronics. Today, they carry a wide range of products that are all aimed to put technology in your home.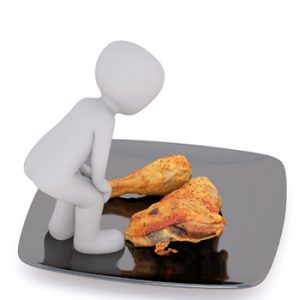 Launched in 2015, the Rosewill Air Fryers are celebrated additions to the company's product range. Due to its capacity to do more than just fry, it can help add more functionality to your kitchen. Like other air fryers in the market today, it can also bake, grill, and roast. Rosewill AirFryer review makes it a quick solution that can simplify your cooking tasks.
Today, Rosewill offers six air fryer models in their range. Each has something different to offer, giving you ample choices in finding the perfect match for your needs.
The best part about Rosewill Air Fryers, however, is its friendly price. So if you just want to take a multi-cooker out for a test run before committing, this can be a good pick. With its low price, you won't have to worry about having to cash out.
8 Health Benefits of Rosewill Air Fryer:
If you're wondering what the Rosewill Air Fryer has to offer, you might be glad to know that it can also offer everything that other more expensive air fryers can. In terms of health benefits, can even offer the following:
1. Healthier than Frying
The most important health benefit of using a Rosewill Air Fryer is that it will give you a cooking method that's healthier than frying. In one study that looked into whether air frying is truly a healthier cooking method than traditional frying, and results affirm the claims of air fryers. These cooking electronics aren't just full of hot air. Air fried food actually have less free fatty acids than traditionally fried food, making the former healthier than the latter.
2. Low-Fat Dishes
Since you won't be submerging your food in a lot of oil with the Rosewill Air Fryer, you can already be guaranteed that your dishes will have less fat than traditionally fried food. As lots of cooking oil varieties are good sources of LDL or "bad" cholesterol, fried food can increase your risks of cardiovascular disease, high blood pressure, and even obesity. Cutting down your oil consumption with an air fryer will lessen these health dangers.
3. Lower Calorie Consumption
Greasy foods are also known to be calorie-dense foods. This means that they have lots of calories despite their small size or portioning. This can be a problem as the more calories you consume, the more calories your body will store as fat unless you get to effectively burn them all.
This is the very reason why people gain weight, especially if they don't engage in heavy physical activities on a daily basis.
With an air fryer, however, you can minimize the calories you consume as you're already taking out a good amount of oil in the equation. Oil is also very calorie-rich, so by using less, you can also cut down your caloric consumption.
4. More Nutrients and Minerals Consumed
The amount and specific nutrient affected vary depending on the cooking method, but the fact remains that if you cook your food, you'll lose some nutrients in the process. Air frying tends to minimize what is lost, thanks to its use of hot air in cooking your food.
It's largely similar to baking, which pretty much keeps vitamins intact when cooking. So, if you're worried about not getting enough nutrients from your food, a Rosewill Air Fryer may just help you out.
5. Ease of Use
Before you can protest that this isn't exactly a health benefit, it has to be noted that the less frustrated you are with a purchase or anything at home, the less stressed you can be.
So, by helping out in minimizing your stressors, you get to be a bit healthier than those who are always worrying about how to cook dinner on time.
It may be a small thing, but if a Rosewill Air Fryer can improve the quality of your life, it definitely deserves to be listed as a health benefit.
6. Lessens Charring
If you love grilled foods, you won't think twice about devouring even the charred parts of the food. The burnt and metallic taste add to the grilled flavor, as some people say. However, they're also considered as carcinogens, as well as other chemicals produced in a high-heat grilling process, so you might want to tone it down with traditionally grilled foods.
By grilling on a Rosewill air fryer, however, you can also skip all of these hassles. As this cooking equipment uses hot air instead of actual flames to cook your food, it won't trigger the creation of the carcinogens in grilled foods.
7. Encourages Cooking from Scratch
With such an easy cooking method to take advantage of, you might easily feel inspired to use natural ingredients instead of pre-processed ones. As whole foods are always healthier options when it comes to dining, you can be sure to improve your diet by cooking from scratch.
8. Lets You Indulge in "Fried" Food Sans the Health Risks
Your relationship with food can also help your health in general. If you deprive yourself of fried food, especially if you love it, may have consequences for your well-being. This makes healthier alternatives like air fried foods excellent options to help you stay sane while trying to eat better.
Watch This Review:
Buying Guide – What to Look for in Rosewill Air Fryer?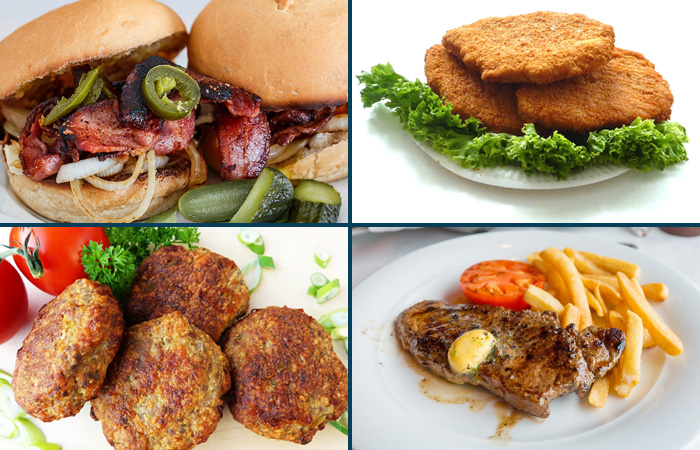 Now that you have a good idea about what Rosewill can offer with its air fryers, you might still want a few tips for a foolproof shopping experience. To help you with that, here are five non-negotiables that you should always look for in a Rosewill Air Fryer:
Suitable Size for Your Household
One of the first things you should always check in any cooking equipment is whether it can be big enough to cook for your entire family. Of course, you will also need smaller ones from time to time, but when it comes to air fryers, you'd want it to be capable of cooking enough servings for the whole family. This will make it an even more efficient appliance to have in your kitchen.
Ease of Operation
The biggest charm of air fryers is that they make cooking simple and easy. Cooking with it should be as simple as loading all the food into the cooking basket and pressing a few buttons. If it gets any harder than that, then you should look at the other air fryers in your list.
Luckily, the Rosewill air fryers are perfectly simple to operate, so this shouldn't be an issue if you're eyeing this particular brand.
Positive Review of Rosewill Air Fryer
Lots of people are not too fond of doing a lot of research before buying anything because it's time-consuming. However, if you're buying a budget product, doing this should be a must for you. While you won't be spending a lot of cash on what you intend to buy, finding a high-quality product will give you better value for your money.
As Rosewill air fryers are considered budget consumer appliances, you might want to be thorough in deciding which unit to get and where to get it. This way, you can be absolutely certain that it will be a good pick for your needs.
Safety Features
Thanks to their design, air fryers tend to be safer to use than other cooking electronics. The high temperature is contained within the unit, so you won't easily get burnt. There also won't be a lot of hot oil that can spill or splatter.
However, things can still go awry and cause injuries. To avoid all of these, opting for a product with a good set of safety features is a must. Rosewill air fryers have a few essential safety features like auto shut off, timer alarm, cool touch handles, and even double protection circuits.
Various Fryer Settings
Having a few different fryer settings will also come in handy in an air fryer. These will make the unit a lot easier to use and boost the functionality of your kitchen. If you want to go all out, you can also opt for those with pre-sets. You might just have to pay a bit more for pre-programmed settings, though, as they're considered as premium features.
As the two Rosewill Air Fryer reviews above demonstrates, this brand got you covered in terms of fryer settings. You can take a pick among their selection and you don't have to worry about missing out on handy features.
Final Verdict
Despite being a relatively new range, the Rosewill air fryers can still be a great choice if you're in the market for a budget unit. These products can perform nearly just as good as the leading names in the industry but at a fraction of the price, making them such great steals.
They will also help you whip up healthier dishes without sacrificing the taste the same way its more expensive rivals can.
Hopefully, the Rosewill review in this article helps you decide whether the brand is a perfect fit for you. It's a solid brand if you don't want to spend too much on a new cooking equipment but will still hold up well with regular use. Give it a shot and surprise yourself with just how beneficial it can be.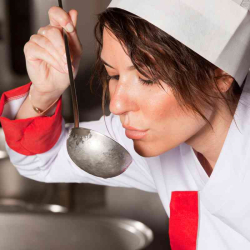 Latest posts by June Brandt
(see all)