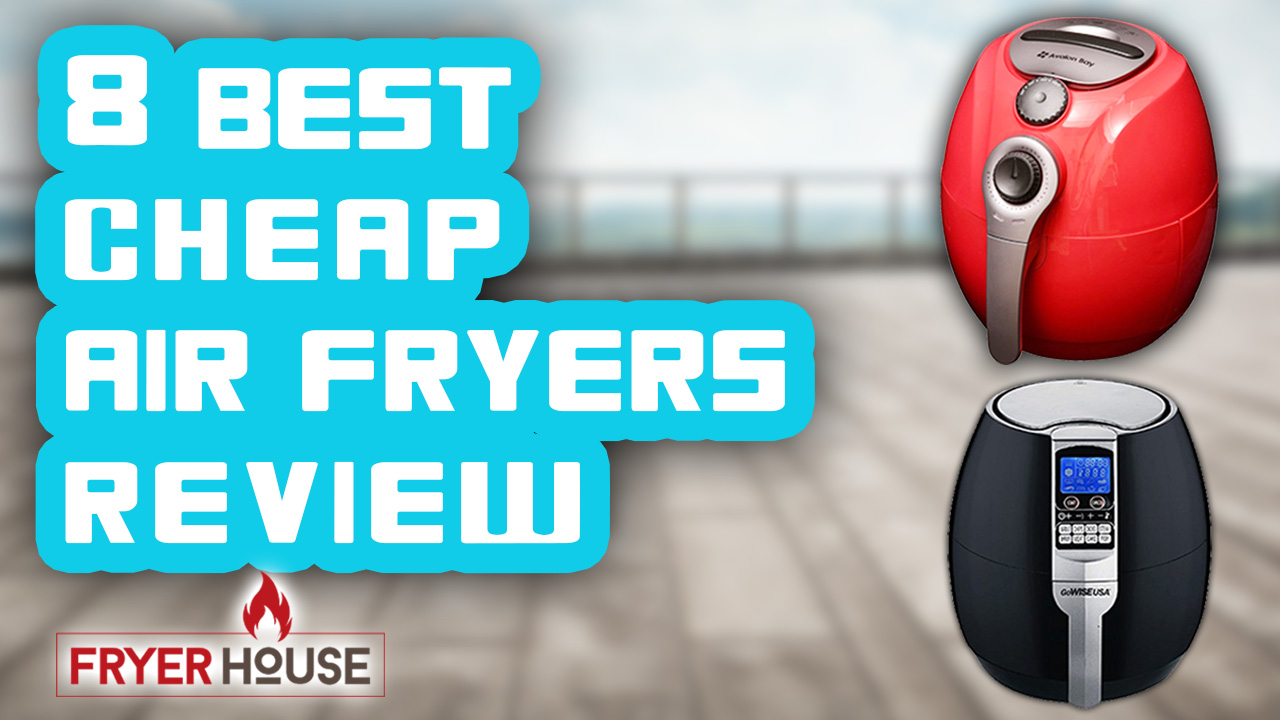 It's understandable if you're looking for the best cheap air fryer you can find. An air fryer is an excellent cooking appliance. It produces tasty food quickly and without fuss, by just turning a couple of dials or by pushing a button.
What's more, an air fryer uses very little cooking oil and in some cases no oil at all. This bodes well for your cholesterol levels and your weight, since the fats in cooking oil increase bad cholesterol and add a lot of calories.
If only they weren't so darn expensive!
When Philips first launched the air fryer way back in 2010, it was immediately hailed as a breakthrough. After all, diets all over the world were concerned about cholesterol and obesity. Cardiovascular issues were very common, and more than 2/3 of the adult population weighed in over their proper weight.
The air fryer's minimal use of cooking was regarded as a better and healthier alternative to traditional frying. You still get that "crunchy on the outside, tender on the inside" taste. In a landscape peppered with diets that revolved around tasteless (or even vile-tasting) "healthy" food, the emergence of the air fryer was a welcome relief.
The problem was that buying an air fryer wasn't for everyone, because not everyone could afford the price. The solution was time—after several years, competitors have found ways to design air fryers with similar features for much lower prices.
Of course, not every
air fryer with a lower price
is a good buy. In many cases, the cheap price reflects the cheap quality of the product. But there are exceptions to this rule, and we can help you identify these air fryers with the biggest bang for your buck.
Top 5 Cheap Air Fryers 2021 – Comparisons and Reviews
| Rankings | 1st Choice | 2nd Choice | Best Overall | 4th Choice | 5th Choice |
| --- | --- | --- | --- | --- | --- |
| Top-Rated Cheap Air Fryers 2020 | | | | |   |
| Brand | GoWise USA | NuWave | Avalon Bay | Della | Rosewill |
| Name | GoWISE USA 8-in-1. Electric Air Fryer | NuWave 36001 Brio Air Fryer | Avalon Bay AirFryer with Bonus Baking Set and Recipe Book | Della Electric Air Fryer | Rosewill RHAF-15004 Black 1400W Multifunction Electric Air Fryer |
| Color | White/Black | Black | Black | Red | Black |
| Rating | Excellent | Excellent | Excellent | Excellent | Very Good |
| Dimensions | 9.5 x 12 x 9 inches | 11 x 8 x 13 inches | 14.3 x 12.8 x 12.5 inches | 14 x 14 x 16 inches | 16 x 14 x 13.8 inches |
| Weight | 12 pounds | 8 pounds | 10.8 pounds | 13 pounds | 12 pounds |
| Material Type | Plastic | Plastic | Plastic/ Aluminum | Plastic | Plastic |
| Get Started | | | | | |
Our Picks of 8 Best Cheap Air Fryers:
So which of the cheap air fryers available today offer premium features and high quality? Here are some of the leading candidates:
Avalon Bay AirFryer with Bonus Baking Set and Recipe Book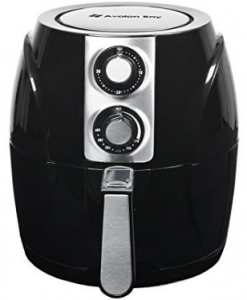 Avalon Bay AirFryer with Bonus Baking Set and Recipe Book, 2.65 Quart Capacity
This Avalon Bay air fryer is the smallest in the brand's lineup, and it's designed for singles and couples. This uses dials that lets you adjust the temperature and the timer. It's simple and it works.
Features:
The temperature range goes all the way to 400 degrees.
The 30-minute timer switches to standby mode automatically.
The purchase includes a metal roasting rack, a baking dish, and a detachable metal mesh food basket.
It features feet with a nonslip grip.
GoWISE USA 8-in-1. Electric Air Fryer Digital Programmable Cooking Settings
Did you think that affordable air fryers all had manual dials for controls? You'll have to reconsider that when you see this cheap air fryer that offers digital controls. Nowadays, even high-tech features don't have to be expensive.
Features:
The screen shows a display for the timer and the temperature.
You can just push the "+" and "-" buttons to adjust the timer and the temperature.
There are also 8 other buttons for preset modes: warm-up, shrimp, chip, meat, chicken, cake, steak, and fish.
The 3.7-quart food capacity can offer enough snacks for a group of people.
The pan and the basket are removable, so you can just clean them in the dishwasher.
The air fryer shuts off automatically when the timer goes off or when you take out the pan to stir or serve the food.
NuWave 36001 Brio Air Fryer
Here's another affordable air fryer than compares well with competitors that cost at least twice as much. Its features are very similar to more expensive models, and it's also known for its durability.
Features:
This comes with a 3.5-quart food capacity.
The controls are digital with an LED screen.
The temperature range can go from 100 to 390 degrees. You don't need to push the button too often to increase the temperature, since each push results in a 5-degree incremental change.
It has an automatic preheat feature so you can start the timer when it's at the right temperature.
It automatically shuts down when the food basket is taken off.
The drawer and food basket are easy to clean, as they feature nonstick coating and they're detachable so you can wash them in the dishwasher.
GoWISE USA GW22622 2nd Generation Electric Air Fryer
Some people don't like the fuss of digital controls, and these people tend to appreciate the design of this GoWISE air fryer. Here you have a dial that you turn to set the temperature and another dial for the timer. It's a simple setup for no-fuss air frying.
Features:
It's very compact and lightweight, so it's very portable. It even comes with a handle to make it easy to carry.
It has a light notifying you when the air fryer is ready because it has reached the temperature you want.
It has an automatic standby mode when the 30-minute timer goes off.
It's ETL-certified, which means it complies with North American product safety standards.
Della Electric Air Fryer
When you're looking for an air fryer, you really only need the basic features. That's a food chamber with enough food capacity and setting controls that are easy to use.
As long as the heating elements and the fan work as intended, you're all set. This makes the Della more than good enough, and it's very affordable too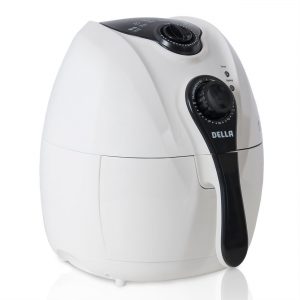 Features:
This uses simple dials to set the temperature and the timer.
It features a light to indicate that's it's turned on, and another light tells you when it's heating.
It automatically turns to standby mode once the tier goes off.
You have a 2.8-quart capacity for the mesh basket. For the fryer pan, it is 4.4 quarts.
The basket is detachable for easy cleanup.
It's quite portable as it is compact and lightweight.
There's a protective plastic cover on the food basket.
The release button keeps you from dropping the food basket holder accidentally.
GoWISE USA 2.75-Quart Digital Air Fryer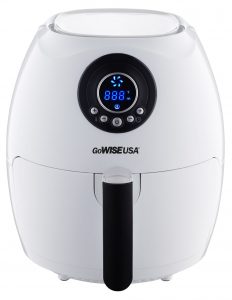 Here's another GoWise air fryer that's a credit to the brand. It has a 3.2-quart food capacity, with dimensions at 9.5 by 12 by 9 inches, and a weight of 12 pounds.
Features:
It has 8 presets, so all you need to do is to push a single button to cook the type of food you're putting in. This preset automatically sets the right timer and temperature setting.
The digital controls also allow you to manually set the timer and the temperature.
The handsome digital display shows you the temperature setting and the time left on the timer.
It's ETL-certified.
The basket and pan are removable for convenient dishwasher cleanup.
Rosewill RHAF-15004 Black 1400W Multifunction Electric Air Fryer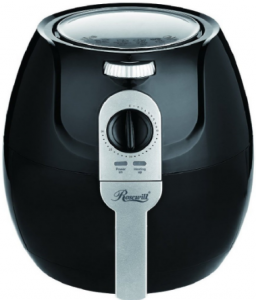 While the Rosewill brand does offer air fryers with digital controls, for greater savings you may want to stick with dials. These dials aren't just familiar and easy to control, but they do tend to break down less often.
Features:
It offers a 3.3-quart food capacity.
The temperature ranges from 170 to 400 degrees.
It has non-stick coating for easier cleanup.
The cleanup is also easier since you can just out the detachable frying tray and basket into the dishwasher.
It uses a unique "starfish" design on the bottom so the air circulates more evenly all over the food.
The results are very tasty, with the perfect crispy and moist goodness you get from frying food the right way.
VonShef 2.3QT (2.2L) Air Fryer 1230W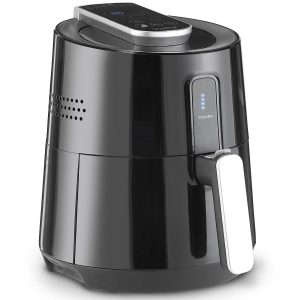 If you're living alone in a small apartment or a dorm, you don't really need a large (and consequently expensive) air fryer. A small one will do, especially if it has more advanced features. This VonShef fits all these requirements.
Features:
With its dials, it's easy to use.
The temperature can be adjusted up to 400 degrees.
The timer also reaches up to 60 minutes, so you can use this for longer cooking.
It has automatic shutoff when the timer goes off.
The frying basket is detachable and dishwasher-safe.
It's portable too, and it comes with a handle already.
Where Can I Buy a Cheap Air Fryer?
Most people are used to going to discount chain stores to find bargains in consumer electronics, and they remain popular destinations of you're looking for the cheap air fryers. Lots of these air flyers come with huge discounts, though they may be old stock.
The problem with these stores, however, is that you're quite limited in the brands you can choose from. Shelf space is limited, so the store can't really stock too many brands.
The obvious solution for this problem is to just go online. All you need is Google search and a reputable online store and you're all set.
You can find just about any brand of air fryer that delivers to your location. It's also easy enough to go through several sites to find the ones that offer the lowest prices. Since there are no overhead costs, prices online also are generally lower than what you see in appliance stores.
6 Reasons for Choosing a Good Cheap Air Fryer:
For many people, especially those who earn minimum wage, a cheap air fryer is the only type of air fryer they can afford. The problem with minimum wages is that sometimes have much lower minimum wages than other states. Yet online prices are the same regardless of which state you live in.
It just makes sense, since there's no good reason to pay more if the features are the same. In fact, it's a basic rule that consumers should never pay more than they have to.
It feels good when it seems like you get a good deal. Even rich people enjoy discounts. The psychological boost can make you giddy, when you feel that for once you had the advantage in a transaction.
Since you save on the cost of the air fryer, you have more money for food. You get more chicken, more fries, and even more veggies.
Cheap air fryers also encourages you to try new brands, because you don't risk as much money. If you end up with a clunker, at least you're only out a few bucks instead of losing a fortune. Many new brands offer lower prices just to entice customers, and it may turn out that these brands actually offer surprisingly high quality items.
You're also able to buy a new air fryer more frequently, so you can enjoy new technological advances in the industry. It's much harder to buy a new air fryer every year if it costs several hundred dollars.
Buying Guide – How to Choose the Best cheap Air Fryer:

Obviously you need to check the price if you have a limited budget for an air fryer. But that shouldn't be the only factor you have to consider:
Food capacity
You can make do with a smaller food capacity if you're cooking for just yourself, but you need a bigger one for more people.
Unit dimensions
You have to make sure you have the countertop and storage space for your air fryer.
Features
It should have the features you want, such as digital or dial control.
Looks
If you're leaving it on your countertop, it ought to look good.
Reliability
Just because an air fryer is cheap doesn't mean you have to settle for one that breaks down quickly.
Final Verdict
Any of these air fryers on our list offer excellent value for your money. None costs more than $90, which is a huge relief when you consider that some air fryers cost more than $300! Yet they also work well, with easy to use controls and simple cleanup.
If you're still unclear as to which you should choose, you should just go and try the GoWISE 8-in-1. The brand has a good reputation for quality, and it's extremely easy to use. You just need to push a button and you're good to go. That's hard to beat when you're looking for the best cheap air fryer.