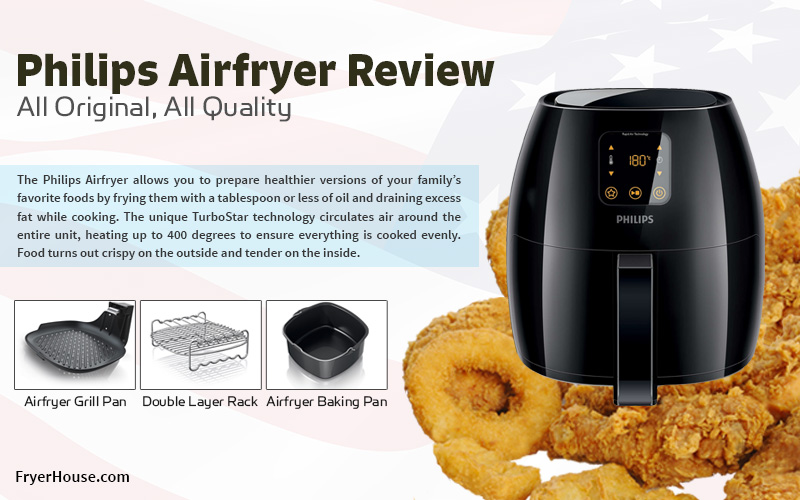 People have been cooking with hot air for years when air fryers came along. We've been baking, roasting, and turbo broiling for decades, so the technology behind air fryers didn't come as a surprise.
However, presented in a new format, some folks are more skeptical about whether they need another cooking equipment that uses hot air in their kitchen. In this Philips Airfryer review, we intend to look into that and a whole lot more.
Touted as the original air fryer in the market, the Philips Airfryers made a splash in the consumer electronics industry when it was introduced in 2010. The idea that a relatively small, countertop appliance can "deep fry" without using lots of oil baffled many.
It offered a healthier alternative to greasy foods. It also presented an easier method to fry foods. For lots of people, it sounded like it's too good to be true.
The great thing is, it isn't. Upon closer inspection and testing, the first thing that you'll learn about it is the fact that the food it offers isn't traditionally fried.
They're still very crispy and crunchy but they're also moist and tender inside. They're practically baked but with the technique used, they're also something else: air fried.
Air fryers
did provide a simpler alternative to traditional frying, so people got interested. It also offered an easier method to using an oven. While it doesn't really produce traditionally fried foods, it still gives people the chance to gorge on crunchy and crispy food without the guilt and health risks.
It also doesn't hurt that a celebrity chef helped introduce it to the public. With Gordon Ramsay being the brand ambassador of Philips Airfryers, the product was able to earn credibility. Its usefulness was even affirmed when Ramsay described the nifty appliance to be similar to having a sous chef that "doesn't talk back."
Being the first brand to offer the technology, Philips Airfryers definitely deserve to be considered if you're already thinking of getting an air fryer.
It has lots more to offer, though, so if you're still not sure whether it can be a great match for you, make sure to read this Philips Air fryer review and guide all the way through.
Top 5 Philips Airfryer Reviews 2021 – Comparisons and Reviews
| Rankings | 1st Choice | 2nd Choice | Best Overall | 4th Choice | 5th Choice |
| --- | --- | --- | --- | --- | --- |
| Top-Rated Air Fryers 2020 | | | | | |
| Name | Philips Airfryer XL HD9240 | Philips Airfryer HD9220/26 | Philips Airfryer HD9220 | Philips Airfryer Avance | Philips Airfryer HD9230/26 |
| Brand | PHILIPS | PHILIPS | PHILIPS | PHILIPS | PHILIPS |
| Color | Black/White | Black | Black/White | Black | Black/White |
| Rating | Excellent | Excellent | Excellent | Excellent | Excellent |
| Dimensions | 16.6 x 12.4 x 11.9 inches | 12 x 13 x 15 inches | 13.8 x 13.8 x 15.1 inches | 13.6 x 13.6 x 14.1 inches | 15.3 x 15.3 x 14.9 inches |
| Weight | 19 pounds | 14 pounds | 16.4 pounds | 15.1 pounds | 16 pounds |
| Material Type | Plastic | Plastic/Metal | Plastic | Plastic | Plastic |
| Get Started | | | | | |
Our Picks of 5 Best Philips Airfryer Reviews:
Size matters when it comes to cooking equipment. This is why, when picking a Philips Airfryer, you should always keep in mind how many you are in the family. Bigger households require bigger units, so the XL HD9240 has been created.
Being the largest model in the range, it can already whip up food for a family of four. It may not exactly be the most popular in the brand's product range, but it still makes a good option for families who want a more efficient kitchen.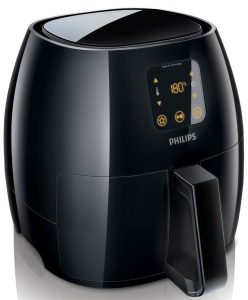 Learn more about this product through this detailed rundown of its key features:
1. Smart Preset Button
While air fryers are very easy to use, you will still need to remember to set the appliance to the right temperature and timer settings to get the best results. This can be a hassle if you have to do it on a daily basis. All that pressing can be too much of a fuss, especially if you only cook the same dishes regularly.
A smart preset button comes in really handy if you want to make cooking even simpler with the Philips Airfryer XL. This feature will help the appliance to remember the settings you've chosen so you can just press the 'star' button the next time you cook the very same dish.
2. Huge 2.65-lb Cooking Capacity
The main selling point of the Philips Airfryer XL is its large cooking capacity. It can handle up to 2.65 lbs of food, which can already feed a family of four. It may not be the biggest in the market today, but it will already make do for lots of households who are looking for the best air fryer in the market today.
3. Digital Touchscreen Interface
Ease of use is another priority for lots of families today. A digital interface tends to deliver on such a demand as you can easily select the settings you need. The clear visuals of an LED screen really helps get the task done without a hitch as well.
Aside from this, though, this feature also adds to the modern design of the product. With more and more homes becoming smarter, this feature will blend in well with other advanced technologies your kitchen is equipped with.
4. Adjustable Timer and Temperature Settings
In terms of functionality, you have complete control over the XL HD9240. You can set its temperature up to 390F and its timer for up to 60 seconds, letting you be very specific with how you want your food to be cooked. You can even enjoy the freedom to experiment and try out various settings to find the perfect one for you.
5. Rapid Air Technology
This feature ensures even and effective cooking that the Philips Airfryers are known and loved for. With a large cooking chamber, the Rapid Air technology guarantees that every dish will be thoroughly cooked so you can always enjoy good food with its help.
[su_row][su_column size="1/2″][su_list icon="icon: check" icon_color="#ef2d26″ class="posbox"]
Product Benefits
Can make food for 4 people
Sleek and modern design
Easy to operate
Can store your favorite cooking setting making operation even easier
Dishwasher safe parts
Includes a recipe book and app
Optional accessories are easily available
Quality construction
[/su_list][/su_column]
[su_column size="1/2″][su_list icon="icon: warning" icon_color="#ff0000″ class="negbox"]
The Negative Things
Will take a good amount of counter space
Can blow out tiny pieces of dry breading
[/su_list][/su_column][/su_row]
Lots of households buy additional appliances just so they can enjoy fuss-free cooking. This is why a lot of best Philips Airfryer reviews praise the HD9220 for its fuss-free design and easy operation. It might not be packed with so many bells and whistles, but it can get the job done effectively.
To know more about this product, here are its features:
1. Manual Dials
What sets the HD9220 apart from the other Philips Airfryers is its manual controls. It might not exactly let you add a "smart" appliance in your kitchen, but its simplicity can still blow you away. Working with a dial for temperature control and a timer can really make things easier for lots of people. No more repeated pressing, which can annoy the impatient.
2. Automatic Shut Off
What makes the Philips Airfryer HD9220 even more fuss-free is its auto shut off feature. As it automatically stops the cooking as soon as the timer runs out, it will ensure that your food won't get overcooked. It's also a great safety feature as the unit automatically turns itself off as well when the basket is taken out of the drawer.
3. 1.75-lb Cooking Capacity
Compared to the Philips Airfryer XL, the HD9220 might not seem like much. In reality, though, it will already help you cook food for 2 or 3 persons efficiently. You can already fit a whole large bag of fries in this multi-cooker, so you can also be sure that it will be big enough to cook for a small household.
4. Adjustable Temperature and Timer
Despite being the entry-level model in the range, the HD9220 can still cook as precisely and easily as its more expensive counterparts.
Its temperature and timer dials will let you completely control it cooking settings, giving you the freedom to work with this item whichever way you want. It has a 30-minute timer and you can set its temperature from 170F to 390F  depending on what your recipe requires.
5. TurboStar Technology
Another proof that the HD9220 can perform just as great as its more expensive counterparts is its TurboStar Technology. This is the starfish shaped area at the bottom of the unit. It ensures effective distribution of the hot air inside the cooking chamber, so your food will always be nicely and evenly cooked.
[su_row][su_column size="1/2″][su_list icon="icon: check" icon_color="#ef2d26″ class="posbox"]
Product Benefits
Most affordable in the range
Manual dials are very easy to work with
Modern minimalist design
Great size
Offers fried food with up to 75% less fat
Dishwasher safe parts
Auto shut off feature requires less supervision
Comes with a recipe book and a free app
[/su_list][/su_column]
[su_column size="1/2″][su_list icon="icon: warning" icon_color="#ff0000″ class="negbox"]
The Negative Things
Wire basket can be a bit hard to clean
Food odors tend to escape the cooking chamber
[/su_list][/su_column][/su_row]
If you want to take the practical route and get an HD9220 at a cheaper price, this might be the best alternative available to you. A Certified Refurbished product works just like new but sells at a much lower price, so you get to stretch your dollar and still get an excellent product for your home.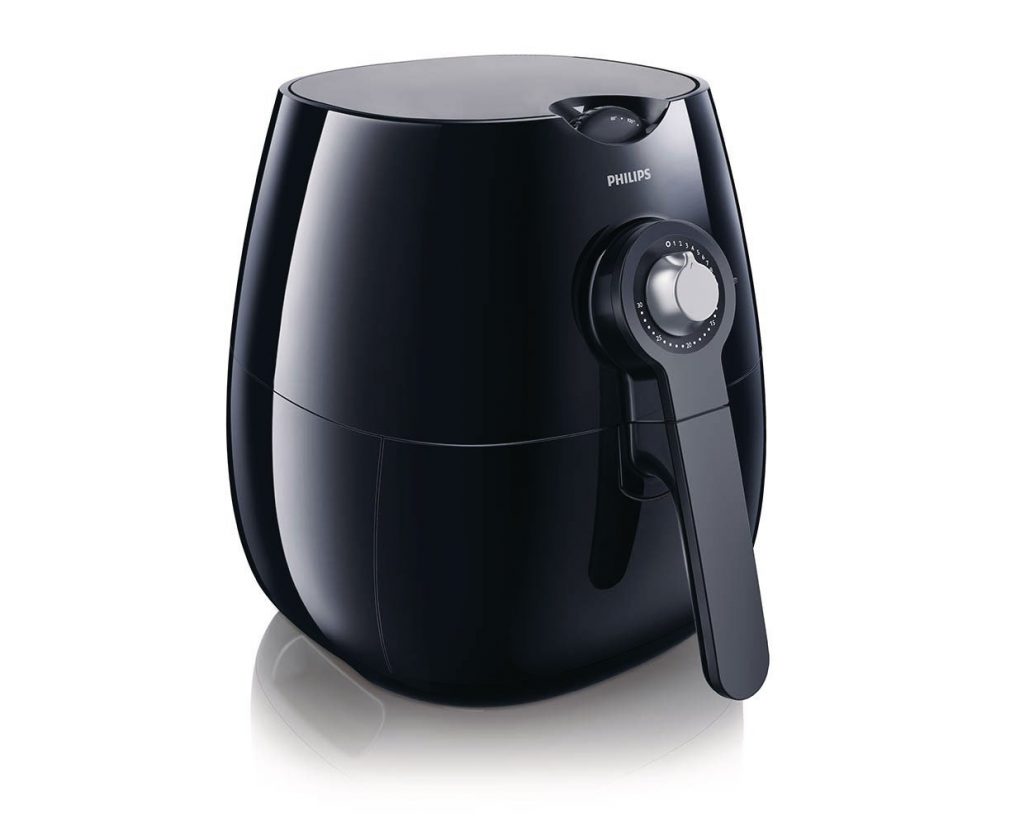 What can this product offer to you? This list of features might just be able to tell you:
1. Manual Dials
Just like the brand new HD9220, this product also comes with manual dials to make operation simpler, faster, and easier. It won't require you to press the same button repeatedly as a single turn of a knob will already let you select your desired settings.
2. Sleek, Modern Design
Best Philips Airfryer says that they love the modern look the HD9220 has. It's hard to argue with this one as its monochromatic styling is really trendy right now. The perfect placing of the dials also adds some charm to the unit, making it look even more functional and elegant at the same time.
3. 1.75-lb Cooking Capacity
Small households will already find the size of this Philips Airfryer sufficient for their needs. If it can fit a pound of fries in its cooking basket, then it will be able to provide enough food for at least three people.
4. Safety Features
Its auto shut off feature, timer alarm, and cool touch handle really help make this item safer for use. It won't expose you to high heat in any way, so you don't have to worry too much when cooking with it.
5. Adjustable Temperature and Timer Settings
In terms of performance, you can't really say that this product isn't as good as the more expensive models of Philips Airfryers. It also has the same temperature range (170 to 390F), so you can definitely get similar results with its help.
While a 30-minute timer is a lot less than what the XL can offer, it can still be enough for most users. Besides, you'll need to turn and shake the ingredients anyway, especially if they need to be cooked for longer than 30 minutes, so this isn't exactly bothersome.
[su_row][su_column size="1/2″][su_list icon="icon: check" icon_color="#ef2d26″ class="posbox"]
Product Benefits
Comes with a friendlier price tag
Easily customizable cooking settings
Safe and easy to use
Cleanups are fuss-free with its dishwasher safe parts
Size suitable for small households
Makes great air fried food with less grease and more juice
Can fry, bake, grill, and roast
Optional accessories available
[/su_list][/su_column]
[su_column size="1/2″][su_list icon="icon: warning" icon_color="#ff0000″ class="negbox"]
The Negative Things
[/su_list][/su_column][/su_row]
Those who want something new and different to add to their kitchen collection should check out the Philips Airfryer Avance HD9641/96. Once you get to know this product, you won't have any doubts that it was designed with the user's ease in mind. Its unique interface makes it very simple to operate, so it's certainly worth considering if you're looking for the best air fryer in the market today.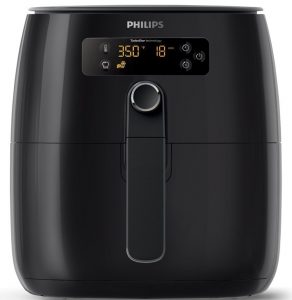 What makes it special? We'll have its features do the talking:
1. 4 Cooking Presets
When it comes to cooking equipment, cooking presets are the pinnacle of convenience. The Philips Airfryer Avance HD9641/96 has four of it. If you're going to cook some French fries, fish, meat, or drumsticks, you can easily do so with just a few button presses.
2. Combined Manual and Digital Interface
This is where the Avance gets to stand out from other air fryers in the market today. It actually has a combined interface that features a digital display, soft-touch buttons, and the QuickControl Dial which makes setting selection a breeze.
The presets, power, and reheat function have dedicated buttons, while you can easily adjust the temperature and timer with a turn of the knob. This design makes operation a lot easier as you won't have to keep pressing until you reach your desired settings.
3. Ultra-Sleek Look
A lot of best Air fryer reviews also compliment the attractive appearance of the Avance Airfryer. Its clean lines and monochromatic design will really look nice in any modern kitchen. Many also like its boxy shape as it looks more functional and spacious inside.
4. Instant Heat
Another great feature that will benefit busy households is the Avance's Instant Heat. This means that you don't really need to preheat before cooking, letting you save even more time when prepping food for your next meal.
5. Easy Click Handle
To help you get more out of your Philips Airfryers, additional accessories are available for separate purchase. However, they can seem fussy to use if you didn't know that models like the Avance have an Easy Click Handle. Designed to make the use of various accessories easier, it will let you mix and match accessories with ease. This also makes the unit a lot more compact, letting you store it more effectively.
[su_row][su_column size="1/2″][su_list icon="icon: check" icon_color="#ef2d26″ class="posbox"]
Product Benefits
Perfectly easy to use
Looks unique
Very modern appearance will look great in most kitchens
Can be made more compact for easy storage
4 cooking presets make cooking a lot simpler
Low-fat fryer
Suitable size for lots of households
Won't heat up your kitchen
[/su_list][/su_column]
[su_column size="1/2″][su_list icon="icon: warning" icon_color="#ff0000″ class="negbox"]
The Negative Things
Has a slight learning curve
Accessories are not always available
[/su_list][/su_column][/su_row]
Planning to use your air fryer on a daily basis? The Philips Airfryer Viva Collection can be your best bet. Aside from the manual HD9220, you can also opt for the Philips Airfryer HD9230/26 as your digital option from this entry-level collection. This one already comes with an LED screen and touchscreen controls, so if you're creating a smart kitchen, this can be the perfect addition to it.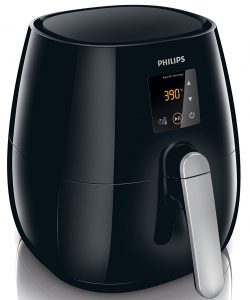 Is the HD9230/26 the right pick for your home? Let its features help you decide:
1. Digital Interface
Many wouldn't expect an entry-level model to have the fancy features that you can find in more expensive varieties. The Philips Airfryer HD9230/26, however, went all out in offering user's convenience with its digital interface. You won't have a hard time selecting your desired settings with this feature, thanks to its simple and straightforward design.
2. Touchscreen Controls
Another feature that you won't expect from a base model is a touchscreen. Then again, the Philips Airfryer HD9230/26 is out to surprise everyone as it has such. There won't be any dials or soft touch buttons to wear out in this unit. This promises durability and a very sleek appearance that modern homeowners like.
3. Adjustable Timer and Temperature Settings
Best air fryer review also like that its most affordable units are fully controlled by the user. Thanks to its adjustable timer and temperature settings, you can always tweak your cooking settings according to your needs, ensuring efficient and effective cooking every time.
It will let you set the timer for up to 60 minutes and the temperature for up to 390F. This will give you enough power to work with, no matter what dish you may have in mind.
4. Timer Alert and Automatic Shut Off
What makes the HD9230/26 even more convenient to cook with are its timer alert and auto shut off features. As the name suggests, the timer alert will let you know if the timer you've set has run out. It also automatically stops the cooking, so your food won't get overcooked.
With both features, you won't have to keep your eye on the air fryer the whole time it's cooking. This lets you multitask and finish more in a shorter amount of time.
5. Double Layer Rack Included
Not a lot of Philips Airfryers come with extra accessories, so this double layer rack that's included in the Philips Airfryer HD9230/26 is a nice touch. It also lets you cook more with efficiency and effectiveness as it practically doubles your cooking space.
[su_row][su_column size="1/2″][su_list icon="icon: check" icon_color="#ef2d26″ class="posbox"]
Product Benefits
Square-shaped cooking basket offers more space to fit food in
Fits up to 1.8 lbs of food
Can cook two dishes in one go with the double layer rack
Highly efficient cooking
Gordon Ramsay-approved
Very easy to clean
Cooks fast
Looks really modern and elegant
[/su_list][/su_column]
[su_column size="1/2″][su_list icon="icon: warning" icon_color="#ff0000″ class="negbox"]
The Negative Things
[/su_list][/su_column][/su_row]
The Different Philips Airfryer Models:
You might be wondering, what exactly are your options when it comes to Philips Airfryers? You have quite a few options, actually. There are three Airfryer collections and four models that you can choose from. These collections and models are the following:
XL Collection
Designed for families, this collection is composed of the largest Philips Airfryers in their product range. They're equipped to help whip up large quantities of food in one go, so it can make your kitchen even more efficient. Its key model is the HD9240/94.
Avance Collection
This collection offers the Philips Airfryers with digital controls. It promises a smarter kitchen and ease of use with its LED display and soft touch buttons. It's primary model, the HD9641/96, also comes with a special QuickControl Dial that makes operation a lot simpler.
Viva Collection
Meant for daily use, the Viva Collection are the tough cookies of the Philips Airfryer range. It features the HD9621/96 which has manual controls and the HD9230/26 with digital controls. Their key trait is a simple interface that makes it simple to operate and highly durable.
By categorizing their air fryers according to purpose, choosing one can be a lot easier to do. However, it might not be enough to make a choice, so keep reading for more details about these products.
The Health Benefits of Having a Philips Airfryer at Home
The Philips Airfryer's primary claim is that it's healthier than traditional frying.
How? Here are ten benefits that it can offer:
1. A Healthier Cooking Method
The Philips Airfryers created a buzz when it claimed that it can replicate the results of deep frying with little to no oil. This made it possible for the company to claim that they can produce healthier foods than traditional fryers.
A study is actually conducted by the Food Technology Institute of Egypt noting that air fried food absorbs less oil and has lower amounts of Free Fatty Acids (FFA). These things can cause insulin resistance and inflammation in the tissues that are mainly targeted by insulin, making it a key player in obesity.
As air fryers create food with lower amounts of  FFA, you can pretty much say that it's a healthier method to prepare food.
2. Uses Less Oil
As oil is always associated with fat and cholesterol, being able to use less of it can truly offer a healthier cooking method. However, as different types of oils bring good and bad cholesterol, the right type of cooking oil also matters when it comes to frying.
Even if you use less of the bad kind, you're still getting bad cholesterol in your system. That's still way better than consuming loads of it, though, so you can still control the cholesterol in your body.
Using less oil also means that you can get savings from using air fryers instead of deep fryers. This may not exactly be a health benefit, but it's still a great plus for most households.
3. Less Carcinogens
As living a healthy life involves taking steps to reduce your risks of developing cancer cells, some people ask whether air fryers can cause cancer. You'd be pleased to know, though, that air fryers do the exact opposite of what people worry about.
They can actually lower the levels of acrylamides in the food it prepares. This substance is found in various sources as well as foods prepared in a specific manner and is a potent carcinogen.
According to a study published in the Journal of Food Science, pre-treating the ingredients before air frying it can make a huge difference in the acrylamide levels in food.
4. Helps Retain More Nutrients and Minerals in Your Food
It's a fact that cooking can cause your food to lose its nutrients and minerals. The heat alone can break down and dissolve the essential nutrients you need. However, air frying tends to avoid this fate because it doesn't use water in cooking. This method helps retain as many nutrients and minerals as possible, letting you get more out of your meals.
5. Load Up Your Diet with Whole Foods
For most households, pre-prepared and processed foods make the cooking process easier as it lessens the things you need to do.
However, with a Philips Airfryer, you can already skip the normal hassle cooking comes with. This frees you up to do other things in the kitchen. By using your freed up time and effort into using whole foods instead for your meals, you can enjoy even healthier dishes.
6. Ease of Use
Simplifying your cooking process also means less stress for you. This is why you can definitely count the Philips Airfryer's ease of use as a health benefit.
7. Good for the Heart
As air fryers will prevent you from consuming greasy food, it can also help improve your heart health. Less grease means less oil, as mentioned above. And less oil means lower cholesterol. All of these can help prevent the odds of clogging your arteries and overwhelming your cardiovascular system with fats, ensuring better health.
8. Won't Overwork Your Liver
Fat can also be stored in your liver cells and too much of it can cause fatty liver. It's a common ailment in the US and can cause serious health complications if not addressed right away.
High levels of fats, obesity, and insulin resistance are just some of the most common causes of this disease. All of which are easily prevented by consuming less greasy and fatty foods which you can do with the help of a Philips Airfryer.
9. Cuts Down Your Caloric Consumption
If you're trying to lose weight to get in better shape, a Philips Airfryer can also help you out. With less oil and fats that go into your food, you also get to consume fewer calories. This will help you cut down your caloric consumption, so you can easily minimize the calories you need to burn to shed some pounds.
10. Lets You Indulge without the Guilt
Because your psychological well-being also matters, you shouldn't really try to deprive yourself of fried foods if those make you happy. With the help of a Philips Airfryer, however, you won't need to stay away from "fried" foods anymore.
As it can offer the same crunch and crisp most folks love about fried foods, air fried snacks will surely satisfy your craving without having to worry about the harmful effects of eating fried food.
Whip These Up: 5 Popular Philips Airfryer Recipes
Those who are still on the fence about whether they really want to get an air fryer or not may need a little nudge in the right direction. And what better way to do that than by presenting a few excellent recipes that they can whip up in a Philips Airfryer?
Here are five of the most popular examples that won't just make your mouth water, but might also convince you to get an air fryer right away.
French Fries: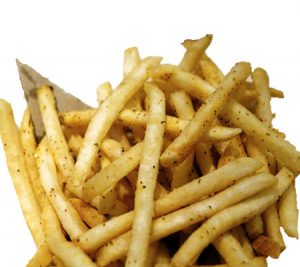 Ingredients:
2 tbsp Olive Oil
6 Russet Potatoes
Instructions:
Wash, dry, and peel the potatoes.
Cut them to ¼" strips and then soak in water for about 30 minutes.
Pat dry with a paper towel to remove excess water.
Preheat the Philips Airfryer to 360F.
Grab a bowl and mix the potatoes with one tablespoon of olive oil. Toss and make sure that each piece is covered with oil. Transfer to the cooking basket after.
Set the timer to 30 minutes. Shake a few times every 10 minutes or so. Note, however, that thicker cuts may take longer, so cook until golden brown and crispy enough to your liking.
Serves 4
Gordon Ramsay's Coffee and Chili Rubbed Rib-Eye Steak:
Ingredients:
4 2" Boneless Rib-eye Steaks
¼ cup Espresso Powder
¼ cup Ancho Chili Powder
2 tbsp Brown Sugar
2 tbsp Paprika
1 tbsp Dry Mustard
1 tbsp Black Pepper
1 tbsp Kosher Salt
1 tbsp Dried Oregano
1 tbsp Ground Coriander
2 tsp Ginger
2 tsp Aleppo Pepper
Salt and Pepper to taste
Instructions:
Combine all of the spices in a bowl and mix.
Rub the steak with the mixed spices. Let it sit for about 20 minutes.
Preheat the Philips Airfryer to 390F.
Place the steak in the cooking basket. Make sure not to crowd the basket to ensure effective and thorough cooking.
Set the timer to 10 minutes.
Open the basket and turn each piece.
Set the timer again for another 10 minutes.
Repeat for the remaining slices of steak.
Stuffed Garlic Mushrooms:
Ingredients:
16 Button Mushrooms
Stuffing:
1½ slice White Bread
1½ Tbsp Olive Oil
1 Garlic Clove, crushed
1 Tbsp Flat-leafed Parsley, finely chopped
Ground Black Pepper
Instructions:
Preheat the Philips Airfryer to 390F.
In a food processor, grind the bread to fine crumbs. Mix in the parsley, garlic, and pepper. Stir in the olive oil after.
Remove the mushroom stalks then fill the caps with the stuffing. Press in nicely to avoid the crumbs from getting blown around the chamber.
Place the stuffed mushrooms and the stalks into the cooking basket.
Set the timer for 8 minutes at 390F to cook. You can add a few minutes more to the timer if the mushrooms aren't golden and crispy yet.
Honey & Lemon Chicken Stuffed with Zucchini:
Ingredients:
1 Chicken, whole
Filling:
2 Red Onions
2 Tbsp Olive Oil
2 Apricots
1 Sweet Apple
1 Green Zucchini
1 Yellow Zucchini
Fresh Thyme
Marinade:
200 g Honey
1 Large Lemon, juiced
Salt and Pepper
Note: Choose a chicken depending on what will fit inside your Philips Airfryer. The Avance will fit a 3.5 lb chicken, while the Viva will accommodate one up to 2.6 lbs.
Instructions:
Chop all of the filling ingredients into small cubes.
In a bowl, mix the chopped ingredients with olive oil.
Stuff the chicken with the mix.
Preheat the Philips Airfryer to 390F. Grab the grill pan accessory (if you have it) to create more space inside the air fryer.
Place the chicken inside the cooking basket.
Set the timer for 5 minutes to sear the chicken.
In a small bowl, mix the honey with the lemon juice, salt, and pepper.
Take the chicken out of the air fryer and then coat it lightly with some of the marinade. Place it back in the air fryer.
Set the timer to its maximum setting as this dish needs to be cooked for 60 minutes at 300F.
Apply a coating of marinade every 15 minutes until all of it is gone.
Check if the chicken is already cooked after 60 minutes. Cook for a few more minutes if not.
Watch This Review:
Where to Buy a Philips Airfryer?
If the next worry you want to address is the accessibility of Philips Airfryers, fret not. These products are easily available from various retailers. You can buy directly from Philips or any of the big stores that carry their products. Best Buy is one of the authorized sellers of these products, so you can just head to one of their stores near you to get one.
However, if you want to enjoy the convenience and perks of online shopping, you can also buy from Amazon. With so many amazing deals to find from this giant e-tailer, there's really no reason not to give this site a shot.
Finding a Philips Airfryer at the Best Price
As you won't really have difficulties in finding a retailer that carries Philips Airfryers, it might be better to focus your attention on where you can get good deals for these goods. Being the premier options for such consumer products, they tend to come at a premium as well.
They're not the cheapest varieties in the market and unsurprisingly so. Not only are you guaranteed a high-quality appliance but you're also getting a few peripherals that easily boost the product's value. Philips Airfryers come with a recipe book and a smartphone application, expanding the functionality of the products.
In any case, you might want to look for Philips Airfryers at the best prices available. Luckily, there are a few good techniques to do this. Some of which are the following:
Consider Refurbished Items:
Refurbished units are often sold at a fraction of the original price, so you really get to enjoy huge discounts. However, you have to be careful where to purchase so you can be sure of the quality of the item you're getting.
Shop Around:
Whether you're planning to buy online or from a brick and mortar store, you should always compare prices by shopping around. This will boost your odds of finding the best prices available.
Use Coupons:
Discount coupons and codes will always come in handy when it comes to shopping for electronics and appliances, so don't hesitate to take advantage of them.
Wait for Scheduled Sales:
Retailers go on sale from time to time, so you should take advantage of those events as well.
Evaluating the Philips Airfryer's Capacity
Lots of best Philips Airfryer reviews will tell you just how important choosing the right size is. So, you have to make sure to look into the cooking capacity of the model you're eyeing. As Philips Airfryers come in different sizes, you won't have a hard time finding the right match for your needs.
What Makes the Philips Airfryer with Rapid Air Technology Different?
The Philips Airfryer's Rapid Air Technology is its key feature. It's the very thing that sets these products apart from the other air fryers in the market today. This makes it possible for these electronics to fry, bake, grill, and roast effectively and efficiently.
Combined with the patented TurboStar technology, the heat is consistently distributed evenly within the cooking chamber. This guarantees effective and thorough cooking each and every time you use a Philips Airfryer, offering you the tastiest and most enjoyable dishes.
Buying Guide – What to Look for in the Best Philips AirFryer?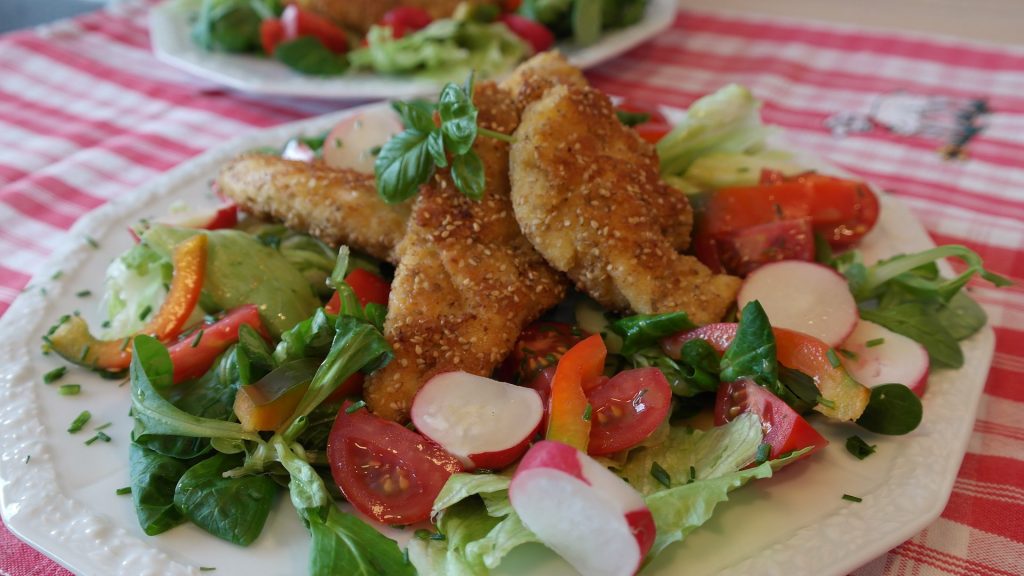 Despite only having a few options for a Philips Airfryer, it still doesn't mean that zeroing in on a specific model will be easy. Each model has something awesome to offer, that a few folks might still be overwhelmed with their options.
So, to assist you in making the best choice, here are a few things that you should look for to determine whether a specific model is the right one for you:
Philips Airfryer Honest Reviews:
Want to know about other users experience in how the Philips Airfryers perform? Reading Philips Airfryer review will teach you a few things about these products that you can't find in their marketing materials. You'll get honest feedbacks that can help you weigh your options better.
However, be careful with the reviews you'll trust. Some are paid while others can be completely biased, so you have to be thorough in which feedbacks you should take to heart.
Adequate Price Point:
You'll want the best value for your money, and as the Philips Airfryers are among the best options in the market today, their prices are certainly justified. They aren't the most affordable options there are, though, so you might also want to consider your budget when choosing which one to go for.
If you find them still a bit too expensive, you can always shop around and look for the best prices.
The Right Cooking Capacity:
Size always matters when it comes to cooking equipment, so you have to choose one that will suit your household's needs. Do not go for a massive unit if you won't cook a lot of food very often as it will only cost you. You also shouldn't opt for a smaller size to save money, as that will still cost you a good amount of time and effort when cooking.
Efficient Interface:
Some people tend to neglect that how you operate an appliance makes a huge impact in how you'll use it. If it's too complicated to work with, you won't be too excited to use it all the time. If it's very easy to operate, it will be more convenient to use.
So, if you wish to get the most out of your Philips Airfryer, look for one with an interface that won't confuse or overwhelm you. This way, you'll be sure that you can use the appliance all the time.
Safety Features:
Safety isn't always a problem with air fryers. With their contained design, the heat shouldn't pose too much of a risk to you. However, mishaps can still take place, so you should still look for good safety features that will prevent serious injuries.
Final Verdict
Being the "original" air fryers, it shouldn't come as a surprise that the Philips Airfryers are among the most coveted varieties in the market today. Choosing among its collections isn't that easy, as they all have great features that will come in handy in any kitchen.
The XL's large capacity, the HD9220's simple interface, and the Avance's unique controls can really make choosing one a challenge. The best thing about all of these is, no matter which one of the Philips Airfryers you choose, you can be sure to bring home a reliable cooking equipment.
Hopefully, with this Philips Airfryer review and guide, you can be able to zero in on the best match for you. This roundup is earnestly done to consider all the important and key points to help you in making a  good choice, so we hope it also gets to address all of your concerns when choosing among the Philips Airfryers today.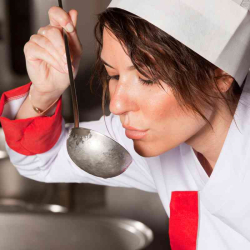 Latest posts by June Brandt
(see all)