There's no denying that the modern day is all about getting rid of the knobs and dials and replacing them with tiny screens. Everything's more streamlined, sleeker, and cleaner looking than before. They also perform better.
Going digital is the current direction of electronic products as of late. You won't even see television sets with bulky knobs anymore so it's safe to assume that other electronics will also follow suit. With a digital interface on your electronics, you won't miss out on having a product that's true to its time.
This is why it isn't surprising that some of the latest cooking equipment are easily available in with digital interface. Top rated digital air fryers are actually deemed as some of the finest options because of their configuration.
10 Best Rated Digital Air Fryer in 2021:
Our Picks of 5 Best Digital Air Fryer Review:
Wondering what are the best air fryers available today? Here are five of our picks that you shouldn't miss: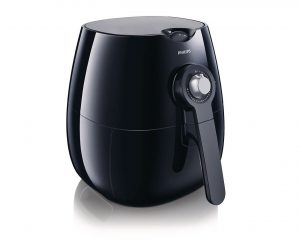 Dubbed as the "Original" air fryer, the Philips HD9220 26 Digital Air Fryer is one of the most popular choices for an air fryer. Not only because it is made by a world-renowned brand but it is also endorsed by an equally famous chef, Gordon Ramsay. It also helps that it is one of the first models to introduce air frying to the market that it was able to gain a good following all over the globe.
Features:
[su_list icon="icon: check" icon_color="#228B22″]
Fries, bakes, grills, and roasts food
1.75-lb capacity
30-minute timer
Automatic shut off
Dishwasher safe parts
Patented starfish design
Rapid Air Technology
Exclusive Gordon Ramsay recipes
Free app and recipe book
[/su_list]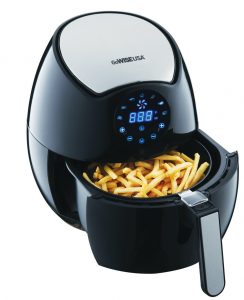 is slowly becoming a go-to brand for affordable kitchen electronics as of late so it shouldn't come as a surprise that their digital air fryer is one of the best. Not only are they friendly-priced but they're also guaranteed to deliver great results.
What made this product so special is its cooking pre-sets so you don't have to fuss about how you're going to cook some of the most popular dishes. All you need to do is press the corresponding button and you're good to go.
Features:
[su_list icon="icon: check" icon_color="#228B22″]
7-in-1 air fryer
3.7-quart capacity
Touchscreen accessibility
Adjustable temperature from 175F to 400F
30-minute timer
Automatic standby mode
Rapid Air Circulation technology
ETL certified
Available in various colors
[/su_list]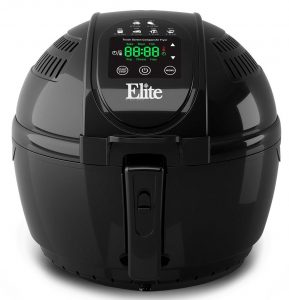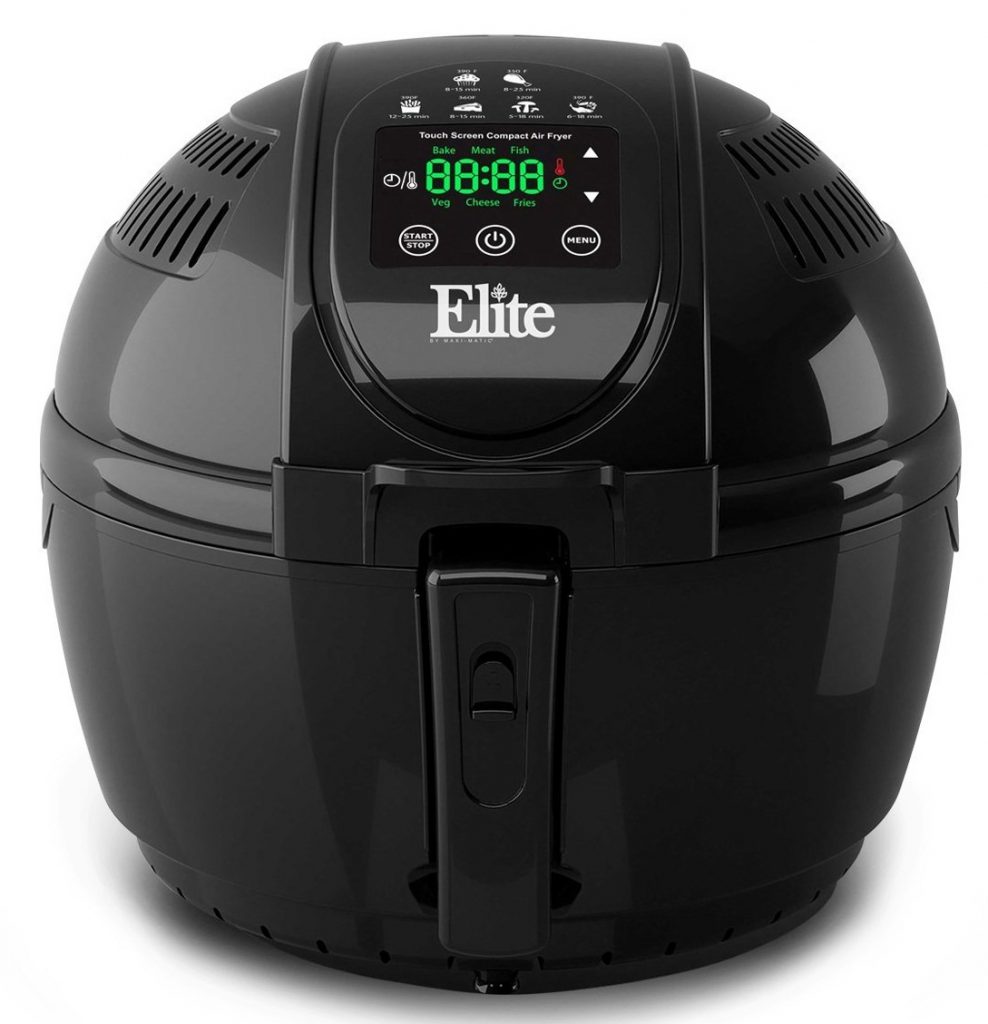 Whoever said you can't have it all in a small digital air fryer for a very friendly price has not met the Elite Platinum EAF-1506D Electric Digital Air Fryer yet. This affordable and feature-packed digital air fryer can do everything an expensive appliance can and a whole lot more. This makes it a practical choice for many homeowners on a budget.
Features:
[su_list icon="icon: check" icon_color="#228B22″]
60-minute timer
Automatic shut off
Advanced Touch Screen Technology
6 quick menu settings
Temperature range of 149F to 400F
Dishwasher safe parts
3.5-quart capacity
Cool touch handle
Full-color recipe booklet included
[/su_list]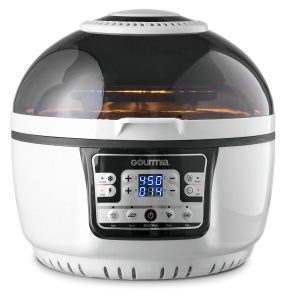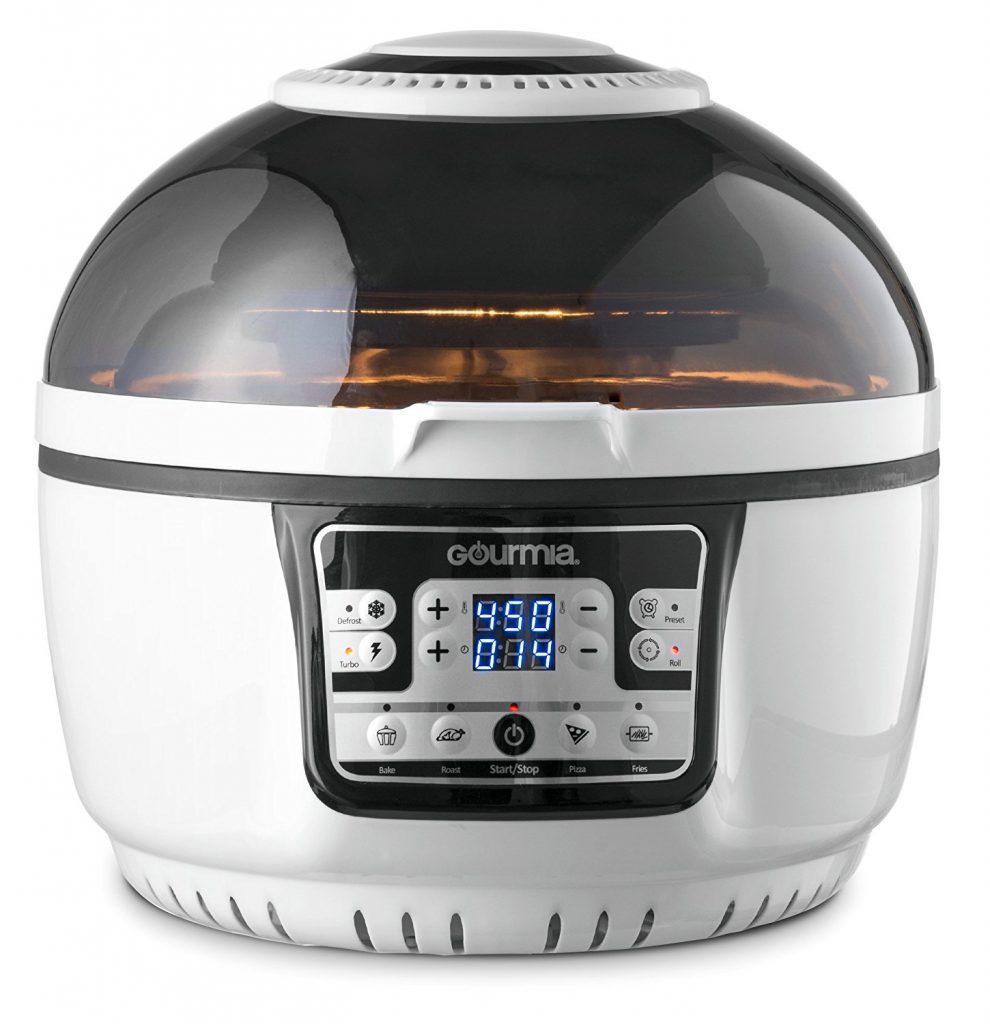 If you're willing to invest in a cooking appliance that you can get a lot of use out of, then check out the Gourmia GTA-2500 Electric Digital Air Fryer. This product comes with eleven attachments that will allow you to grill, fry, bake, roast, steam, and a whole lot more.
Features:
[su_list icon="icon: check" icon_color="#228B22″]
11 attachments included
RadiVection 360 Cooking
Nonstick interior liner
Soft touchpad
4 quick menu buttons
Calorie Reduction Technology
See-through lid
[/su_list]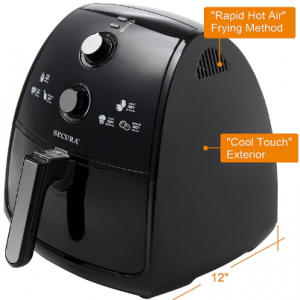 Another solid low-priced option is the Secura Digital Air Fryer. This item features a square-shaped base that allows it to look unique and maybe even offer more cooking space for users. It has a large cooking capacity making it suitable for most households.
What makes it a big hit is its addition of a few handy accessories like a toaster rack and skewers. For the price, its performance and versatility are highly lauded.
Features:
[su_list icon="icon: check" icon_color="#228B22″]
4.2-quart capacity
60-minute timer
180F to 390F temperature range
Auto shut off
Accessories included
Square shape
[/su_list]
How Do Digital Air Fryers Work?
As mentioned above, even the digital air fryer works the same way as analog air fryers. They basically have three major systems working to cook your food:
1. Rapid Air Technology
The Rapid Air Technology is available in various iterations and names from different brands. The concept is all the same, however. It's the heating element of the air fryer that gets the job done.
As the name suggests, it creates the required hot air and moves it around the cooking chamber to cook your food to a crisp. Some say that it's a combination of a convection oven and turbo broilers because of how the system works.
The use of hot air is definitely similar to convection ovens, but the tight space and rapid movement of hot air to make sure every piece of food is cooked thoroughly are likened to how turbo broilers work.
In any case, this cooking mechanism allows the food to be cooked at a much shorter time than traditional methods. It also allows these electronics to be as compact as possible, making them great additions to every kitchen.
2. Exhaust System
The exhaust system of air fryers is also noteworthy as they make it possible to cook efficiently and without releasing cooking smells to the air.
Its most notable part is its ability to reduce the pressure inside the cooking chamber without compromising the required amount of git air to cook your food. It also has a nice filtration system that prevents the scent of the food from getting out of the cooking chamber.
3. Cooling System
Air fryers can reachup to 400F or more in some cases, so there's definitely a need for a cooling system to ensure that the appliance won't overheat. This mechanism is often found at the top of the heating system and can circulate air on the outside of the heated area. This allows it to control the inner temperature.
The only thing that sets digital air fryers apart is their control system. Instead of using a mechanical knob to select your cooking settings, it uses a main control board and a touchpad where you punch in your selections.
These two communicate through codes and wires so the main control board knows which commands to execute as you punch it in through the touchpad.
Why You Should Buy Digital Air Fryer:
If you're not yet fully convinced that digital air fryers are the right choice for you, these reasons might help you make the jump:
[su_list icon="icon: check-square-o" icon_color="#ef2d26″ class="listbox"]
1. They're readily available:  There are tons of various digital air fryer models available in the market today. They might even be more common than analog ones as they're more in demand and trendy. This makes them very accessible, so you don't have to look far and wide just to get one.
2. They usually come with lots of extras:  Digital air fryers can also serve as multicookers. There are tons of models that can do more than just air fry but can also steam, grill, roast, broil, and saute. You can even find a few units that can also work as slow cookers! Now if that doesn't offer you the widest functionality in a cooking appliance, nothing really will.
3.They can also be straightforward and fuss-free:  If you're not particularly fond of all the bells and whistles, you can still find a straightforward and basic digital air fryer. You don't always have to resort to analog ones if you don't want to deal with the knobs.
4. Almost anyone can use them:  Parents with teenagers who can't cook yet don't have to worry about their kids' snacks and meals anymore because digital air fryers can be of great help. Just teach your child how to prepare the ingredients and which buttons to press to get them cooking with this machine.
Just don't forget to give them a quick lecture on the safe use of electronics so they won't hurt themselves while they air fry something.
5. It can help you cook healthier dishes without having to spend the day in the kitchen:  Lots of households today can't really whip up luxurious meals every day because of their hectic schedules. If you want your meals to be quick, fuss-free but still healthy, a digital air fryer can help. All you'll really need to spend time on is the meal preparation with this appliance as you only really need to press a few buttons to cook.
[/su_list]
10 Benefits of Using Digital Air Fryer:
Still not convinced that you should buy a digital air fryer? Then maybe a good list of its benefits can help you decide that it's a good choice for every household.
[su_list icon="icon: thumbs-up" icon_color="#228B22″ class="listboxcons"]
Precision:  Digital air fryers promise to be more precise than its analog counterparts because it is specifically programmed to match standards.The computers embedded in these electronics are designed to work a specific way, so there's hardly any room for confusion when the control panel sends commands to the rest of the system.Analog controls tend to have a wiggle room as their contraptions don't have such design. Sometimes, some parts can get loose so there are chances that you won't get the exact results from your chosen setting.
Sleek, Modern Appearance:  In terms of aesthetics, digital hot air fryers definitely look more modern than its analog iterations. Screen displays always look sleeker and more trendy than giant knobs and dials.It also doesn't hurt that a lot of manufacturers today pay close attention to how their products look in a contemporary kitchen, so you can easily find a gorgeous product to enhance your kitchen's look.
Ease of Use:  While nothing can be simpler than turning some knobs and dials, the best rated digital air fryers are very easy to use.  Sure, there are models with convoluted and complicated interfaces, but the finest ones will always let you do what you want to do with just a few button presses. You just need to look for them if you want to find them.
The Latest Technology:  The latest digital air fryers are also most likely to be equipped with the latest technologies available in the market. You'll find models that come with handy and groundbreaking accessories as well as unique functionalities, offering you more ways to enjoy your appliance.
One Touch Cooking:  If you can't cook, things are about to change with a digital air fryer. These appliances can simplify the cooking process to just a few button presses. Thanks to some units' pre-programmed settings, you won't even have to learn all the cooking times and temperature settings required to cook your meals.
Additional Functionality to Your Kitchen:  When buying a new kitchen appliance, it's imperative that what you're getting will allow you to do something new. This makes air fryers excellent additions to most kitchens as air frying isn't exactly a traditional way to cook stuff.While some can argue that it's similar to turbo broiler or a convection oven, air fryers are still more compact and efficient. This makes them even more valuable and maybe even better picks than other cooking equipment.
No More Need to Switch the Oven On:  As mentioned above, an air fryer can also bake, roast, or grill stuff. So if you don't feel like working with your full-sized oven or if you think it will warm up the house on a summer day, a digital air fryer can be a good substitute. These countertop appliances won't heat up your entire home, so it's certainly a good alternative for your oven.
Quick Meal Preparation:  Aside from simplifying the cooking process, an air fryer can also speed up your meal preparation. Most units can handle frozen food, so you don't have to thaw them out if you want to cook something from your freezer.
Healthy Diet Made Easy:  There are two ways how air fryers can help improve your diet. One, they don't require you to use a lot of oil to whip up a crispy dish. Two, it simplifies how you cook so you can whip up fresh vegetables any time you want.Simply put, air fryers can possibly encourage you to eat better, giving you an additional reason to get one.
Easy to Find:  The fact that digital air fryers are also very easy to find is another benefit you can get by opting for these products. No more need to search high and low for a quality cooking appliance with this choice.
[/su_list]
Why You Should Buy Digital Air Fryer:
If you're not yet fully convinced that digital air fryers are the right choice for you, these reasons might help you make the jump:
5 Handy Tips for Using Digital Air Fryer:
Like any other cooking appliance or equipment, the user's skill can also determine the outcome. It pays to know the tricks of the trade so you can boost the odds of getting great results from your air fryer.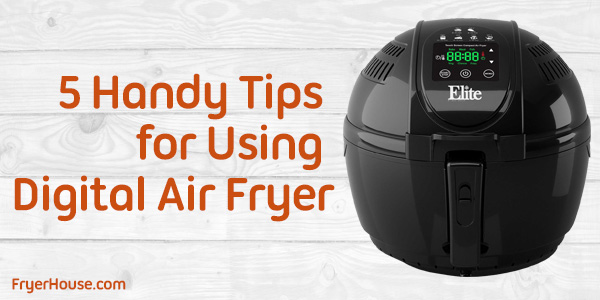 What are these tricks? Here are a few:
[su_list icon="icon: check" icon_color="#228B22″]
1. Read the manual first: Like any other product, you should always read the manual of your digital air fryer first so you'll know how to use it. Getting to know your cooking equipment better can help you maximize its potential.
2. You can skip the oil entirely with most units, but if you want to replicate the taste of fried foods, put about one tablespoon of cooking oil on your ingredients.
3. Give the cooking chamber a shake or turn the ingredients in case there's no stirring paddle in the unit. This will ensure that each ingredient will get exposed to enough heat to cook them thoroughly.
4. Do not crowd the cooking chamber: Most units' cooking baskets have a marker that indicates up to where the food can reach for effective and efficient cooking. Follow this advice so you can always get the best results from your air fryer.
5.Take advantage of accessories: They're designed to help you make the most out of your air fryer, so make sure to give them a try. Additional racks and dividers tend to be some of the most useful examples as they add more cooking space for you. If the air fryer you'll buy has some of these included, take advantage of them.
[/su_list]
Buyer Guide – How to Choose The Best Digital Air Fryer:
Before you buy a digital air fryer for you, however, it's imperative to know the points you need to consider to find your right match. To help you with that, here's a quick rundown of the most important points you need to cover and look for when shopping for a digital air fryer:
Functionality
Do you want something more straightforward or something packed with great features? You can find both on the market today, so you have to decide which one seems ideal for your home. This will help you narrow down your options and find the best match for your kitchen.
Budget
The amazing thing about digital air fryers is that you can practically find them at every price point. Of course, like any other electronic product, you tend to get what you pay for when it comes to air fryers. This means that you have to be careful and discerning when searching for your right match.
Keep in mind, however, that the price tag of an air fryer doesn't guarantee its quality. So, you shouldn't just go for the priciest piece out there but make sure to look at its performance and offerings as well.
Cooking Capacity
Like when choosing the right pots and pans for your home, the cooking capacity of an air fryer should also play a huge part in your decision making.
You can't skimp and opt for a small unit as that will diminish its efficiency. Getting the biggest units may not also be ideal for some folks as these things also tend to take up space.
By considering the cooking capacity you need at home, you'll be able to make the most out of this appliance and find a unit that can fit your space.
Ease of Use
Digital air fryers are generally easy to use, but there's no denying that some of them have too many functionalities and buttons to work with. This can be a bit overwhelming and confusing to some.
Looking for something that's perfectly easy to operate is essential if you want to take advantage of what these appliances can offer.
If you can't use your digital air fryer with ease, you might end up not using it at all. That will be a waste of technology, money, and opportunity, so opt only for the best air fryers that are easy to use.
Performance
It's also very important to know how specific products perform if you intend to spend money on one. A great digital air fryer can promise to get the job done but it's still a matter of how well and efficient can they do it. So make sure to also read up on customer feedback and expert reviews to get to know the item you're eyeing better.
Final Verdict
While opting for the best rated digital air fryer is largely a matter of personal preference and requirements, the finest products still remain to be the first-rate picks for most households.
We hope we were able to provide ample options and information that can help you find the right match for you. With the help of the internet and a good dose of researching, you can be sure to bring home a great digital air fryer that will meet your needs.