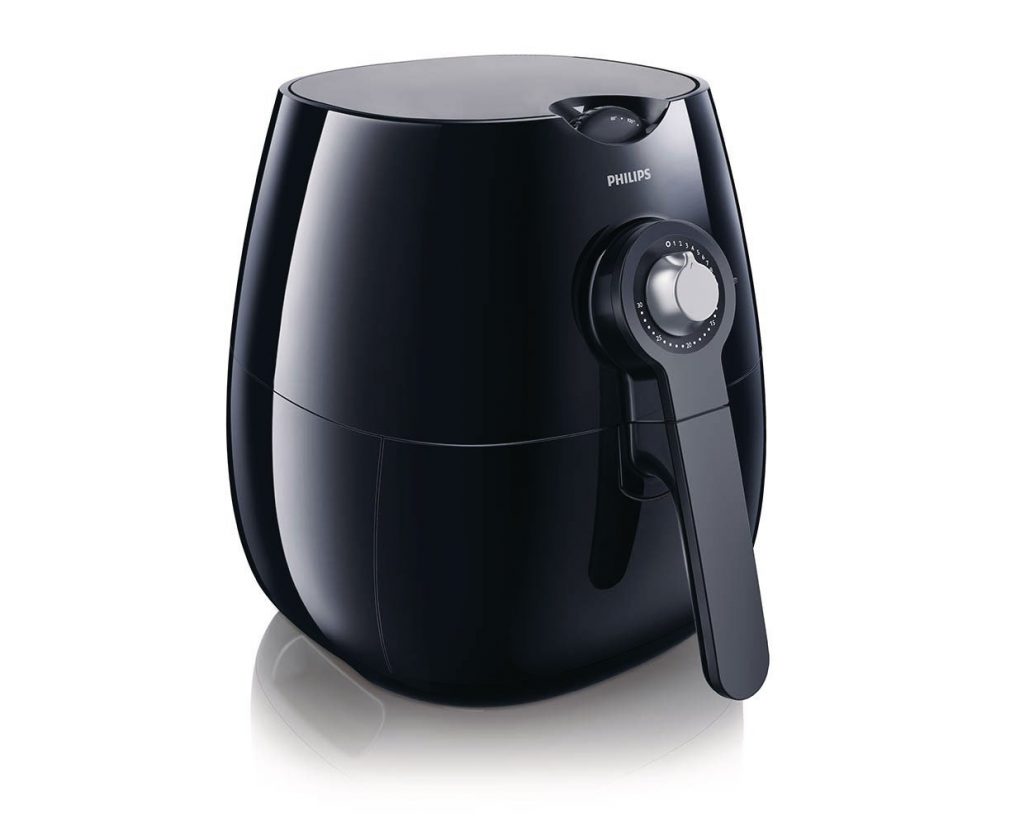 When it comes to anything about cooking, chefs are the first people we turn to for an expert opinion. This is the very reason why the Philips HD9220 26 Air fryer made a massive splash in the recent months as it was promoted by the celebrity chef Gordon Ramsay.
Best known for encouraging people to be more culinary adventurous, Ramsay has the credibility to tell people that an air fryer is not just a fad but is actually a very useful kitchen appliance that can change their cooking habits for the better.
Not only will this product let you prepare food faster, but it can also help you eat healthier and try new things.
But is the Philips Original Airfryer worth its weight in gold?
Philips HD9220 26 Airfryer Reviews – 5 Major Features
1. Rapid Air Technology
What allows an air fryer do its magic without the need for a lot of cooking oil is the Rapid Air Technology. This Philips airfryer combines speed and precision when circulating air inside the chamber, allowing it to reach the optimal condition needed to fry, bake, roast or grill to perfect the recipe you have in mind.
2. Patented Starfish Design
Setting this product apart from the wide array of air fryers in the market today is its patented starfish design at the bottom of the unit.
This ensures better air flow, resulting in a more even cooking results.
3. Analog User Interface
You get to have full control over this air fryer as you can easily adjust the temperature and set the cooking time for your dishes with its analog knobs and dials.
This makes it easier to operate and allows you to set the precise setting that your recipe needs for the best results.
4. Nonstick Drawer & Basket
For easier cleanup and avoid wastage, the HD9220 26 is also equipped with a nonstick basket and drawer. You can also get additional accessories like a grill to add more functionality to your unit.
5. 1.75 lbs Capacity
With its large size, you can prepare food for more people, making it a convenient choice for small families.
Philips HD9220 Air Fryer Manual
You will learn all what you should know about the air fryer in its user manual. There are numerous instructions and some great recipes in the manual. We usually advise users to study the user manual before they start using it. Also, it is important to follow all the instructions in the manual. That way, you will always get top performance from your air fryer. Following the instructions will also lengthen the life span of the air fryer. You can download the Philips HD 9220 Air Fryer manual here.
Philips HD9220 Air Fryer Recipes
As mentioned above, the air fryer comes with some recipes that you can try. These recipes are many. They are also easy tot cook. Most of them can be prepared within 30 minutes. The best part is that they are healthy. Finally, their ingredients can be purchased easily as they are readily available. You can see all the recipes here.
Philips HD9220 Air Fryer Price
This model of air fryer is available in several online and offline stores and these stores sell the product at different prices. So, we took the time to check the price in different stores. After thorough price comparisons, we found out that Amazon offers the air fryer at the lowest/best price. Currently, it is sold on Amazon at $139.84. The price of the product is over $140 elsewhere.
Why Should Anyone Use a Philips HD9220 26 Airfryer?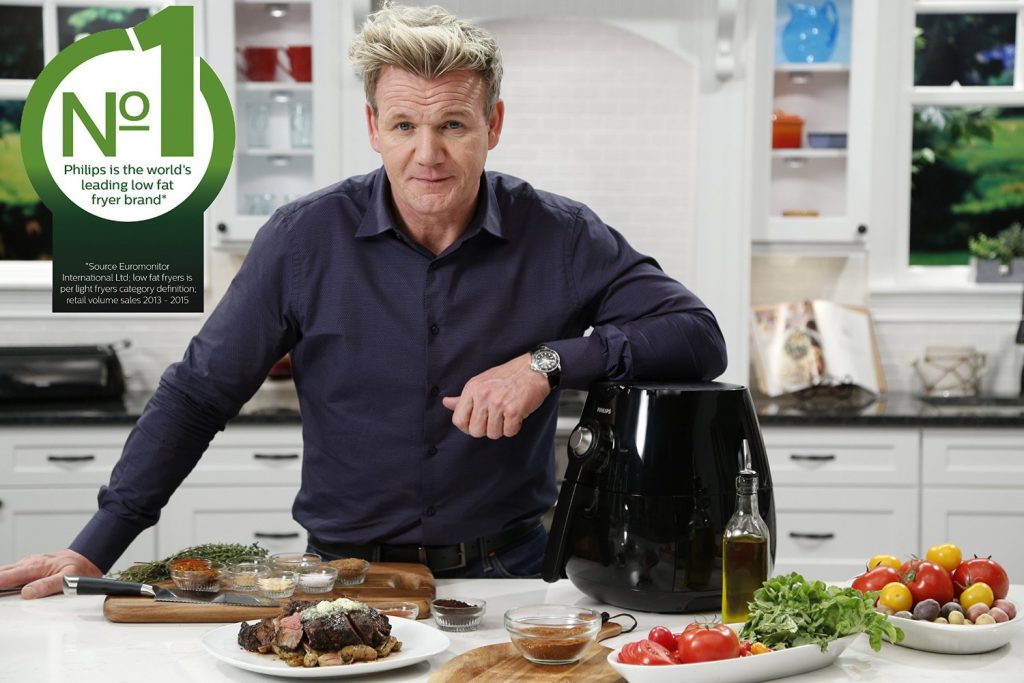 Not yet sold on the concept of an air fryer?
These reasons might just convince you why it can be the perfect addition to your kitchen:
[su_list icon="icon: check-square-o" icon_color="#228B22″ class="listbox"]
It can cut down your cooking time.

With its use of high temperatures and fast air circulation, cooking time is a lot faster with air fryers. This makes them great appliances for busy homes.

It will let you multitask with ease.

Unlike ovens that you have to check every few minutes, this Philips air fryer can be left while it works, allowing you to handle other tasks in the meantime. With its auto shut-off feature, it won't overcook or burn your ingredients preventing wastage.

You can enjoy exclusive Gordon Ramsay-designed recipes.

Philips have partnered with Gordon Ramsay to create chef-approved recipes for the air fryer so you can be sure that you won't just reheat frozen food with this appliance.

It will let you eat healthier without sacrificing the foodstuffs you love.

It's no secret that fried food is some of the best things to nosh on despite being unhealthy. So if you want to make the switch to a healthier diet but can't imagine not eating crispy and browned dishes ever again, this is the very gadget you need in your kitchen. It replaces oil with air, so you'll pretty much creating lower calorie versions of your favorite fried dishes with its help.

As Gordon Ramsay puts it, "It's just like having my own little sous chef that doesn't talk back."

If you like preparing elaborate dishes or serving several options for every dish, you'll need some extra help. The Philips HD9220/26 Air fryer can be the perfect option for such as it can get the job done nicely without "talking back".
[/su_list]
[su_row][su_column size="1/2″][su_list icon="icon: check" icon_color="#228B22″ class="posbox"]
Product Benefits
Dishwasher safe parts
Easy to use and clean
Large capacity
Will let you eat healthier
Cooks food in under 30 minutes
Pretty compact so it will fit any kitchen
Best rated by experts and buyers
Multifunctional
Great for cooking frozen food without the need to thaw
[/su_list][/su_column]
[su_column size="1/2″][su_list icon="icon: warning" icon_color="#ff0000″ class="negbox"]
The Negative Things
Pricey
Doesn't offer the same taste as deep frying
[/su_list][/su_column][/su_row]
Watch This Video:
FAQs
Q: Where is it made?
A: It depends on where you bought your unit as it is made in different places including China, Mexico, England, or the USA.
Q: Can you cook food with batter with this?
A: Yes, but make sure that it's not too runny so the air won't blow away the liquid.
Q: Are there additional accessories available?
A: Yes, you can purchase an extra grill pan, baking tray, and a double layer rack with skewers to add more functionality to your air fryer.
Q: Can you use it with regular bakeware?
A: No. Philips' air fryers come with their own specially designed bakeware that is compatible with their units so it's best to use those instead to avoid damaging your unit and so you can be guaranteed to get the best results.
Q: Do you need to preheat before you cook anything in the air fryer?
A: It depends on what you want to cook. Frozen food doesn't really require preheating, but meats can benefit to a short preheating period of up to 4 minutes.
Q: Does it come with a cookbook?
A: It comes with a recipe booklet that contains specially-designed air fryer recipes. The website also has a few dishes listed there.
Final Verdict
When it comes to air fryers, the Philips HD9220 26 air fryer should be your first choice as it is the original unit available for air frying food at home.
With more than 5 million units sold all over the globe, this product promises quality, durability, and the best results. It also doesn't hurt that a well-loved celebrity chef vouches for it.
While it is more expensive than your other options, it can still offer better value with its good brand reputation and reliability. Most people consider it an excellent investment, especially since it can simplify your cooking tasks, so why not give it a shot?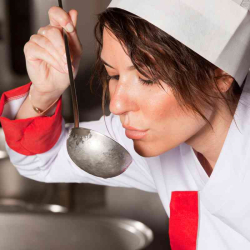 Latest posts by June Brandt
(see all)