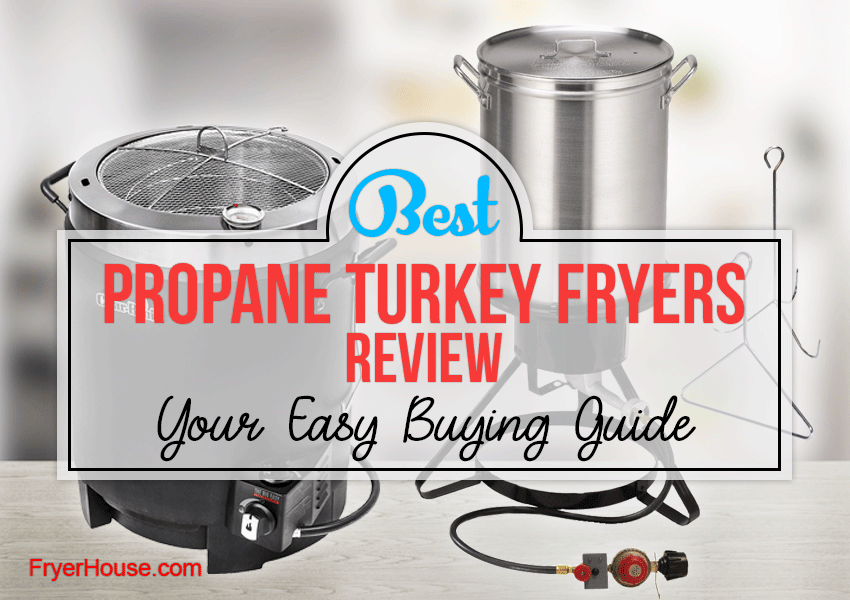 It's safe to say that the best propane turkey fryers are some of the most popular outdoor fryers there is because of their reliability.
Once the burner is properly hooked up to a gas tank, you're all set to cook large amounts of food. There won't be any worries of lost power with this equipment as long as it's properly set up.
As they're fired up by liquid propane, they tend to have enough power to ensure proper and efficient cooking of large chunks of meat.
Unlike electric fryers, propane turkey fryers can be placed anywhere without compromising its cooking capabilities. Electric fryers tend to lose efficiency when not plugged in directly to a power source.
Propane turkey fryers, on the other hand, can have tens of thousands of BTUs or British Thermal Units so they promise to reach and sustain high temperatures.
This is necessary for efficient large batch cooking, so they can definitely be better picks when it comes to deep-frying a large turkey.
If you want to know more about how propane turkey fryers work and which ones are the best options out there, here's a roundup of everything you need to know about this cooking equipment.
Top Rated 6 Propane Turkey Fryers 2021 – Get The Right Model:
Top Trending Propane Turkey Fryer Products:
Our Picks of the 5 Best Propane Turkey Fryer Reviews:
What can you expect from the top propane turkey fryers? We reviewed five best-sellers to help you get to know these cookers better.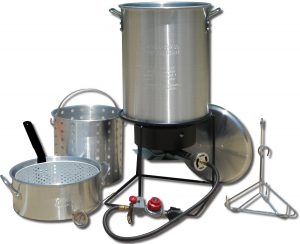 The King Kooker 1265BF3 Outdoor Turkey Fryer is a traditional propane turkey fryer as it comes with a burner and pot.
What makes it special is that it comes with more cooking accessories than its competitors at its price point.
Unlike other products in this price range, it comes with an extra fry pan which further extends its usability.
CSA Design certified, this product also guarantees quality and safety.
Features:
Welded Heavy Duty Cooker
33,000 BTU Cast Burner
29-Qt Aluminum Turkey Pot with Pot
Large Aluminum Cooking Basket
11-Qt Aluminum Fry Pan with Heat Resistant Handle
Small Aluminum Cooking Basket
Turkey Rack
Lifting Hook
Meat Thermometer
With unattended cooking as the leading cause of house fires, more and more manufacturers are looking for ways to keep their products and consumers safe.
For the Masterbuilt 20020107 Propane Turkey Fryer, their safety measure comes in the form of an electronic timer that shuts off the gas line every 15 minutes.
This makes sure that you won't leave your pot for long periods so accidents and injuries can be prevented.
This is a common safety feature for many propane fryers but a lot of people find it bothersome.
However, if you really want to make sure of your home's safety, keeping an eye on what you're cooking is one of the easiest ways to do it.
Features:
15" Black Solid Steel Base
Cast Iron Burner
Type 1 Gas Regulator with Hose
30-Qt Aluminum Cooking Pot
Wide-handle Lifting Hook
Electronic Timer with Auto Shut Off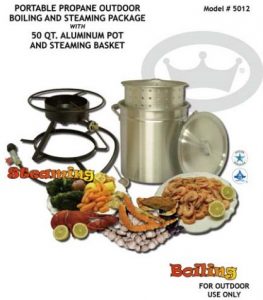 While this product isn't recommended for turkey deep frying, the King Kooker 5012 Portable Propane Outdoor Cooker can still be a good option for you if you're looking for a large outdoor cooker.
It's made for steaming and boiling so it can still suit a good number of households' needs.
Paired with a bolt-together cooker stand and you got yourself a portable outdoor cooker.
You can take this to the beach, camping trips, and other outdoor activities that will need you to cook a lot of food fast.
Features:
54,000 BTU Flat Top Burner
12" Bolt-Together Cooker Stand
50-Qt Aluminum Ridge Pot with Lid
Steamer Basket
Type 1 Regulator and Hose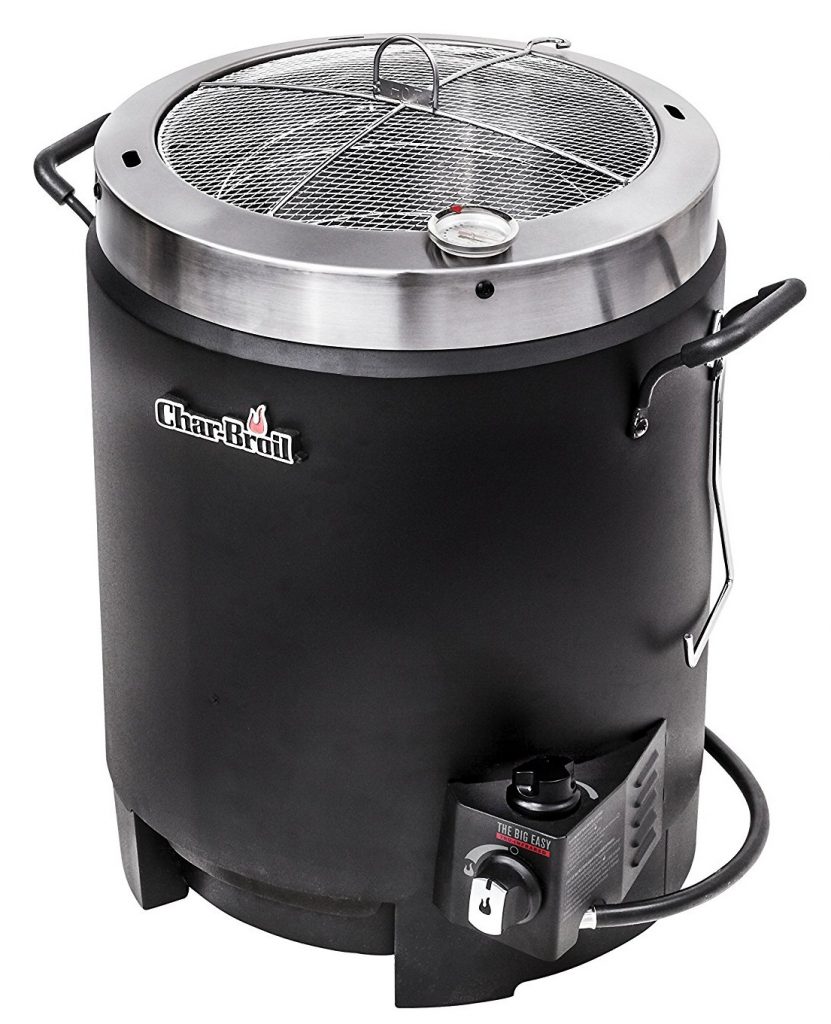 For those who aren't big fans of deep frying, the Char-Broil the Big Easy Oil-Less Propane Turkey Fryer can be a solid option.
It won't need you to use oil to cook your turkey but you can still use it outside and fuel it with liquid propane.
Many even find it as an easier way to cook a large fowl as it eliminates the dangers and hassle of using a large amount of oil.
This fryer works with a contained flame that then generates the infrared heat used to cook your food. It's a lot easy to start and work with so it can be a good choice if you're cooking a turkey at home for the first time.
Features:
Oil-less Turkey Fryer
Char-Broil TRU Infrared Technology
16-Lb Cooking Capacity
Rotary Ignition
Cooking Basket
Lid
Meat Lifter
Meat Thermometer
Oil Drip Tray
Just like the other traditional cooker and pot set in this fryer list, the GrillSmith 30 Quart Propane Turkey Fryer also has a straightforward and sturdy design.
What sets it apart is the pot's pour spout which can make clean ups easier. With this detail, transferring your used oil from the pot to a container can be done more precisely and fuss-free.
Features:
30-Qt Aluminum Cooking Pot with Handles and Pour Spout
Pot Cover
Flame Sensor
Timer
Recipe Booklet
Regulator and Hose
Poultry Rack and Hook
What Size Propane Tank for Turkey Fryer?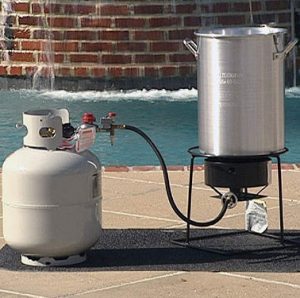 The first thing some people might be wondering about is what size of propane tank they should get if they're getting a turkey fryer. The answer to this is very straightforward. A 20-lb tank will already suffice for most cooking sessions.
As you will be cooking a turkey for at least an hour or so, depending on the size of your bird, you'll want to have enough liquid propane to fuel your cooker. 20 lbs of it will already be enough to get the job done, even for multiple birds.
If you're tempted to get one of those small liquid propane bottles thinking that it will work, don't go for it.
Even if you find a way to attach the regulators or hoses to these bottles, they still won't be enough to cook a turkey. They might not even suffice for a chicken, so just go all out and opt for an actual gas tank.
How Much Propane Does a Turkey Fryer Use?
One of the things that tend to put people off about propane turkey fryers is the fact that they run out. This can be worrisome as you don't want to run out of gas when your turkey isn't done yet.
This is the very reason why experienced home cooks recommend getting 20-lb propane tanks for deep frying. But even if you have a large capacity tank, it's just natural to want to know how long you can use a full tank of gas.
The answer depends largely on the BTU ratings of your burner. To find out how long your 20-lb propane tank can last when used for deep frying, you just need to do some math.
A 20-lb tank can contain up to 4.7 gallons of gas. This can be converted to 535,800 BTUs. Divide this number by the BTU rating of your cooker and you'll get the number of hours before the tank will run out.
So if you have a 60k BTU burner, you'll have about 9 hours of cooking time with a single full tank of 20-lb LP gas. The lower the BTU rating of the burner, the longer it can be used for cooking. They might be less efficient than the ones with higher ratings, though, so you have to consider such points as well.
How to Light a Propane Turkey Fryer?
Operating a propane turkey fryer can seem like a complicated task, but it's not really the case. It's actually a lot like operating a traditional stove top if you'll think of it.
If you also own a gas-powered grill, you shouldn't have a problem working with using a turkey fryer.
So how do you turn it on? It depends whether your unit has a self-contained flame or it's a burner and pot set.
Those with self-contained flame are easy to start as you'll only need to turn their rotary ignition. For those with burners, here are the steps:
Grab a utility gas lighter. This will help you light the burner safely.
Check the gas tank and burner connection. Make sure that both are securely attached to each other.
Turn the gas valve on.
With the lighter in one hand, turn on the burner ignition.
Use the utility lighter on the burner to light its fire.
Adjust the flame according to your needs.
10 Benefits of Using a Propane Turkey Fryer:
Why should you opt for a propane turkey fryer? Here are ten of its most popular benefits that should help you weigh your choices.
1. You don't have to worry about your fryer being underpowered.
Electric fryers tend to have issues when it comes to power because they can't be used with most power strips. The longer the current has to travel to the unit, the more power is lost so there are times when electric fryers don't get enough electricity to function at its full potential.
With a propane turkey fryer, however, you don't have to worry about that. You will still need to make sure that the gas line is in good shape but that's easier to do than deal with electricity.
2. You can find burners with really high BTU ratings.
These fryers can get extremely powerful without you having to spend an arm and a leg for them. While they still won't reach the same BTU ratings as commercial-grade stoves, the right match for your needs can still do an excellent job in providing enough heat to cook your turkey.
3. You can cook outside without too much fuss.
Setting up an outdoor propane turkey fryer is a lot easier than setting up an electric unit outside. You don't need to worry about power source for starters because you don't have to use a really long extension cord. You also don't need to worry about the weather too much because you won't have power cables out in the open.
4. You have several options to choose from.
You can find propane turkey fryers in deep fryer or oil-less fryer varieties. These can give you enough options in choosing what you think will suit your skills and preferences best. With the number of choices available, you can also be sure to find the right one for you.
5. You'll surely learn a new cooking skill from these cookers.
While they're not really complicated to operate, the best turkey fryers will still be able to teach you a number of new skills. For one, you can learn how to turn on an outdoor burner. You can also learn how to protect the flame from the winds. You might even discover a thing or two about your backyard and your knack for cooking large portions.
6. There's a good chance that you can use your propane fryer for other cooking methods.
A lot of propane turkey fryers also work as boilers and steamers. Sometimes they're also used for homebrewing or canning. So with the right product, you can do more than just fry in these things.
7. You won't have a hard time cooking large chunks of meat with these cookers.
Most propane turkey fryers are large in size so if you're thinking of cooking large slabs of meat, these things can help you get the job done. You won't have to struggle with fitting your ingredients or risk undercooking and wasting food with the right cooking equipment for your needs.
8. You won't have to heat up your home just to cook turkey.
As most propane turkey fryers are also outdoor fryers, you don't have to worry about using them all year long. You can enjoy fried meats even in the middle of summer because it won't affect the temperature inside your home.
You can also still cook with these things even in the dead of winter, just find something that will warm you up while you wait for your food to get cooked.
9. You won't have to squeeze in a large cooking appliance in your kitchen or look for a good indoor space with a reliable power source to cook your turkey.
As mentioned above, most propane turkey fryers are outdoor fryers so you don't have to worry about squeezing them inside your kitchen. As some products are also portable, you won't have problems as well if you need to store them when not in use.
10. It's generally safer to deep fry a turkey outside.
According to the DHS, turkey fryers are best used outside. This is because there will be less flammable structures near the fryer outdoors. Property damages can be minimized in case of a grease fire. So if you're thinking of getting a deep fryer, a propane variety would be an excellent choice.
Buying Guide – How to Choose Top Rated Propane Turkey Fryer?
To help you in narrowing down your options, here are a few things that you should look for in the rated propane turkey fryer:
1. Consider the Cooking Capacity
This is the most basic tip when looking for the best turkey fryer. If you want to make sure that you can whip up a lot of food to be able to feed everyone, pay close attention to the cooking capacity of the pot. Most propane turkey fryers tend to come in larger sizes, though, so this shouldn't be an issue.
2. Look at the BTU Ratings
As you'll be using a burner with a propane turkey fryer, it's important to note its BTU ratings as well. Those with larger pots will need higher BTU ratings for effective cooking so make sure to look for something that matches your needs.
3. Do Not Compromise Quality
Unfortunately, not all turkey fryers are made equal. Some are made with low-quality materials so you have to weed those out. Stick with products that are made with high-grade materials and craftsmanship. Do not settle for anything less than stellar because your safety and investment depend on quality.
4. Consider Those with Safety Devices
Some people may think that the products with safety devices attached to them are annoying because they have to keep checking the fryer from time to time so it won't die.
While it can get tiring to use, it's a nifty addition to these cookers. Without them, users will be tempted to leave their pots unattended for long periods and that's not ideal.
These fryers come with a considerable amount of danger, so it's best to opt for something that will help ensure your well-being.
5. Oil-less Fryers vs. Deep Fryers
Deciding whether you want an oil-less fryer or deep fryer is another serious consideration. This can make or break your feasts, so you should choose carefully.
Keep in mind that they offer different results. So if you have very particular preferences, make sure to choose accordingly.
Final Verdict
The top rated propane turkey fryer would be something that will give you the results you want, provide ease of use, and is convenient to have around.
We hope this guide helps you find the propane fryer that meets your standards and preferences. This way, you can be sure to get the right product for your needs.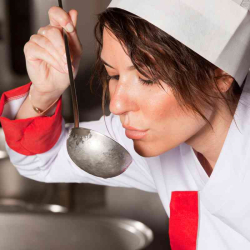 Latest posts by June Brandt
(see all)