Constructing a 12 x 16 storage shed is cool, but doing that the best way is breathtaking and enlightening. As a DIYer, your choice of construction matters when you've got a load of materials available for storage on a constant basis. And, that's why a 12 x 16 shed is the best to avoid congestions.
Whatever you might be doing or intend needing the shed for, a shed that's roomy assures your safety and, as well, your pieces of equipment. Cognizance won't get it done, but discreet instructions on measurements, setting, placements, and so on from experts would aid you immensely. And that's what we've got for you below:
5 Points to How to Build a 12 X 16 Storage Shed:
Measurements
1a. 4pics of 4 x 4 lumber (to make the four-post corners) – 192" long.
1b. 2pics of 2 x 6 lumber that is 192" long and 13pics that are 141" long- Joist.
1c. 5pics of ¾" plywood – 48" x 96" long, 48" x 48" long – Floor.
1d. 2pic of 2 x 4 lumber, 192" long, 1pic 185" long, 11pics-81" long – for the two sides.
1e. 1pic 2 x4 lumber, 144" long, 1pic – 137" long, 2pic -38.5" long, 6pic-81" long, 2pic-75" long, 2pic of 2 x 6 lumber, 63" long – Front Wall.
1f. 2pic of 2 x 4 lumber, 144" long, 1pic -137" long, 7pics -81" long – Back wall.
1g. 14pics of T1-11 – 48" x 96" long, 2pics – 24" x 48" siding.
1h. six pieces of ¾" plywood – 48" x 96".
1i. You'd need paint, nails, screws, wood glue, saw, and so on.
Build the Floor
Take two out of the 2 x 4 lumbers that are 192" long, and get another two of the same lumber-type but of 141" length (we aim to make a 12 x 16 shed 192" long with 141" breadth). So, that with 141" would be our breadth.
Go on by aligning the length (making the two 192" long lumbers parallel); do the same to the breadth.
Having made a rectangular-shaped base, start cutting and fixing the joists evenly in between the walls of the floor. You can either use small nails or 3.5" screws to tighten them up.
Warning: Don't cross the lined base (lumbers already screwed in horizontal forms) with lumbers in vertical directions. Why? So that the base would be smooth and the whole process would be hectic-free.
Start laying the ¾" plywood on the base and start screwing them onto the joists.
Making of the Sidewalls
Take up two of the 4 x 4 lumber to make the sides for a sidewall and another set for the second sidewall. Let one end to be far apart from each other by 192".
If the height of the 4 x 4 lumbers is 81", then get 2 x 4 lumbers of the same four pieces but have their size not longer than 76". Then, join one 4 x 4 lumber to one 2 x 4 lumber for the whole (four) inner sides for the two sidewalls.
However, ensure that the tips of 2 x 4 lumbers are neither contending with the tops or bottoms of 4 x 4 lumbers. Afterward, run a 2 x 6 lumber from one end of a sidewall to another (both the top and bottom).
Cut the 2 x 4 lumbers to make up joists in between each of the two sidewalls.
The back wall should be done flawlessly and intuitively afterward.
Making the Front Wall
The two posts that make up the front should have a 2 x 6 lumber run on their tips. However, that's after sidewalls and back wall have been coupled with the base through nailing and screwing.
Remember what you did initially, getting a subsidiary plank attached to the side of two posts which sides face each other? If yes, that's the exact thing you'd do now to the two posts at the front.
Run another 2 x 4 lumber under the one at the top to demarcate the height level of the door.
Cut two 2 x 4 lumber to make posts for your door with their respective tips touching the second lumber you run. Afterward, you can make your joints on both sides of the door.
You can now fix your door with hinges.
Making the Roof
Cross-cut the angle 90 of every corner with a small piece of wood log, and attach a 2 x 4 lumber from the front wall to the back wall (just one is enough). Right on the one you used, cut 2 x 4 lumber into sizes and nail them to the top of the plank joining the front and back walls. Make as many as you can make to protrude upward.
Now, crown them all with a 2 x 6 lumber (you know those are protruded upward from the center, now make some fitting lumbers to join up at the overall top right from the sides). You can attach some planks on both sides to run vertically on those converging at the top. It's after that you can nail your zinc, aluminum, or whatever on it.
Is 12×16 a good size shed?
What you intend to use a shed for after purchasing it matters. It determines whether a 12X16 will be good for you or not. The properties you can save in 12X16 sheds are lawnmowers, garden working tools, and bikes. Such sheds are not commodious for keeping tractors and other ultra-heavy duty equipment.
Obviously, it's a standard size for homes with premium available sizes in the backyard. The design of its interiors and the lofts would determine the shed's capacity to save. This mid-range shed can hold a car, provided the floor is concrete.
In addition, the type you buy also determines what you can use it for and at which weather it's best useful. All these would characterize the prospect of a 12X16 shed.
How much would it cost to build a 12 by 16 shed?
The materials used for the construction of storage sheds are different. Some are made of metal, while some are made of wood. Of course, those made of wood are cheaper, and they are more accessible to couple up than the latter.
Normally, 12 by 16 sheds have 12ft X 16ft for exterior dimensions and 11.42-ft x 15.17-ft for interior measurements.
For wooden shed construction, the cost of the shed should be between $5,500 and $10,900. Where you reside at a point in time is an essential factor, and the type of designs you want also contribute.
How many studs do I need for a 12×16 shed?
Studs are essential supporters of sheds. For 12×16 sheds, you'd need 2×6 studs to support the walls and make the décor look aesthetic. Giving it a 16" spacing before setting up the studs will provide a rigid design.
This is doable intuitively and beautifies the interior and the shed's flooring. The stud may be a challenging part of the construction, but you might need a professional woodworker to get it right.
Final Verdict
Ensure that no joist is left uncovered on both sides. The angles you cross-cut with wood logs are to help you save on the roof when necessary. Adhering to that shows that you're good to go; you can now paint the house up by yourself.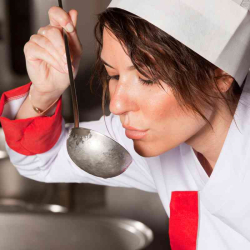 Latest posts by June Brandt
(see all)