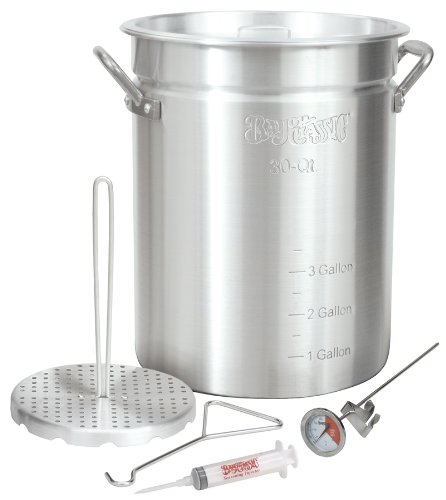 There's no denying that deep frying a turkey can be a dangerous feat. In fact, some relate it to the higher number of fires during Thanksgiving. This won't stop some from deep-frying their birds, however.
So if you're one of those who want to give this method a go, this Bayou Classic 1118 32 Quart Stainless Steel Turkey Fryer review might just help you out.
This specific item is a popular pick not just for novices but for experienced cooks as well. This makes it an attractive pick for many as it can promise great results.
But why should you give this product a shot? Its features should clue you in.
Bayou Classic 1118 Turkey Fryer Review – 5 Major Features
1. 32-Quart Cooking Pot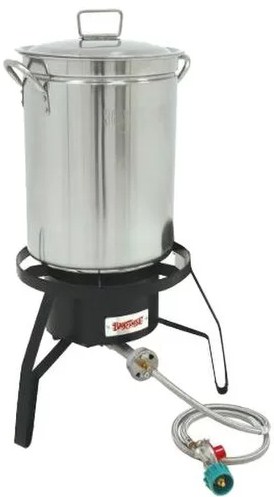 The first and most important thing that you should know about this product is that it is only a cooking pot set. It doesn't come with an outdoor burner, so if you don't have one of those yet, you will need to look for one.
The pot itself makes a good case for itself. Most burner and pot sets offer a low-quality fryer to reduce costs. But since this one doesn't come with a burner, you can be quite sure that it's made durable enough to get the job done and last a while.
Its size is also very notable. It can already fit an 18-lb turkey (20 lbs at most) safely so you can be sure that it can help you cook for your family and friends who are having Thanksgiving in your home.
2. 22 Gauge Stainless Steel Construction
With the amount of food that it has to contain, a outdoor turkey fryer has to be absolutely durable to prevent any accidents from happening. This fryer offers this necessary quality with its 22-gauge stainless steel material.
Even its accessories are made of the same material so you can count on everything to be able to handle regular use. So if you're after good cookware that you can use not just on Thanksgiving, this might be a solid pick.
3. Vented Lid
This might seem like a very small thing to make a big deal out of, but lots of experienced cooks want a vented lid with their deep fryers so it's worth noting.
Vented lids come in handy because they help prevent splattering. This can make deep-frying a bit safer since you don't have to worry about getting hurt by oil splatters anymore.
4. Heavy Duty Handles
Moving a large vat filled with oil can be dangerous regardless of the oil's temperature. This is it's very important for a deep fryer to come with heavy-duty handles.
The handles are welded into the pot and don't use screws or bolts to join the parts together. This promises a stronger hold, so you don't have to worry about the bolts loosening over time.
5. Accessories Included
Aside from the pot and lid, the Bayou Classic 1118 also comes with the following accessories:
Perforated basket for steaming or boiling
Perforated poultry rack
Grab hook
12-inch stainless steel deep-fry thermometer (reads from 50-750°F)
1-ounce seasoning injector
Bayou Classic Fryer Instructions:
Bayou fryer comes with a manual that has a lot of safety instructions. What we like about the instructions is that most of them are applicable to all air fryers and deep fryers. Take the time to read the instructions and apply all of them. Here are some of the safety instructions:
The product should be operated by sober adults only. Children are barred from operating it and also, tipsy adults shouldn't use it either.
For safety reasons, you must follow the assembly and usage instructions to the letter. If mishandled, it could scald you or start a fire.
Never operate it in a hurry. You're likely to skip safety steps when you do.
The appliance runs on liquified propane which produces carbon monoxide, a very harmful gas. So, it should always be used outdoors.
Never leave it unattended. This is the major cause of most culinary accidents.
The fryer radiates a lot of heat, so you should place it on heat-resistant and non-combustible surfaces like bricks. All plastic and wooden objects should be kept away from the fryer. Also, the surface should be stable and level to avoid tilting the fryer.
Keep the fuel supply hose away from heated areas.
It is important to use the thermometer each time you want to use it. This is because the temperature of the oil should never exceed 350 degrees F. If it does, the oil may begin to smoke. And if the oil starts to smoke, just switch off the appliance and allow the oil to cool off. This is why you should never leave the fryer unattended to.
Don't overfill it with grease, water, or oil. Adhere to the volume limit.
Make sure you check for gas leaks before you turn it on.
Bayou Classic Fryer Recipes:
These recipes are not regular recipes that you come across often. They are results of through and in-depth research and numerous experiments. You'll love them all. We tried a few of them and we're glad to tell you that they are awesome.
Many of them are quite easy to prepare and their ingredients are easy to purchase. You must follow the quantities of the ingredients if you want to get great results. Some of the recipes are:
Bayou Soft Pretzels
Spicy Shellfish with Smoked Sausage
Oxtail Chili
King Cake
Moon Pies
Irish Soda Bread
Mac & Cheese
Crawfish & Shrimp Brisque
Cheese Crisps
They are many more. You can get the full list of recipes and their details here.
Stainless Steel Fryer Pot and Basket:
Bayou fryer comes with stainless steel pot and basket. This implies that both items are resistant to rust, rot, and corrosion. They will last for so long. It might also interest you that both of them are light and they have heat-resistant handles. No matter how hot they may be, their handles will remain cold.
When you purchase Bayou Classic fryer, you'll get a complete package.
Why Should You Use Bayou Classic 1118 32 Quart Stainless Steel Turkey Fryer?
Aside from its features, there are more reasons why you should take a look at this product. These are a few good examples from various Classic 1118 32 Quart Stainless Steel Turkey Fryer reviews that might help you weigh your options better.
1. It's made of high-quality and durable materials.
As this product is made of 22-gauge stainless steel, it won't be easily dented or punctured. This helps better guarantee its durability so you can use it with confidence.
2. Its lid is nicely designed to minimize deep frying risks.
Its vented lid is one of the things that draw some users to get this product. This tiny design detail helps make it safer to use as it can minimize the amount of oil splattering. It can also prevent oil from boiling over and spilling which is very important to avoid.
3. It's highly versatile.
The simplicity of its design makes it suitable for various dishes. The additional accessories also help extend its usefulness as it won't just be ideal for deep frying.
With the perforated basket, it can also be used to stew, steam, and boil seafood. In some cases, the pot can also be used for brewing, giving you more ways to make the most of this purchase.
4. It's easy to maintain and clean.
Its stainless steel material also promises ease of cleaning. As it's designed not to rust, you don't have to season the pot or go through hours of preparation before its use.
5. It comes with a friendly price.
One of the most attractive things about the Bayou Classic 1118 is that it comes at a friendly price range. It might not come with a burner but the quality of the pot in itself can easily justify its price point.
Lots of deep fryer sets that come with a burner in this price range have flimsy pots, so if you want to prioritize the quality of your pot, this product might be a good choice.
[su_row][su_column size="1/2″][su_list icon="icon: check" icon_color="#228B22″ class="posbox"]
Product Benefits</h3
Attractive
Has a good amount of heft
Very sturdy
Welded handles promise durability
Can accommodate a decent sized fowl
Easy to clean
Can also be used to steam, boil, and stew
Doesn't rust
Good value for the price
Just the right size for most households
[/su_list][/su_column]
[su_column size="1/2″][su_list icon="icon: warning" icon_color="#ff0000″ class="negbox"]
The Negative Things
Will need you to purchase a burner separately
Some reports of minor rusting
[/su_list][/su_column][/su_row]
FAQ – Frequently Asked Questions
Q: Are all of the parts made of stainless steel?
A: Yes. The pot, basket, rack, hook, and thermometer are all made of stainless steel.
 Q: What is the outside measurement of the pot?
A: It measures about 12.5" across.
 Q: Can you cook seafood in it?
A: Yes, you can deep fry, boil, steam, or stew different ingredients with this cookware.
 Q: Does it have a fill line to prevent hot oil or water from spilling?
A: Yes, it has a demarcated fill line.
 Q: Does the lid come with a hole where you can stick the thermometer in?
A: No but the thermometer can be clipped on the side of the pot for easy monitoring.
Final Verdict
There might be tons of other options for a solid deep fryer but not all of them can be a good fit for those who want to try deep frying their turkey on Thanksgiving.
Hopefully, this Bayou Classic 1118 32 quart Stainless Steel Turkey Fryer review helps you figure out which product will suit your needs best. It's a solid choice for lots of households, though, especially those who already own an outdoor burner.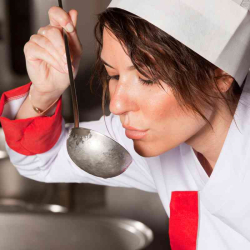 Latest posts by June Brandt
(see all)