It's no secret that deep frying has its dangers. In fact, accidents related to this activity typically amounts to more than $15 million in property damages every year.
No one's going to stop enjoying this delicious tradition, though. This explains why the government is basically telling everyone to just opt for the top rated outdoor turkey fryers instead.
Although they didn't say it exactly that way, various government agencies list deep frying outside as their number one safety tip for turkey frying. So, if you're going to do that,
you'll need a reliable outdoor fryer
, right?
The good thing about these products is that you have tons of options to choose from. It's just a matter of picking the best model that suits your needs. This guide can help you do just that.
Top Rated 6 Outdoor Turkey Fryers in 2021 – Get The Right Model:
Top Trending Turkey Fryer Products:
Our Picks of 5 Best Outdoor Turkey Fryer Reviews:
Wondering what are the rated outdoor fryers available today? Here are five of our picks that you can start your search with.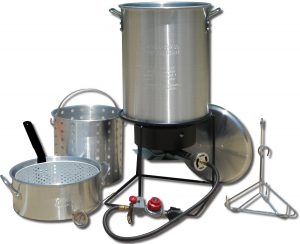 The King Kooker 1265BF3 Outdoor Turkey Fryer is often chosen as a top pick as a starter kit. Its friendly price combined with the inclusion of two cooking pots and handy accessories offers great value for your money.
It will also save you from having to purchase additional pieces separately so it's also a convenient pick.
Its 33,000 BTU burner is another major draw. It promises enough power to hold the heat to cook your food effectively and efficiently.
So, overall, it's not just a practical choice but it can also do a great job in helping you cook the tastiest deep-fried dishes.
Features:
Welded Heavy Duty Propane Gas Cooker
33,000 BTU Cast Burner
29-Qt Aluminum Cooking Pot and Lid
Large Aluminum Cooking Basket
11-Qt Aluminum Fry Pan with Cool-Touch Handle
Small Aluminum Cooking Basket
Turkey Rack and Hook
Meat Thermometer
From one of the most popular outdoor fryer brands is the Masterbuilt 20020107 Propane Turkey Fryer.
Like the King Kooker item listed above, it also has a large cooking capacity and a pot and burner setup.
What makes this product stand out is its safety device.
It comes with a timer that automatically shuts off the gas line when the time runs out. This ensures that you won't leave the pot unattended for long periods, minimizing the risks of accidents.
Features:
15" Solid Steel Gas Cooker Stand
Cast Iron Propane Gas Burner
30-qt Aluminum Turkey Pot with Lid
Lifting Hook
Type 1 Regulator and Hose
Electronic Timer with Automatic Shut Off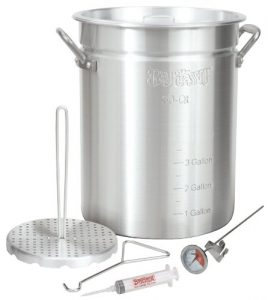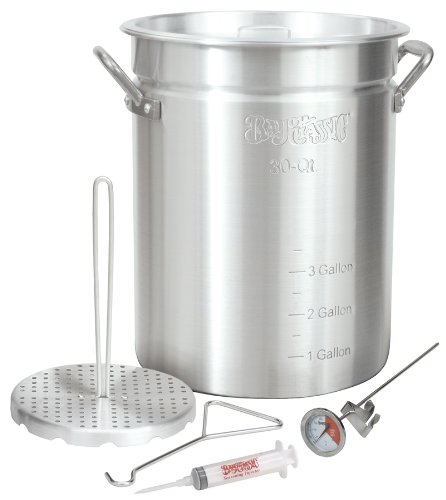 Unfortunately, some cooker sets don't have the sturdiest pots. If you're after a good cooking pot, you should look into the Bayou Classic 118 32-Quart Stainless Steel Turkey Fryer.
Unlike other deep-fry pots, this one is made of 18/8 gauge stainless steel. This promises durability as it's thicker and higher quality material.
Aside from the cooking pot, the other accessories of this item are made of stainless steel as well. This is why it's considered as a dependable pick by many.
Lastly, it also comes with a vented lid. This might not seem like much but it can help lessen splattering so it's easier and safer to work with.
Features:
32-Qt Stainless Steel Cooking Pot
18/8 Gauge, Commercial-Grade Stainless Steel
Stainless Steel Cooking Basket
12" Stainless Steel Meat Thermometer
Stainless Steel Poultry Rack
Grab Hook
Vented Lid
Seasoning Injector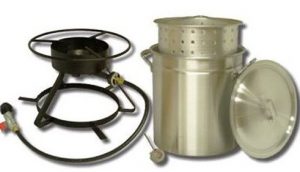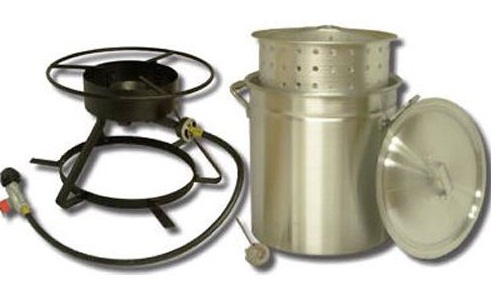 If you're not really planning on deep frying turkey with your outdoor cooker, the King Kooker 5012 Portable Propane Outdoor Boiling and Steaming Cooker can be a good pick for you.
This item is only recommended for boiling and steaming, so you might reconsider using it for deep frying.
Since the cooking basket it comes with won't reach the bottom of the pot, it might not be an effective pick for deep frying.
Despite this limitation, this product still comes with a reliable cooker. It can reach up to 54,000 BTUs so you can count on it to help you steam and boil food with relative ease.
Features:
12" Bolt-Together Flat Top Outdoor Cooker
15" Diameter Top Ring
54,000 BTU Burner
50-Qt Aluminum Ridge Pot
Steamer Basket and Lid
Type 1 LP Regulator and Hose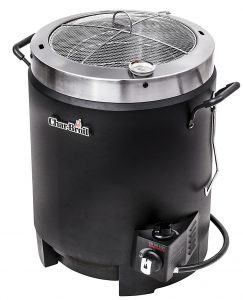 Those who aren't big fans of deep fryers but still want to cook outside will find a good match with the Char-Broil Big Easy Oil-less Liquid Propane Turkey Fryer.
This product is basically a convection oven as it uses infrared heat to cook a delicious dish.
As it doesn't use oil, it's quite economical and easier to use.
You don't have to purchase oil in large volumes and you won't have to deal with hot oil. You also don't have to worry about disposal, so it can really be an easy pick for many.
Features:
Outdoor Oil-less LP Turkey Fryer
Char-Broil TRU-Infrared Cooking Technology
16-lb Cooking Capacity
Double-Wall Construction
Rotary Ignition
Drip Tray
Cooking Basket, Meat Thermometer, and Lid Included
Additional Accessories Available for Separate Purchase
How to Use an Outdoor Turkey Fryer?
To start this guide, let's start with the basics. Using an outdoor turkey fryer may seem complicated, but it's really not the case. For the most part, you only need to do the following:
1. Read the manual.
Never skip reading the user's manual that comes with everything, most especially for cooking equipment. These things can have some quirks that other products might not have.
It's best to know exactly how you should use it so you won't get in an accident or void your warranty if there's any.
2. Get a decent sized propane tank.
Some people ask if they can use portable propane bottles to cook with a large outdoor fryer. While this is not impossible, it can be complicated and even a hassle. You'll end up replacing the bottles very often as they won't contain enough to cook a large turkey.
Most people recommend getting a 20-lb tank for outside cooking. Not only will it ensure that you won't run out of gas in the middle of cooking, but it can also let you cook a couple of dishes before needing a refill or replacement.
3. Find a safe cooking location.
To minimize the risks of having anything catching on fire, you need to find a safe location for your outdoor cooker. If you're using an open flame, stay away from covered areas like garages and patios as well as wooden decks. Staying away from buildings and flammable structures is a must as well.
4. Hook up the cooker to the propane gas tank properly.
Attaching your gas line to the tank properly is also a must. Gas leaks are dangerous near an open fire, so you have to be careful when setting up.
5. Use your cooker according to the manufacturer's instructions.
Lastly, use your cooker according to how the manufacturer has instructed you to do so. Some people may feel like they can take liberties in using an outdoor cooker, but as it's not tested to function in another manner, doing so can be dangerous.
So if you don't want to damage your unit or void your warranty, stick to the instructions provided.
10 Benefits of Using an Outdoor Turkey Fryer:
Need a few good reasons why you should look for the latest outdoor turkey fryer? Here are a few that should explain why you need one of these cookers in your home:
1. It's safer to deep fry a turkey outside the house.
A large vat of hot oil and an open flame can be dangerous to have inside the house. There are just so many things that a grease fire can engulf in the kitchen. This is the very reason why experts strongly recommend deep frying outside instead of right inside your kitchen.
2. It won't let your house smell like grease.
Aside from the risk of things catching fire, deep frying in the kitchen can also leave your home smelling like grease and food. It might smell nice while you're still hungry and the food jus just about to be served. However, it won't be as good a few days later when the cooking odors decided to linger in your home.
3. It won't heat up the house.
Ovens and indoor fryers can raise the temperature inside your home, so they're not the best cooking equipment to use during the summer months. An outdoor fryer won't affect your home's temperature, on the other hand.
4. There are tons of options to choose from.
You can take a pick from the different kinds of outdoor fryers. Some are deep fryers, others are oil-less. You'll also find traditional burner and pot sets while there are also those bucket-type cookers with contained flame. It's up to you to choose which one you like best.
5. You can get the biggest cooker and you won't have to worry about how it will fit in your kitchen.
Those who like to whip up a feast won't have to worry about efficiency with the latesr outdoor turkey fryer because you can always opt for the largest size available. You don't have to worry about fitting a humongous pot and burner in your kitchen since you don't have to set it up there.
6. You can use it for outdoor parties, just make sure to take ample safety precautions.
If you like hosting backyard parties, this cooking equipment can come in handy. It can cook large batches of food and can continue cooking while the party is raging. Just remember to keep the kids and drunks away while the unit is cooking to prevent any injuries.
7. You'll learn a new cooking skill with an outdoor turkey fryer.
By learning how to operate an outdoor turkey fryer, you can add another skill to your list of abilities. Even if these cookers are very easy to operate, learning a new skill is always a good thing.
8. If you can operate a stove, you can use an outdoor turkey fryer.
As mentioned above, outdoor turkey fryers are usually very easy to work with. If you can operate a stove, you can pretty much handle one of these fryers. You just have to be extra careful when it comes to securing the right location for cooking as well as in working with hot oil.
9. Cleanups can be easier.
With an outdoor cooker, you don't have to fret about spilled or splattered oil on your cabinets and countertops. If you're careful, you won't have to do a lot of cleaning up aside from putting away the cooking equipment.
10. It can let you enjoy a beautiful day outside.
If you're using an outdoor fryer then you have to be outside. This can let you enjoy a beautiful afternoon in your backyard. When was the last time you did such?
If it has been too long ago, this cooking equipment can really be a nice addition to your home.
Buying Guide – How to Choose The Best Outdoor Turkey Fryer?
To help you cover all of your bases, here are the most important factors you should look into  when shopping for the outdoor turkey fryers:
1. Cooking Capacity
Outdoor fryers come in various shapes and sizes, so you have to take note which one will suit your needs best. If you want to cook a humongous turkey, you can find products that come with pots that can accommodate 30-lb birds and bigger.
If you're getting a separate pot and burner, however, make sure that both fit each other well. Pay close attention to the measurements as bigger pots won't fit small burners.
Even if you can balance it nicely, the base might still buckle under the weight of the pot. There's also a chance that it won't be able to distribute heat properly.
2. Burner BTU Rating
The higher the BTU rating, the more heat the burner can provide. This is essential for outdoor fryers as they often handle large amounts of food.
As environmental factors can also affect the amount of heat transferred from the burner to the pot, a powerful burner will have better chances at being an efficient cooker.
Most experts say that a 30,000 BTU burner can already handle a turkey. However, to be on the safe side, go for something with a higher BTU rating.
Basically, the bigger the cooker is, the higher its BTU rating should be. This way, you can be sure that your burner will have enough fire to cook your food effectively.
3. Overall Quality and Construction
Again, as these outdoor cookers are designed to cook large amounts of food, it should also be made of high-quality materials and craftsmanship.
The burner stand shouldn't be made of thin, flimsy steel. It should be sturdy as it will have to carry a lot of weight. Just the turkey alone can already weigh up to 40 lbs, so you have to look for something that can handle as much weight.
High-grade materials and quality construction can also help ensure your safety. No one wants a cooking pot that melts, gets holes, or falls apart while in use.
As it will contain hot oil, these can lead to injuries. So make sure to only get the ones with the best materials and construction.
4. Your Budget
The latest outdoor turkey fryers are not cheap but they can be affordable. Once you put in perspective just how useful they can be, they won't seem too expensive anymore. However, you should still set a good budget as these products come in a wide price range.
5. Ease of Use and Cleaning
To make sure that you'll be able to make the most out of your outdoor fryer, it should be easy to use and clean. If it's too complicated to operate or too much of a hassle to clean, you won't want to use it ever again.
That won't just be wasteful but it will also let you miss out on enjoying some of the tastiest dishes around and it will be a real shame.
If the cooking equipment you got is both easy to use and clean, you can also ensure to keep yourself safe. If it's easy to use, you won't have to struggle to operate the burner and prevent serious accidents as you won't do the wrong thing with the unit.
If it's easy to clean, you'll also be safe because there won't be any old, rotting food or even soap left in the cooker when you use it again.
Final Verdict
When looking for the outdoor turkey fryer, make sure to take note of your needs and preferences. These products come in different shapes, sizes, and even functionalities, so it's really up to you how you can decide which one will suit you best.
Deciding between a deep fryer vs. oil-less fryer is just the start of the many decisions you have to make when shopping for these items.
Be ready to be more meticulous, compare options, and read reviews so you can be sure to find the right match for you.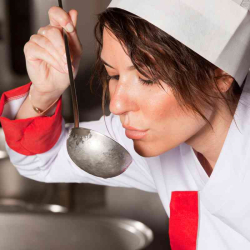 Latest posts by June Brandt
(see all)