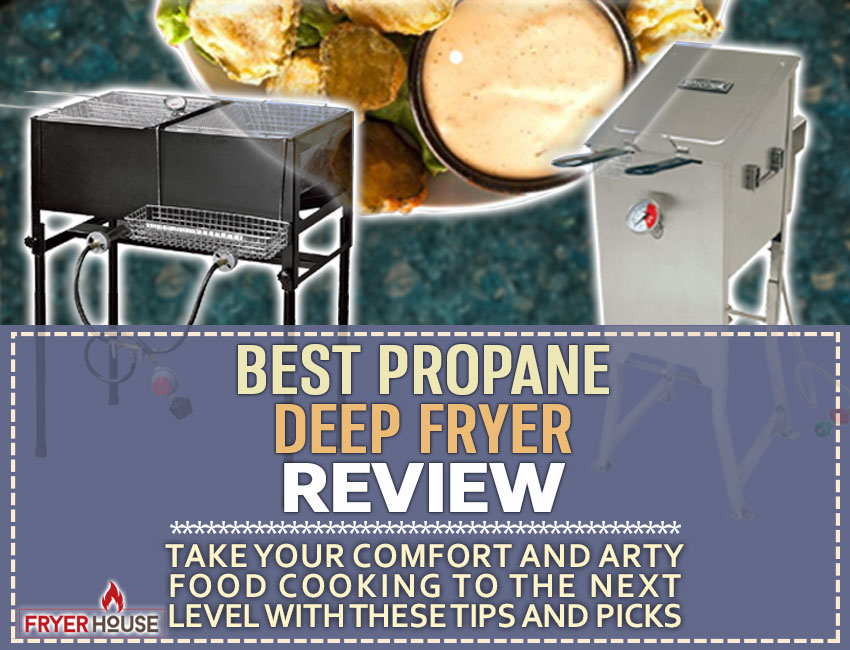 A good portion of the most popular items in American cuisine is made of deep-fried items. This is why it shouldn't be too surprising that a lot of home cooks are thinking of getting their own deep fryers. With the right one, they can enjoy another way to whip up the crispiest and tastiest dishes at home.
When it comes to these cooking apparatuses, a lot of people opt to look for the best propane deep fryer. This particular type of deep fryers offers a wide range of attractive benefits, a lot of which can't be found in a regular kitchen appliance.
If you're wondering whether a propane deep fryer would be a good addition to your home, make sure to read all the way through. This guide might just help you learn a few useful points that can help you make up your mind about this cooking equipment.
Top 5 Propane Deep Fryers 2021 – Reviews and Comparisons:
| Rankings | 1st Choice | 2nd Choice | Best Overall | 4th Choice | 5th Choice |
| --- | --- | --- | --- | --- | --- |
| Top-Rated Propane Deep Fryers in 2020 | | | | | |
| Name | King Kooker 1265BF3 | King Kooker 1618 | Bayou Classic 700-701 4-Gallon Bayou Fryer | Char-Broil The Big Easy TRU-Infrared  | Kitchener Triple Basket Deep Fryer |
| Brand | King Kooker | King Kooker | Bayou Classic | Char-Broil | Kitchener |
| Color | Multi | Black | Silver | Black | Black |
| Rating | Excellent | Excellent | Excellent | Excellent | Excellent |
| Dimensions | 14 x 18.2 x 14 inches | 17.8 x 14.5 x 16.5 inches | 17.5 x 17.2 x 26 inches | 16 x 16 x 24.5 inches | — |
| Weight | 18.9 pounds | 16.01 pounds | 43 pounds | 36 pounds | 50 pounds |
| Material Type | Aluminum | Steel | Stainless Steel | Stainless Steel | Stainless Steel |
| Get Started | | | | | |
Our Picks of 5 Best Propane Deep Fryers Review:
1. King Kooker 1265BF3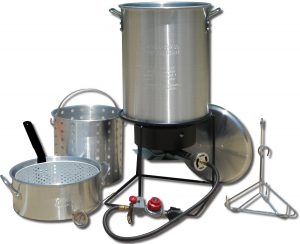 Deemed as a handy starter kit for those who are just about to try deep frying for the first time, the King Kooker 1265BF3 can be all you need to start enjoying amazing deep-fried dishes on special occasions.
The inclusions alone in this set will already promise your convenience as you won't need to buy or use other cookware with it.
Top it all off with a powerful burner that is equipped with an effective safety feature and it might be exactly what you need in an outdoor equipment.
Features:
[su_list icon="icon: check" icon_color="#228B22″]
Heavy-duty welded cooker
33,000 BTU cast burner
29-qt aluminum pot with lid and basket
Turkey rack
Lifting hook
11-qt aluminum fry pan with heat resistant handle and fry basket
Propane tank regulator
Gas hose with auto shut off timer
Thermometer included
[/su_list]
2. King Kooker 1618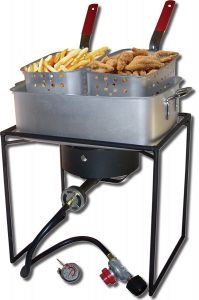 For those who aren't looking for a turkey fryer, King Kooker 1618 is a nice option. This deep fryer is meant for finger foods, so it can be the perfect pick for those who love to host backyard parties.
It can cook up to 10 lbs of food in one go, so it can really be a great addition to your collection of outdoor cooking equipment. Note, however, that it needs to sit on a bench or low stand to make it easier to work with.
Features:
[su_list icon="icon: check" icon_color="#228B22″]
16" welded steel frame
Heavy duty aluminum pan
2 frying baskets with heat-resistant handles
54,000-BTU CSA-certified cast burner
Regulator with type 1 connector and hose
Deep fry thermometer included
[/su_list]
3. Bayou Classic 700-701 4-Gallon Bayou Fryer
The Bayou Classic 700-701 4-Gallon Bayou Fryer offers an innovative way to deep fry your finger foods. So if you're willing to invest in a good cooking equipment, it can be a solid choice.
What makes it special? Its V-bottom design that keeps the oil at the bottom cooler than frying temperature. This prevents burning the oil which allows it to stay clean for much longer. This offers excellent results and less frequent oil replacement.
Features:
[su_list icon="icon: check" icon_color="#228B22″]
Stand-alone deep fryer unit
Stainless steel construction
V-bottom design
Includes 2 stainless steel frying baskets with heat-resistant handles
Equipped with a drain valve and temperature gauge
10-PSI regulator kit
[/su_list]
4. Char-Broil The Big Easy TRU-Infrared Oil-Less Turkey Fryer
Not a big fan of all the oil you'll consume with a deep-fried turkey? The Char-Broil The Big Easy TRU-Infrared Oil-Less Turkey Fryer can be a good alternative option for you.
This cooking equipment is more of a roaster than a deep fryer as it uses infrared heat to cook your food instead of hot oil.
It's just as easy to use as the other deep fryers, though, if not easier. So combined with its friendly price tag, it can definitely be a great choice for a lot of households.
Features:
[su_list icon="icon: check" icon_color="#228B22″]
Oil-less propane turkey fryer
Patented infrared cooking technology
16-lb cooking capacity
16,000 BTU burner
Cooking basket
Turkey lifter
Meat thermometer included
Removable grease tray
Optional accessories available for separate purchase
[/su_list]
5. Kitchener Triple Basket Deep Fryer
If you're after the most efficient outdoor deep fryer to make your backyard parties more exciting, the Kitchener Triple Basket Deep Fryer is something you should check out.
As the name suggests, it has three frying baskets so you can easily fry three different items all at once. It can also hold up to 18 lbs of food, so if you often host large parties, this can be a great addition to your home.
Features:
[su_list icon="icon: check" icon_color="#228B22″]
Triple-basket deep fryer
2 high-pressure, 40,000 BTU cast iron LP burners
3 stainless steel frying baskets
18-lb cooking capacity
Removable steel wire accessories holder
CSA listed hose and regulator
[/su_list]
Watch Video:
How to Build a Propane Deep Fryer?
Before we dive into the details of the latest propane deep fryers that you can purchase, you might also be interested to know that you can also opt to make your own.
A lot of people actually build their own deep fryers since they're not that hard to make. This also allows them to customize their units according to their very requirements.
If you're thinking of building one yourself, there are tons of reliable guides and tutorials that you can find online. The most basic steps, however, are the following:
[su_list icon="icon: check" icon_color="#0f4880″]
Make a frame for the burner that will also hold the pots in place.
Make or buy a heavy-duty burner that you will equip on your fryer unit.
Place the burner into the frame then hook it up to a liquid propane (LP) tank.
Fill the pot with cooking oil, place it on the fryer, and you're ready to start cooking.
[/su_list]
These steps may sound easy but if you're not handy enough or if you don't have the right tools, you might end up struggling in building your own deep fryer. It can also take you a while to complete, so in some cases, buying one would be a better option.
If you really want a fryer unit that is handmade,
Masterbuilt deep fryers
can still be a good choice. This world-famous brand started out as a backyard hobby by its founder, Dawson Macklemore, which then grew to be one of the top-rated large cooking equipment manufacturers in the world today.
Macklemore initially made various metalworks with his welding machine before they found their niche in making outdoor cooking equipment. It wasn't until someone asked him to make fish fryers that they discovered what they have to offer.
Macklemore started making their fryers by hand while his son sold the units from the back of a truck. The business then soon expanded and developed to become the major player that it is today.
Aside from propane deep fryers, Masterbuilt is also popular for its smokers, grills, and cookers. They also offer electric varieties which offer more convenience and ease of use.
10 Benefits of Using a Propane Deep Fryer: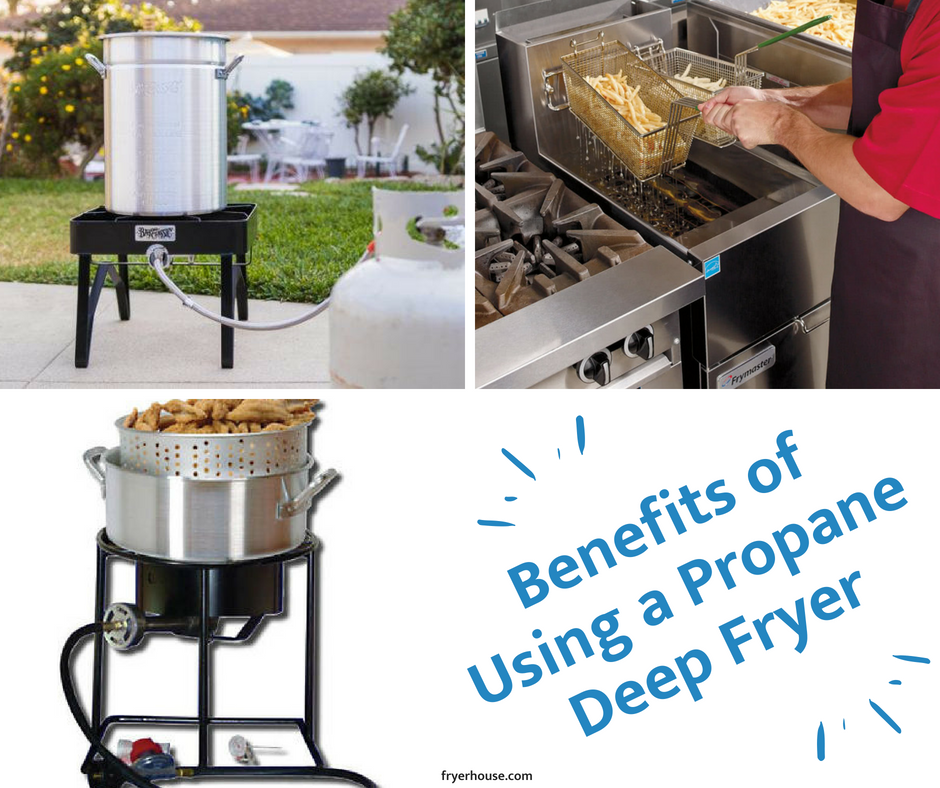 With electric options available, why should you still go for an LP deep fryer? They'll need you to get a different energy source which seems like an inconvenience. You already have electricity and natural gas at home, so why should you still bother with propane?
As mentioned above, there are lots of good reasons why propane deep fryers are highly coveted by a lot of people. Some of the most compelling ones are the following:
1. Propane deep fryers will let you cook outside without a fuss.
As propane deep fryers are designed to be used outside, you don't have to worry about setting up the equipment in your backyard or deck. You can do so with ease since you don't have to fuss about lining anything, may it be an electrical system or natural gas pipes to power it up. All you need to do is to hook up an LP tank to your fryer and you're good to go.
2. It can help you cut down your meal preparation time.
Deep frying a large chunk of meat is a lot faster than roasting or baking it. Roasting a turkey will require it to stay in the oven for about 20 minutes per pound. This will take you about four hours to roast a 22-lb turkey.
Deep frying, however, only requires you to cook your bird for 3.5 minutes per pound. This will only take 77 minutes for you to deep fry a 22-lb turkey. This is just a fraction of the time you'll spend waiting on a roasted turkey so it's safe to say that deep frying can be a more efficient method.
3.  You don't have to worry about the fryer being underpowered.
Propane deep fryers can be more powerful than electric ones since they can have a more steady source of energy when used outside. Electric fryers can get underpowered if you use electric strips with them while LP fryers are directly hooked up to a tank.
The fact that their burners can be rated higher than 30,000 BTUs is also an assurance that they can perform more efficiently outdoors.
4. They won't create a major mess in your kitchen.
If you have a large propane deep fryer, you won't be inclined to use it inside your kitchen. Doing so will leave you cramped and even in danger of spilling a large amount of boiling oil to your floors.
Because you'll most likely use this cooking contraption outside, you can skip worrying about the mess they can make in your kitchen. Since you won't use it there, there's really no reason to worry at all.
5. If you have a lot of outdoor space available, you can go as big as you want.
Another perk of opting for an outdoor LP deep fryer is that you can go for a large unit should you wish to. If you have enough room in your backyard, you can go all out and get the largest set you can afford. The space inside your kitchen won't restrict your choice when it comes to this cooking equipment.
6. Your house won't smell like used oil if you opt to use this deep fryer outside.
One of the most annoying things people hate about deep frying inside the house is the smell of cooking oil that hangs in the air after cooking. Since you'll be deep frying outside with a propane deep fryer, you don't have to worry about this anymore.
7. You can find other uses for the fryer.
Aside from deep frying, some people also use their units to boil and cook other stuff. This can further extend the functionality of your unit and give you more value for your money.
8. It's safer to deep fry large portions of food outside.
The government even advises the public to deep fry outside their homes because grease fire can happen and can cause property damage.
9. You won't heat up your home to cook a large amount of food.
Aside from making your house smell like cooking oil, deep frying indoors can also heat up your home. This isn't something a lot of people want to experience in the warm months or while they have guests.
10. It can help you whip up some of the most sumptuous dishes.
A lot of people will tell you that when you try deep-fried turkey, you won't even want to go back to roasted ones. You can enjoy such and other deep fried goodness with a good LP deep fryer.
Propane Deep Fryer Recipes:
What kinds of dishes can you make with the top propane deep fryer? Here are a few that might get you excited about owning one:
1. Chicken Sticks
Ingredients:
[su_list icon="icon: check" icon_color="#0f4880″]
1 boneless, skinless chicken breast
1 bag tortilla chips
1 Beaten egg
Wheat flour
Seasoned salt
Cheese sauce
[/su_list]
Directions:
[su_list icon="icon: check" icon_color="#0f4880″]
Preheat the deep fryer to 350F.
Slice the chicken breast into strips.
Crush the tortilla chips.
Cover the chicken strips with egg, flour, and crushed chips.
Deep fry for a few minutes until the strips turn golden brown.
Sprinkle with seasoned salt.
Serve with cheese sauce.
[/su_list]
2. Mini Onion Blossom Bites
Makes: 10 onion bites
Ingredients:
[su_list icon="icon: check" icon_color="#0f4880″]
10 pearl onions
1 egg, beaten
1/2 cup cornmeal
1/2 cup all-purpose flour
1 teaspoon paprika
1 teaspoon garlic powder
1/2 teaspoon cayenne pepper
[/su_list]
Sauce:
[su_list icon="icon: check" icon_color="#0f4880″]
1/2 cup sour cream
1/4 cup ranch
2 tablespoons chipotle (finely chopped) in adobo sauce
1 tablespoon chives, finely chopped
Pinch of salt
[/su_list]
Directions:
[su_list icon="icon: check" icon_color="#0f4880″]
Preheat oil to 375F.
Carefully cut the non-root end of each onion. Make about 8 to 12 slits without cutting all the way through.
Carefully separate the "petals".
Combine all dry ingredients in a bowl and mix.
Dip the onions in the egg then fry for 3-5 minutes. Drain on a paper towel.
Combine all of the sauce ingredients in another bowl. Mix and serve.
[/su_list]
Buying Guide – How to Choose the Best Propane Deep Fryer?
Convinced that a good propane deep fryer is the right choice for you? Choosing among your many options can be a challenge, so we'll try to make this task easier for you.
Below are five handy tips for choosing the best product for your needs. Give them a try and you might just find your perfect match in no time.
1. Always look for a good set of safety features.
There's no denying that deep frying comes with a few dangers. Fortunately, they're all very manageable. You just really need to learn how to use your cooking equipment properly and keep an eye on your pot to avoid accidents.
Some deep fryers also make sure that you'll keep a close eye on your pot by having a few safety features. Automatic shut-off timers are some of the most popular examples as they can really force you to watch your pot while you cook.
Going for products with safety measures can help ensure that you'll use your deep fryer properly. Some might find these add-ons annoying but if you value your safety, they're very easy to appreciate.
2. Be very particular about the product's quality.
Deep frying will require you to work with gallons of boiling oil and that, in itself,  is dangerous. This is why you really can't skimp on quality when it comes to these cooking contraptions. Doing so will just put your safety in jeopardy.
Make sure to look for products made with sturdy and durable materials. They should be able to handle high temperatures and large quantities of food. The pot should be made of heavy-gauge steel to ensure that it will handle the task it's meant to do.
3. Pay close attention to the cooking capacity.
To make the most out of your deep fryer, you should also be careful with its size. If you often cook for a lot of people, it should be big enough to help you do so efficiently. Propane deep fryers come in various large sizes, so choosing the right size for your needs might not be a problem.
4. Remember to check the BTU ratings.
To make sure that the LP deep fryer you'll get will be powerful enough to help you cook effectively, pay close attention to the BTU ratings their burners have. This can help you determine just how fast they can heat up your oil which can be very useful when cooking large batches of food.
5. Read reviews.
You should also make sure to read reviews if you want to make sure that the item you're eyeing will suit your needs and requirements.
User feedback will let you know whether a product delivers its promises and whether it has flaws that should turn you away.
Be careful in which reviews to believe, however, as most of them are very subjective. Try to read as much as you can so you can really get to know the product through the varying opinions its users have.
Final Verdict
While grills and smokers are great, the best propane deep fryers can still be one of the most useful outdoor equipment that you can have at home if you enjoy munching on comfort foods.
It's also a wonderful addition to homes who love to host parties, so if you're known for your backyard barbeques, this cooking contraption could help you up your game.
Whatever reason you might have, however, you'll be glad to know that there are lots of great options available to you. Start with our five suggestions above and you might not even have to look elsewhere to find your perfect match.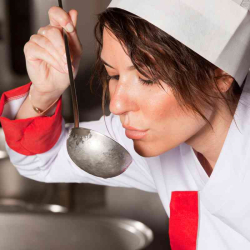 Latest posts by June Brandt
(see all)