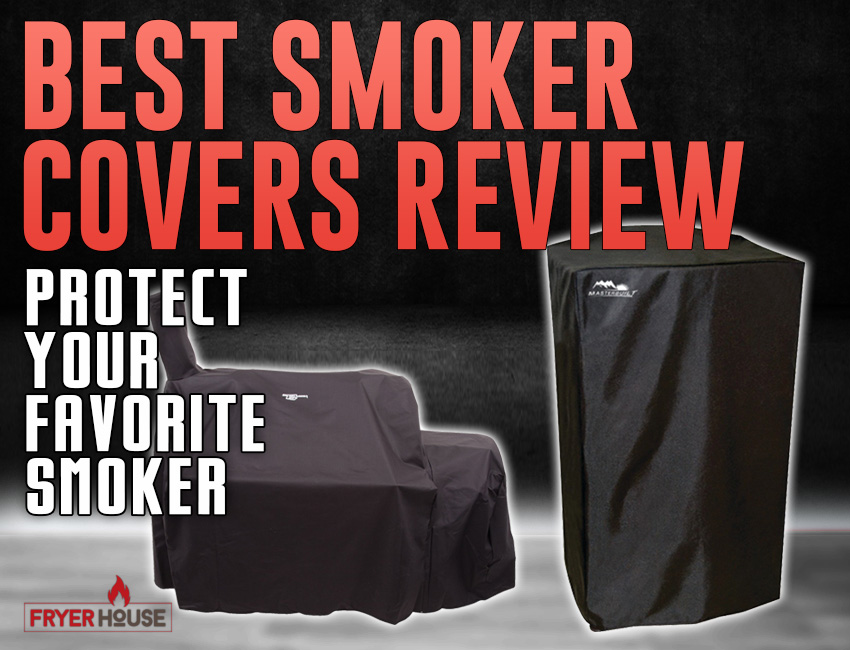 Every meat lover knows (or at least ought to know) the joy of feasting on smoked meats during backyard parties. That's one of the reasons why smoker devices are so popular. They don't only just offer terrific meats, but they're easy to use.
Get one of the vertical gas smokers and it also doesn't take up much space. They're even very affordable, so there really is no good reason not to get one. Even vegetarians should try them, since smoked veggies can be quite a treat.
One issue with smokers, however, is durability. The main challenge is for the smoker to withstand the elements. Smokers are generally used outdoors and often it's too bothersome to place it back into the house after using it.
People just leave it outdoors, and that exposes the smoker to a host of potential threats. It can be damaged by the elements, by the UV rays of the sun, by dust and debris, and sometimes even by pests that try to make the smoker their home.
That's why it simply makes sense to protect your investment with a smoker cover. But you can't just get one because they're not all the same. You pretty much need to make sure you get a good smoker cover you can find so that you can really protect your beloved vertical gas smoker.
Top 10 Smoker Covers 2021 – Reviews and Comparisons:
Top Trending Smoker Cover Products:
Our Picks of 10 Best Smoker Covers Review:
You'd do well to start your search for the latest smoker cover with the following options:
When you have an electric smoker, most of the time you generally use it indoors because that's where the electrical sockets are. Yet it still makes sense to buy a cover for this type of smoker.
That's because dirt, dust, and even bugs don't care if the smoker is a gas or electric model. With the cover, you can make sure that the smoker doesn't get overly dirty inside when you're not using it.
This can even be used for the outdoors, though it's not really meant to protect the smoker against the rain. Still, it's better than nothing and it can work if your smoker is located on a patio with a roof.
Features:
[su_list icon="icon: check" icon_color="#228B22″]
Designed for the 30-inch electric smoker
Meant for indoor use
Can be used for the outdoors if there's a roof
Made from high quality reinforced polyester
Resistant to fading
Coated with polyurethane
Measures 16.9 by 18.1 by 30.9 inches
[/su_list]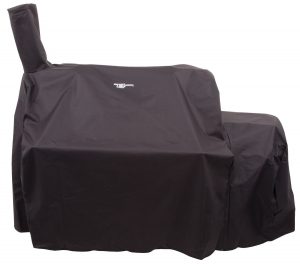 This cover illustrates why the price isn't really much of a factor when deciding to buy one. It's true that it's almost 3 times as expensive as other covers.
But it's also true that it's only a price difference of $20 or so, and that's a negligible amount considering the price of smokers.
This is designed to cover the Highland Offset Smoker from Oklahoma Joe, and with this you can get the cover with the precisely correct design to fit perfectly.
It uses heavy-duty 300D x 250D polyester, so you know it's tough. It's also made to resist the weather.
Features:
[su_list icon="icon: check" icon_color="#228B22″]
It's for the Oklahoma Joe Highland Offset Smoker
It features a fitted smokestack cover
Made from 300D x 250D polyester
Weather-resistant
[/su_list]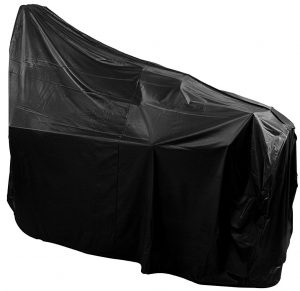 It can be difficult to find the right cover for an offset smoker, but this one is actually designed to cover 57-inch offset smokers of various designs.
If you have a Silver Smoker, Hondo Jr. Smoker, or a Black Diamond Smoker, then this can work for you.
One end of this is designed to accommodate the smokestack and this side measures 28 inches wide and 55 inches high. The other side of the cover measures 19.5 inches wide and 36 inches high.
Features:
[su_list icon="icon: check" icon_color="#228B22″]
Made from thick material for heavy duty
Can withstand rain and snow
Fitted for most offset smokers
Affordable
[/su_list]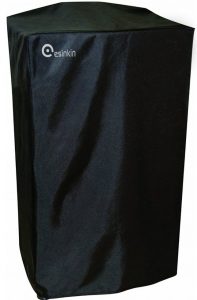 This is another cover made for electric smokers and it measures 16.9 by 18.1 by 30.9 inches. In general, it's designed for 30-inch smokers.
Though it's meant for electric smokers, it's not limited for indoor use only. Plenty of people have found it effective in keeping away the rain and the snow from the smoker it covers.
It also offers reasonably strong protection and durability as well.  It's actually quite well-made, and the material is even fade-resistant so its black color doesn't fade under the sun.
Features:
[su_list icon="icon: check" icon_color="#228B22″]
Very affordable
Customized for 30-inch electric smokers
Offers moderate waterproofing
Strong and stable
Fade-resistant
[/su_list]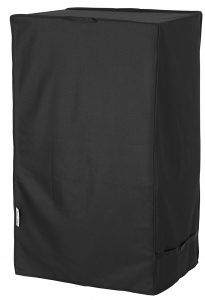 This cover for your smoker measures 23 inches wide, 17 inches deep, and 39 inches high. That should tell you whether or not it will fit your vertical gas smoker.
However, it is made to fit the 40-inch smokers from Smoke Hollow, Char-Broil, Weber, and Masterbuilt.
It's made from fabric with vinyl coating, which helps it repel water. This new fabric resists UV rays and it doesn't fade either. It can deal with the cold nicely as it doesn't crack under extreme low temperatures. It can even resist tearing too.
Its bonus features include Velcro straps to keep it secure even on windy days. It even has fabric handles so you can put it on and off the smoker more easily.
Features:
[su_list icon="icon: check" icon_color="#228B22″]
Meant for 40-inch vertical smokers
Water-repellant
Resistant to fading, UV rays, and tearing
Doesn't crack when cold
Has Velcro straps to keep it from being blown away
It also has handles so it's easier to put on or take off
[/su_list]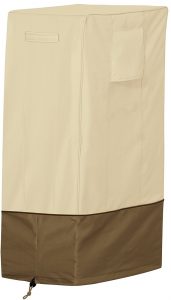 Thisis the "Square Large" model, and it measures 26 by 19.5 by 40 inches. It has an elastic cord at the hem with a toggle, so you can adjust its fit.
This is somewhat more expensive than the average cover, but then the average cover doesn't usually come with a 3-year warranty. Such a warranty is justified by how tough this cover really is.
It's strong because of its use of heavyweight Gardelle woven polyester fabric. It has special water-repellant features, and resistant backing too. It features interior bound seams and high density stitching for excellent durability. It even has padded handles.
Features:
[su_list icon="icon: check" icon_color="#228B22″]
It's meant for smokers that are 40 inches high, 19.5 inches wide, and 26 inches long
Uses heavyweight Gardelle woven polyester fabric
Interior bound seams
High density stitching
Matched webbing for a terrific look
Complies with California Prop 65 health and safety regulations
Elastic hem cord with toggle
3-year warranty
[/su_list]
This is also meant for the 30-inch Masterbuilt Electric Smoker. This time, Homitt made sure that it can be used for the outdoors as well.
That's why they used 600D heavy duty oxford fabric, with a coating of PVC too. The PVC coating resists fading, water, and snow. It's also very well-made, with good sewing and solid stitching so it doesn't crack or tear.
This measures 18 inches long, 17 inches wide, and 31 inches high. It only weighs 670 grams. You can also use thin Chicago and other windy cities, as it comes with Velcro straps on both sides.
Features:
[su_list icon="icon: check" icon_color="#228B22″]
18 x 17 x 31 inches
600D heavy-duty oxford fabric
PVC coating
Resistant to fading, insects, water, and snow
Solid stitching and excellent sewing
[/su_list]
This cover measures 37 by 22 by 19.5 inches, and it's meant for 30-inch and 34-inch smokers. It's square-ish in design, and it has a zipper running down the full length of one edge.
It's made of vinyl PVC, and features cold backing for protection against extremely cold weather.
If you have the following Smoke Hollow smokers, then this can be your cover: 3016DEW, 3016DEWS, 3616DEW, 3616DEWS, 34168G, 30164G, and 30162E.
Features:
[su_list icon="icon: check" icon_color="#228B22″]
Made with weather-resistant vinyl PVC
Felt backing sewn in for extreme weather
Easy access with full-length corner zipper
Measures 38 by 19 by 19 inches when closed
Stylishly black
Moderately waterproof
[/su_list]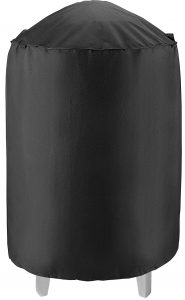 The rounded dome smoker can be problematic to cover, but that's the problem solved by this 36-inch long cover with a 30-inch diameter. It fits dome smokers perfectly.
Unicook has reengineered its covers so that it's made with a more advanced fabric. This one is longer-lasting, and more durable even with extreme weather conditions. It won't crack even when the temperature drops to 0°F and it won't fade even under the summer sun.
Despite its toughness, the new material is still soft and it's also more flexible. This lets it fit the shape of the smoker better. It's easy to handle too. To clean it, you can just hose it down or use a mild detergent with a damp cloth.
Features:
[su_list icon="icon: check" icon_color="#228B22″]
Won't crack in zero degree temperature
Won't fade in the sun
Can last a couple of years longer than other covers
Comes with a 12-month guarantee and a 90-day money-back option
Easy to clean
[/su_list]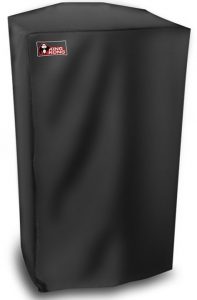 Here's another cover for the Masterbuilt 30-inch electric smoker. It measures 18.1 by 16.9 by 30.9 inches. What sets it apart is its use of 600D polyester fabric with bound edges to make it stronger.
So just how tough is it? It's resistant to just about anything that can damage a smoker cover. Yet it has good elastic recovery so it won't get out of shape. This is another cover that you can use for the outdoors.
Features:
[su_list icon="icon: check" icon_color="#228B22″]
Made for Masterbuilt 30-inch electric smoker
Bound edge and great stitching
Dirt-proof
Moisture-proof yet breathable too
Resistant to ripping, corrosion, abrasion, UV, mold, insects, and various chemicals
It comes with a couple of BBQ meat handler forks ($6 value)
1-year warranty
[/su_list]
How to Use a Smoker Cover?
Here's how you can get full use out of your smoker cover:
[su_list icon="icon: check" icon_color="#0f4880″]
Dust it off first. Make sure it's clean. One of the main points of using a cover is to keep the smoker clean, so it defeats the purpose if you drape a dirty cover on the smoker. So make sure the cover isn't dirty or dusty on the inside.
Check it for damage. Many covers also help protect the smoker from the elements, but a tear on the cover can spell disaster for your smoker. So check the seams and see that there aren't any tears that can let it water and dirt into the smoker.
Drape the cover over the smoker properly. These covers aren't just generic pieces of cloth that you can haphazardly place on a smoker. Often they're designed and shape to precisely fit the shape of the smoker. So you need to put the cover on the smoker properly, so that the edges and the curves match.
Secure it in place. These covers are basically pieces of fabric, and they're not really heavy. So a stiff wind can blow them off the smoker. This means you need to secure it with some sort of weight on top, while you may want to tie down the bottom part as well.
Clean the cover regularly. If the cover is rubberized then a good rubdown may be all that's necessary to keep it in good condition. But it has to be cleaned right, especially on the inside. The smoker may transfer some dirt into the inside of the cover. You have to check for dirt, grease buildup, and even for insects. You may use some cleaning products on the cover, just as long as the cleaner isn't so harsh that it damages the cover.
[/su_list]
10 Benefits of Using a Cover:
It makes your backyard look neater.
It keeps dirt away from the smoker.
Any debris such as leaves can be kept away from the smoker.
The cover can prevent accidental scratches on the smoker.
The UV rays from the sun can fade the color of the smoker, and the cover keeps that from happening.
The smoker can be protected from the rain, which can cause the smoker to rust.
It can keep away mildew and mold.
Insects may be prevented from making the smoker their home.
The smoker will last longer with the cover.
It keeps the food you place inside from being contaminated.
Buying Guide – How to Choose the Best Smoker Cover?
If any sheet will do to cover your smoker, there wouldn't be any need for this article. But you do need to make sure that your cover is suited for your smoker.
Price isn't actually one of the more important considerations, because covers in general aren't all that expensive. Here are the factors you need to consider instead:
1. Size and Shape
At the very least, the cover should be large enough to actually cover the whole smoker from top to bottom. However, the best covers are purposely designed to fit the precise edges and curves of a particular model.
2. Material
You can opt for a polyester cover, as it's usually durable and lightweight. It's also a plus for those who live in humid conditions as the polyester can dry very quickly. It's actually great for all types of climates, including heavy rain and winter frost. The best ones are usually treated so they're resistant to sunlight and water.
Another option is vinyl. Lots of people prefer this material because it's waterproof. However, light vinyl material can be damaged more easily, so you're better off if you get at least a 12-gauge vinyl cover.
Canvas is a heavy-duty choice, and you know it's tough and durable if you've ever used canvas tents. It can be treated so it's fireproof and weather proof, plus it's also rather affordable.
3. Inside Lining Quality
The inside lining should be tough enough to resist exposure, fading, and tears. It should also be unlikely to foster mold and mildew. One example of this is a cover with fleece linings, which don't dry easily so they're more prone to mold and they can make excellent homes for bugs.
4. Toughness
The cover should be durable and long-lasting, and it should be resistant to various types of damage. This also means it should be well-made, as shoddy workmanship won't let it last long. A long warranty is a good indicator of its durability.
5. Extra Features
Some covers offer bonus features that make it more effective or more convenient to use. They may be extremely heavy, which makes them less susceptible to being blow away by a strong wind. In fact, some covers even feature straps to keep them in place.
Others have elastic cords to make them fit tighter. A few covers feature air vents so condensation or moisture doesn't form under the cover and the cover doesn't balloon on windy days. You may even find covers with handy pockets for certain accessories or cleaning tools for the smoker or the cover.
Final Verdict
The cover doesn't have to be all that tough when you're only going to be using it indoors. But if it's going to be for outdoor use, you better make sure that you get a cover that can protect your smoker from all types of potential damage.
Waterproofing is always a great option, though if your smoker is under a roof it may be enough that it's water-resistant. It should also be well-made and of course the fit should be perfect.
What you need to understand is that you have to get a good smoker cover, because it protects the more expensive smoker from potential damage.
It's good insurance, and it's part of smoker maintenance to use a cover. So get one now if you still don't have one. If you're buying a smoker right now, get the right cover as well. You won't regret it, but you may regret it if you forget to buy the cover!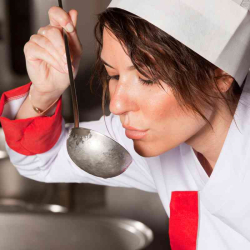 Latest posts by June Brandt
(see all)