It's an easy decision to buy an air fryer, since it offers convenient features such as quick cooking time and easy cleanup while it still provides you tasty yet healthy food. What's not so easy is deciding on which brand to buy. They're not quite all the same.
Philips Digital Air Fryer
No list of air fryers is complete without the Philips. In fact, if you just want to go with the crowd then this is what you get. It's hands-down the most popular air fryer model today.
It's easy to see why. First, there's of course the recognizable brand. But there's also the fact that it's very versatile. You're not limited to frying with this, as you can also roast, grill, or even bake your goodies with it.
It looks great too. It's also small so it can go well with small kitchens (or even dorms). Yet it comes with a double-layer rack, so you can optimize the cooking surface area.
You have controls for the time and temperature, and the heat can go up to 390 degrees F. The timer can be set up to an hour, and there's an automatic shutoff feature. It comes with touch-pad controls and a digital display.
This is safe to use, since the outside of the unit doesn't get hot at all. It doesn't even make much of a smell. The basket inside also has a handle, so getting the food out is easy.
GoWISE USA Electric Air Fryer
This is literally a very wise choice, as it offers excellent value for your money. It offers a lot of features, and yet the price is among the most affordable in the industry.
The build quality is good too, as it even comes with a 1-year warranty.
This is just a fryer, but it can fry meat of all kinds as well as veggies. It helps that the temperature is adjustable up to 400 degrees F, and it also comes with a 30-minute timer.
There's also a nifty standby mode that shifts from active cooking to just keeping your food warm. This lets you do other stuff around the house without having to be in the kitchen all the time.
It also comes with 7 preprogrammed settings, but these only apply to meat products. The basket is detachable, and it comes with a handle. Both the basket and the pot are also dishwasher safe.
Kalorik Convection Air Fryer
Still you think what is the best air fryer to buy?
The nice thing about a frying pan is you can get a huge one and fry a lot of food all at once. That's not always possible with air fryers, as they don't often have the room for too much food. That's what makes the Kalorik so special—it's huge enough that it has a 4.2-quart capacity.
That means it's great for large families and gatherings. But you don't really need a lot of room for it on your countertop. About a square foot of space will do just fine.
To help with the cooking, the temperature can be adjusted up to 400 degrees F, while the timer can be set for up to 60 minutes.
It has automatic shutoff too. It also has a transparent side cover so you can see what's going on inside without having to open the lid and letting the heat out.
It comes with a pan and even a set of skewers. It's also dishwasher safe, and that makes the cleanup so easy.
Air Fryer by Cozyna
Now if you're preparing food for just 1 or 2 people, you don't need a large air fryer. This Cozyna should do, as it is small enough for tiny apartment kitchens and dorms.
But it does offer several huge advantages.
For one, it's not just a fryer. You can also use it to roast, grill, and even bake food.
You also need to use about 30% of the amount of oil you normally use for traditional frying. With this you can set the temperature up to 392 degrees F, while the timer can go up to 30 minutes.
It's very easy to use, as it offers 2 simple dials you can turn for the temperature and the timer.
It's also very easy to clean, as it only has 2 separate parts and both can go in the dishwasher.
Black + Decker Purifry Air Fryer
This is another small air fryer good for solo or couple dining, but it comes with the characteristic high quality that the brand is known for. This uses 2 convection fans, so you can be sure that the hot air circulates everywhere so that the food is evenly crispy.
It has a 60-minute timer, and the heat can be adjusted up to 400 degrees F.
There are 2 simple knobs in front so you can just turn them to set the temperature and the timer.
The basket inside can hold about a pound of French fries, or about 8 cups of food. It needs to preheat, but then there's a light in front telling you when it's ready to cook. It's very well made, and it even comes with a 2-year warranty.
Here's a quick peek into your most popular options to see which ones fit your needs.
Final Verdict
If you do have the budget you should really just choose the Philips. A lot of people recommend it, and that includes celebrity chefs.
If you don't have much of a budget, the GoWISE is an excellent choice.
For large families, pick the Kalorik.
If you're cooking for just 1 or 2 people, either the Cozyna or the Black and Decker will do.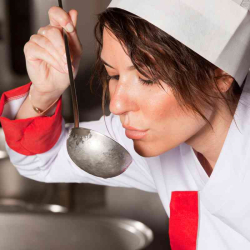 Latest posts by June Brandt
(see all)