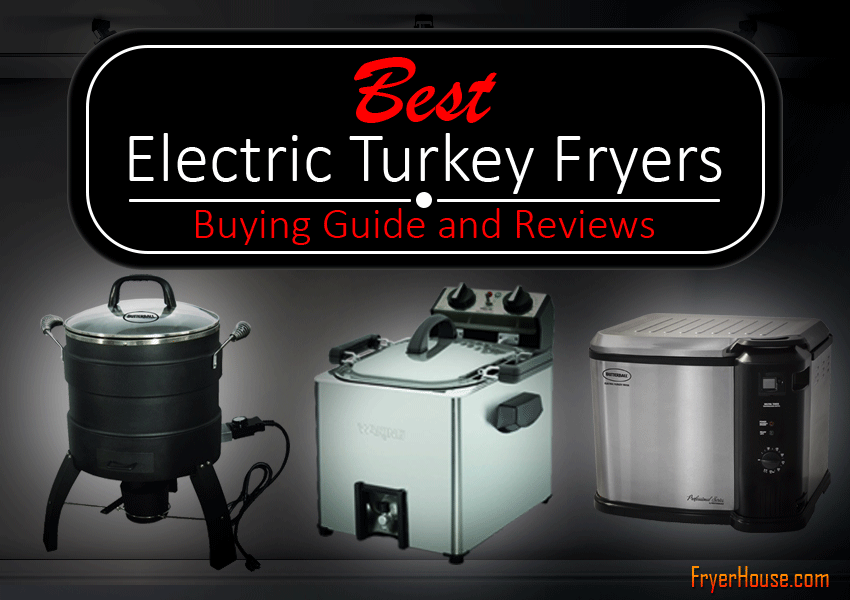 While propane turkey fryers can offer tens of thousands of BTUs to ensure efficient cooking, they can also be quite fussy to work with. The rated electric turkey fryers are excellent alternatives, as they're rather easier to work with.
With an electric turkey fryer, you won't have to worry about the amount of gas left in your tank. You don't have to fret whether the hose is still in good condition to feed the flame or contain the gas. You also don't have to fuss about setups and cleanups as you'll only really need to work with a single unit.
Available in deep fryer and oil-less varieties, turkey fryers offer convenience. But is it the right match for you? Find out in this guide.
Our Picks of 5 Best Electric Indoor Turkey Fryers:
1. Butterball MB23010618 XL Electric Fryer
Those who want to enjoy a deep-fried turkey without having to cook outside the house might find the Butterball MB23010618 XL Electric Fryer appealing.
Being an indoor deep fryer that can accommodate up to a 20-lb turkey, this can be a good alternative to your oven when prepping holiday meals.
This Butterball electric turkey fryer is also more than just a deep fryer. You can steam and boil with it as well. This makes it even more functional.
As a part of the brand's Professional Series, it meets commercial standards so you can also be guaranteed of great quality and performance.
Features:
Indoor Electric Deep Fryer and Multicooker
20-lb Cooking Capacity
Adjustable Temperature
Indicator Lights
Digital Timer
Oil Drain Valve
Dishwasher-Safe Parts
Magnetic Breakaway Cord
2. Masterbuilt 20100809 Butterball Oil-Free Electric Turkey Fryer
Those who want to cook outside but aren't too keen on deep frying can still enjoy the fun experience and good results with the Masterbuilt 20100809 Butterball Oil-Free Electric Turkey Fryer.
Being an oil-free roaster and turkey fryer, it minimizes the dangers of frying a turkey and simplifies the entire process.
Also equipped with a wood chip box, you can switch things up and use it as a smoker as well. This gives it some versatility that lots of users can enjoy.
Features:
Outdoor Oil-free Turkey Fryer and Roaster
Double-Wall Construction
18-lb Cooking Capacity
Temperature Control Knob
1650-Watt Heating Element
Built-in Wood Chip Box
Removable Oil Drip Pan
Tempered Glass Lid
3. 23011615 Butterball XL Electric Fryer
Another option for an indoor deep fryer is the 23011615 Butterball XL Electric Fryer. Like the other Butterball electric turkey fryers listed above, this can fit up to a 20-lb turkey and used inside your kitchen without a fuss.
It simplifies the process of deep frying a turkey as it doesn't require you to hook up a tank to a burner and use a pot to get the job done. You just need to plug this unit in, select the heat setting, and that's it.
This unit can also boil and steam, so if you're after a multifunctional cooking equipment, this can be a solid choice.
Features:
Indoor Deep Fryer
20-lb Cooking Capacity
Analog Temperature Control
Digital Timer
1650-Watt Electric Heating Element
Removable Cooking Pot
Removable, Submerged-Style Heating Element
Oil Drain Valve
4. Masterbuilt 23011114 Butterball Indoor Electric Turkey Fryer
Still can't choose between the two indoor electric turkey deep fryers above? The Masterbuilt 23011114 Butterball Indoor Electric Turkey Fryer might just tickle your fancy.
This appliance will also make deep frying easier for you as it's an electric unit with easy-to-operate analog controls. It's also perfectly easy to clean as it comes with an oil drain valve.
Its price combined with its size and functionality makes this cooking equipment a steal.
You can also boil and steam with this cooker, so you can definitely enjoy great value for your money with it.
Features:
Indoor Deep Fryer
20-lb Cooking Capacity
Stainless Steel Construction
Oil Drain Valve
Cooking Basket with Drain Clips
Adjustable Thermostat
Digital Timer
Removable Cooking Pot and Heating Element
5. Waring Pro TF200B Rotisserie Turkey Fryer
Out of the five listed here, the Waring Pro TF200B Rotisserie Turkey Fryer is the most versatile. It won't just let you deep fry your bird but it will also let you roast it.
This multicooker has a rotisserie mode so it can offer you the best of both worlds.
It will also let you boil and steam, so you have tons of ways how to make the most out of this product.
Features:
Indoor Deep Fryer/Steamer/Rotisserie
18-lb Cooking Capacity
1800-Watt Heating Element
Nonstick Interiors
Submerged-Style Heating Element
Oil Drain Valve
Analog Temperature Control
Meat Thermometer
How to Use an Electric Turkey Fryer?
Learning how to use turkey fryer is a good place to start exploring whether you like this cooking appliance or not. Luckily, these fryers are generally easy to use as you only need to follow these steps:
1. Find a safe, well-ventilated space with a reliable power socket.
This cooking equipment will generate a lot of heat that it can be dangerous around kids and inattentive people so make sure to look for a safe spot to place it in.
Ventilation is also important as some units tend to release a lot of steam and cooking odors. You'll also need a good power source as these things use a large amount of electricity to work at its full capacity.
2. Plug it in, turn it on, and set it to the highest temperature.
Note, however, that most turkey fryers have short power cables. This is to make sure that it can deliver power to the unit efficiently.
It's not always recommended to use a power strip for these appliances as they might not be able to provide enough power to the fryer. If you really have to use one, though, use something heavy duty.
3. If you own an electric deep fryer, this is when you should pour in the hot oil.
Wait until the oil is already hot enough before adding in the turkey to get the best results. It's also important to make sure that the turkey is as dry as possible to minimize splattering.
How Does Electric Turkey Fryer Work?
As there are two kinds of electric turkey fryers, there are also two ways how it works. Both, however, involves a heating element that can then work differently.
For electric deep fryers, they often use a heating element that can either be submerged in the oil or will heat up the cooking pot effectively. It will then help your oil reach the necessary temperature to cook your food.
Oil-less turkey fryers, on the other hand, work similarly to an oven. It generates hot air with the help of a heating element to increase the temperature inside the cooking chamber and cook your food.
Most units come with a double-wall construction so the heat will be moved around efficiently and so it won't easily escape from the unit.
How to Clean Electric Turkey Fryer?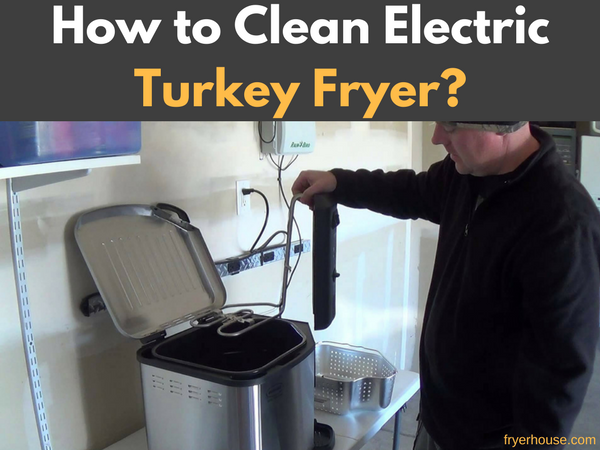 Cleaning an electric turkey fryer is a lot like cleaning any kitchen appliance if not easier. Here are the most common steps required for cleanups:
1. Deal with the used oil if you own an electric deep fryer.
Most electric units have a drain spout anyway so this shouldn't be hard to do.
2. Take out the cooking accessories and cooking pot.
As most units are large in size, they're often very easy to dismantle and take apart. This is so you don't have to wrestle with a large unit during cleanups. Once the cooking pot is out, you can then proceed to wash it in the sink.
You might also need to wash the heating element if you own a submerged-style cooker. Just make sure to unplug it first, though, to avoid any accidents.
3. Use a soapy, non-abrasive sponge to wash.
If you're not in a rush and the cooking pot doesn't have anything stuck in it anyway, skip the abrasive sponge. This can prevent scratching your fryer.
4. Wash the accessories and wipe down the fryer's housing thoroughly.
Aside from the cooking pot, make sure to clean the other accessories, too. It's also important to wipe down the housing of your appliance, especially, if it's a deep fryer.
5. Dry thoroughly, especially the deep fryer parts.
It's also crucial to dry everything – from the pot to accessories – after cleanups. This can prevent rusting or splattering in the case of deep fryers.
10 Benefits of Using an Electric Turkey Fryer: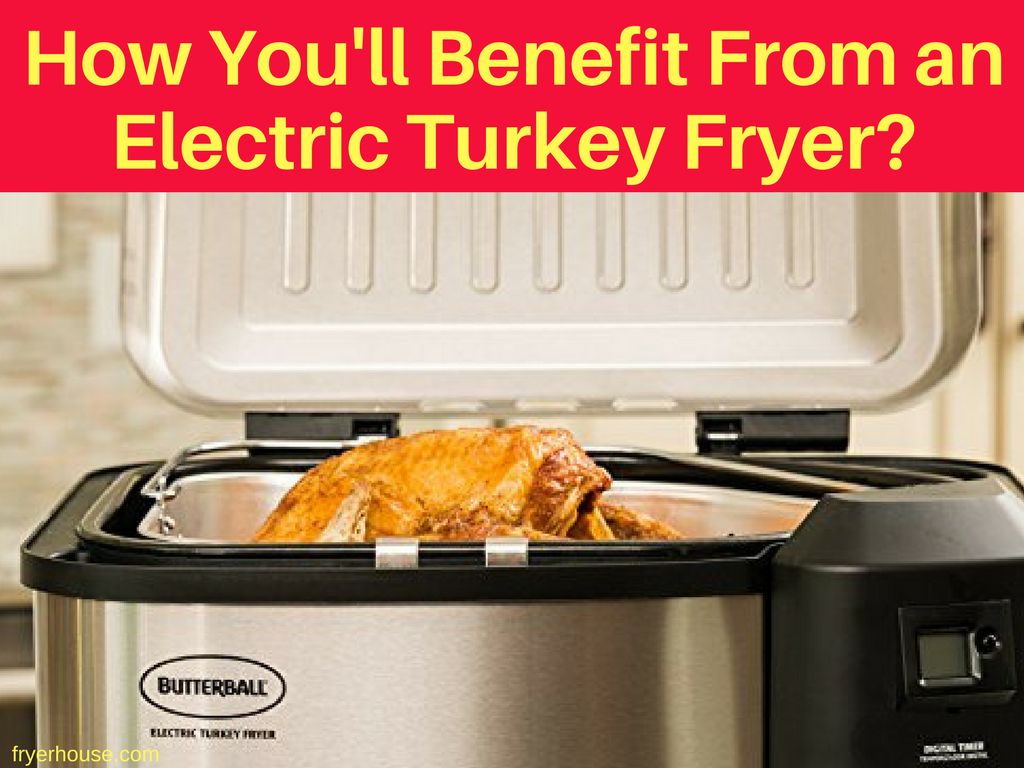 Aside from getting to know how to use and clean a turkey fryer, you might also want to know the very reasons why you should consider looking for the best electric turkey fryer. For that, here are ten benefits that this cooking equipment has to offer.
1. Indoor electric turkey fryers are preferred for their convenience.
Electric fryers are often compared to propane fryers for its convenience. As you won't need to get a propane gas tank anymore with these electric cookers, you don't need to keep checking if you still have enough before cooking.
You also don't have to bother with setting up the gas and cooker together. And you also don't have to deal with them again during cleanups.
In short, it's way easier to plug in a fryer than handle the complications of a propane fryer.
2. You can use electric fryers anytime.
Unlike propane-powered sets, you won't have to bother getting your propane tank refilled or swapped with a new one before you intend to use your turkey fryer. You just need to plug it in and you're ready to go. It's certainly a more fuss-free way to cook a turkey.
3. You have various options available.
As mentioned above, electric turkey fryers are available in oil-less or deep fryer formats. This means that you have a good amount of options to choose from. Choosing one can depend largely on your cooking preferences and skill level.
4. Some electric deep fryers can be used inside the kitchen.
Most turkey deep fryers are designed for outdoor use for safety purposes. It's also recommended by experts to only deep fry outside as frying increases the risk of cooking fires.
In reality, this can be a hassle, though. Not every household can put someone in charge to watch the cooking pot outside. It can be inconvenient for lots of home cooks to keep running in and out of the kitchen to check what they're cooking.
Some electric turkey fryers can offer great alternatives, though. Lots of them are designed with good safety features so they can be used inside the kitchen. With this, you won't have to leave a deep fryer unattended outside which helps ensure your household's safety.
5. Oil-less electric fryers are fuss-free to work with.
If you're not a big fan of deep fryers, oil-less electric fryers are also great options. These appliances work a lot like ovens as they use hot air to cook your food.
They're deemed as some of the most convenient options out there as they eliminate the need for propane gas and oil which can both be challenging to work with.
6. Oil-less electric fryers can help you whip up 'baked' meats and dishes with a lot more ease.
Compared to an oven, oil-less electric fryers tend to be easier to work with for some people. They're more straightforward to operate than actual ovens. Even novices can use these fryers so it can be a good pick for those who are just exploring their culinary skills.
7. Owning an electric fryer can extend the functionality of your kitchen.
Whether you choose an electric deep fryer or an oil-less fryer, you'll still be adding a new cooking equipment to your kitchen. This also adds a new way for you to cook. In many cases, it can even help you cook up a storm as it will free your other appliances to do their jobs.
You can whip up something in the oven while you cook your turkey in an electric fryer and then use your stove for something else as well. All of these will let you work efficiently when you have quite a few people waiting to be fed.
8. Electric deep fryers can let apartment dwellers cook and enjoy turkey at home.
If the only thing that's been stopping you from cooking turkey in your home is the fact that you're an apartment dweller, the best indoor electric turkey fryers can appeal to you. You can find several models for indoor use so you don't need an outdoor area to cook a large bird.
9. These cooking appliances will help you learn a new cooking skill.
Electric turkey fryers may not be as complicated to operate as other cooking appliances out there but it can still teach you something new. It can definitely enhance your culinary expertise and may get you up to date with the latest trends for the kitchen.
10. You have the freedom in choosing which type of fryer to get.
Because both deep fryers and oil-less fryers are available in electric varieties, you can be sure that you have a choice when it comes to how you want to cook your turkey.
Buying Guide – How to Choose the Best Electric Turkey Fryer:

Last, but not the least, you should know what to look for in the top electric turkey fryer to help you decide which one to get. Here are a few points worth considering so you can be sure to find the right one for your home.
1. Choose the cooking capacity that suits your needs.
Electric turkey fryers are generally large in size but not all of them will suit your needs. Go for a larger size if you want to cook for ten people or more. You can also opt for a smaller variety if you only want to cook for your household.
2. Pay attention to its wattage.
Because these cooking appliances use electricity to work, you should make sure that it can generate enough power to cook a large bird effectively. The wattage can help ensure this, so make sure to look for units that come with higher ratings.
3. Will it fit in your space?
Again, turkey fryers are usually large in size so they can accommodate large birds. Expect them to take up a significant amount of room in your home.
If you're using them in the kitchen, take measurements. As some of them are large and bulky, they can be difficult to use when you have overhead cupboards and cabinets.
4. Indoor vs. outdoor fryers.
Electric turkey fryers are also available in indoor and outdoor varieties. It's up to you to choose which one suits your needs best. Keep in mind that indoor fryers can be more convenient to have if you cook a lot.
Outdoor fryers, on the other hand, can help you avoid cooking smells inside the house. They're also usually bigger so you can cook a lot with them. It's up to you which one appeals to you best.
5. Don't forget to read reviews.
If you want to know how an electric fryer fairs with regular use, make sure to read product reviews. The feedback left by consumers will prove to be useful to your search as it can tell you how well a specific model holds heat, how fast it heats up, the quality of its materials, how easy it is to clean, and how great its results are.
Final Verdict
Those who don't find deep fryers or ovens suitable for their requirements when cooking for special occasions might just find their match with the electric turkey fryers.
This cooking equipment makes whipping up enough food for a feast simpler and more convenient, so they're certainly worth a looking into.
With this guide, we hope that you'll be able to make up your mind whether you should get an electric fryer or not. Its user-friendliness and practicality can be its biggest draws, so if you don't want to be hassled on a stressful day, make sure to give them a shot.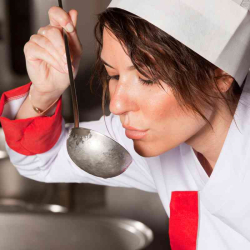 Latest posts by June Brandt
(see all)