Most people who are looking into air fryers are usually the very ones who like to spend time in their kitchen. By getting one of these nifty appliances, they're extending the functionality of their homes, allowing them to do more without having to exert too much effort. However, these devices come at a price so you might also be on the lookout of the Philips Airfryer best price.
It's no secret that despite being the most popular air fryers in the market today, Philips' units are not exactly the most inexpensive options there is. This isn't a bad thing, really, as you often get what you pay for when it comes to kitchen appliances.
Paying more may not be ideal for those who are on a budget, but if it's worth the price, why not give it a shot?
Despite being well worth its price, it doesn't mean that you can't get great deals on Philips Airfryers. If you really want the best price for these useful devices, there are a few things that you can do to get them at a better price.
Interested? Check out our list below to find a few tricks that you can try.
8 Things To Consider about Philips Airfryer Best Price:
1. Go Large or Go Analogue
Philips Airfryers come in three varieties: the XL, Digital, and Analogue. With different price points, you can easily factor in your budget when it comes to choosing which one to get.
The Avance Collection XL tends to be the most expensive one as it offers more features and the largest cooking space among the three. The Viva Collection Digital offers the convenience of digital controls that you can easily access through its LCD display. It's smaller than the XL but it's very easy to operate, making it a good option as well. Its mid-range price point can be seen as a good investment as well.
The most affordable in the bunch is the Viva Collection Analogue. This unit comes with a knob dial that you can easily use to tweak the settings of your unit. It's a fuss-free option and might also already be what you need for your home. As it has the friendliest price tag, it can give you the best price you're looking for.
2. Size
Aside from the variety, the features available in each airfryer variant is also worth looking into. Of course, the most expensive unit has the most features.
It's bigger in size, has a longer automatic shut-off timer at 60 minutes, and has a 30% bigger cooking capacity. These make it worth a couple of extra bucks if these are exactly the very things you need.
If you're not going to cook for a large family all the time, the smaller units may already be enough to meet your needs.
They also have auto shut-off features and can reach the same peak temperature so you don't have to worry about the quality of the results. The HD9230 even also has a digital user interface so it's not all that different from the most expensive unit.
Of course, the most basic model is the most affordable because it doesn't come with lots of bells and whistles. If you don't really need much and just want to enjoy air fried goodness, you can already find the Philips Airfryer best price that will perfectly match your budget.
3. Shop Around
There are lots of different places where you can get a Philips Airfryer. Some of them might have special offers, coupons, and other discounts that you can take advantage of, so it's important to do your due diligence and look around for different options.
It might take a while before you can lock in on a specific product with this technique, though. So, if you don't have much time to spend searching and comparing prices, you might be better off sticking to popular e-commerce websites as your time is also a valuable investment.
If you're going to spend too much time to find a dirt-cheap offer, you might have already spent as much money if you'll equate a monetary value to your time.
You should also only stick to reliable websites if you're shopping online. Counterfeit items can be a problem, so you'll want to avoid those at all costs. Don't be fooled by a price tag that seems too good to be true, as you might just end up wasting your money on an unusable item.
4. Consider Shipping Fees
When searching for the Philips Airfryer best price online, there's a chance that you'll stumble upon a fantastic price that's hard to resist with a caveat of a high shipping fee. This can be a turnoff for some people, but before you close the tab on that website, bust out your calculator first.
Sometimes, even with a high shipping rate, you might still be able to save a few bucks so make sure to do the math first.
If you're thinking of choosing another shipping carrier to save a few bucks, you can, by all means, do so as well. However, it might result in poor handling, a broken unit, or even a missing item altogether. Savings like these aren't worth it, so you have to think about it really thoroughly as well.
Keep in mind that a Philips Airfryer is an electronic device that needs to be handled with care, so it might also be best to just pay for its shipping instead of trying to save a few dollars.
5. Upfront Costs vs. Long-term Savings
Some people might still be on the fence over shelling out a good amount of cash for Philips Airfryers because they are quite pricey. But if you'll think about how much savings you might be able to make if you just skip the oil, it might also help the unit pay for itself over the years.
So you might have a relatively high upfront cost, but if you can cut operational costs over the long run of your use of these units, you will be able to get your
money's worth
.
You can think of it as an investment. This way, even if you don't get to save a few dollars on your actual purchase price, the need to spend less on cooking oil as you use the unit over the years can be equated to a good amount of money and make you feel better about your initial cost.
6. Research!
Doing a good deal of research is also essential if you want to get the best value for your money. With so many things offered by the different Philips Airfryers, you might find some units more useful than others.
So, to help yourself make the right decision, you should know what your needs are and what each model can do for you.
Researching what the different pros and cons of each unit can help you go a long way in choosing which Philips Airfryer to get for your home.
Reading reviews will give you a good idea which ones have the features you'll actually use so you don't have to overpay for frills that you don't really need.
It might also give you a good idea how to make the most of your purchase, giving you a bigger bang for your buck. So make sure to read reviews and be thorough in comparing the ones available to you to make sure that you'll be able to get more than your money's worth.
7. Take Advantage of Promotions
When it comes to finding the best prices for anything, special store promotions are possibly the most popular tricks in the trade. There are tons of ways how stores can offer their wares for lower prices, some are outright discounts for specific seasons or occasions.
Others are special deals for first-time shoppers. Coupons and discount codes can also be used to take a few dollars off on products in some occasions. You can find some of these for the Philips Airfryer at different vendors so you can be sure to find great prices if you take the time to look for them.
8. Consider Holding Out on Accessories
The Philips Airfryers also come with accessories that extend the usability of the appliance. You can find racks to double the cooking capacity of your unit without overcrowding. There's also a fry/grill pan that you can get to create a nice, charred consistency to your dishes.
A baking pan is also available. Each is sold separately and costs extra, so if you're not sure if you're going to use them at all, it could help you save a few bucks if you don't get them all at once.
Final Verdict
There are so many ways to find the Philips Air fryer price if you know where to start looking and how to begin your search. Hopefully, these tips help you out as they can give you more value for your money while investing in a fantastic product.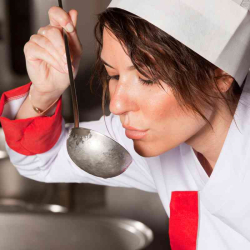 Latest posts by June Brandt
(see all)