It's no secret that deep frying is a messy, smelly, and dangerous affair. There are enough PSAs from the government regarding this activity over the years.
Most of them remind people of the safety precautions they should take when deep frying. In this 23011615 Butterball XL Fryer review, you might just learn another safe way to whip up deep-fried dishes.
Being an extra large indoor electric deep fryer, there's a lot to learn about the Butterball XL. Two of the first things that you should keep in mind about this product is that it's convenient and quite safe to use.
Butterball 23011615 XL Electric Fryer Reviews – 7 Major Features
Curious as to what this deep fryer can offer? Get to know it better starting with its set of features:
1. 20-lb Cooking Capacity
Indoor electric deep fryers are hardly what you can consider big because they have to fit in kitchen counters. They also need to be efficient, so for those who wish to deep fry large fowls on the holidays will need an outdoor cooking equipment to get the job done.
This Butterball XL offers an alternative as it can accommodate turkeys that are up to 20 lbs in weight. This can already feed about ten to thirteen people without you having to worry about someone going home hungry.
2. Adjustable Temperature
It's a must for any deep fryer to have an adjustable temperature as different oils and ingredients can require different heat settings. This product comes with a control knob for temperature control, so it definitely fits the bill for a dependable deep fryer.
You can set it from 125F to 375F, offering you access to a wide temperature range for your dishes. This also comes in handy for other dishes besides deep fried meats as this appliance can also be used to boil and steam food.
3. Oil Drain Valve
Its oil drain valve is possibly the most convenient feature of the 23011615 Butterball XL. This eliminates the need to lift a heavy cooking pot so you can remove the oil from it. With a drain valve, you can directly transfer the used oil to another container without any heavy lifting.
The design of this draining system is also very noteworthy. The spout is actually not positioned at the very bottom of the cooking pan so the oil drains while the debris settles at the bottom of the pot. This leaves you with a clean oil that's ready to be reused.
4. Submerged Heating Element
Another notable feature of this product is that it comes with a submerged heating element. This promises heat stability but it also adds another part that needs cleaning after use. This can actually be a deal breaker for some, so you should know that this product is designed with this.
5. Removable Cooking Pan
Making cleanups easy is the removable cooking pot that comes with this unit. You can take it out completely so you can wash it on the sink. Note, however, that this pot is large so you might still have to wrestle with it.
6. Butterball Electric Fryer Cord:
Here are some of the features of this cord.
It is black
This cord is one of the reasons why people love the electric fryer. The cord comes in black color. This is normal as the cord of most electrical appliances are black.
The cord is strong and tough
Unlike some cords that get cut after a few months, this cord is very strong and tough. It will never get cut inside. We can assure you of the durability of the cord. It is strong enough to supply the kind of power needed by the electric fryer.
It is detachable
The magnetic cord is detachable from the fryer. This makes for easier storage. In fact, it is advisable to unplug and detach the cord after using the electric fryer. The bigger advantage of detachability is that if the cord goes bad, you can easily replace it.
7. Butterball Turkey Fryer Cord:
This is another magnetic cord and it has the same features with the other cord reviewed above.
The cord is black
This cord is also black in color like the other one.
It is strong
Also, it is as strong as the other one. In fact, none of them is stronger than the other.
Detachability is another feature
This cord is also detachable from the unit. You can easily remove it after using the fryer
Why Should You Use the 23011615 Butterball XL Electric Fryer?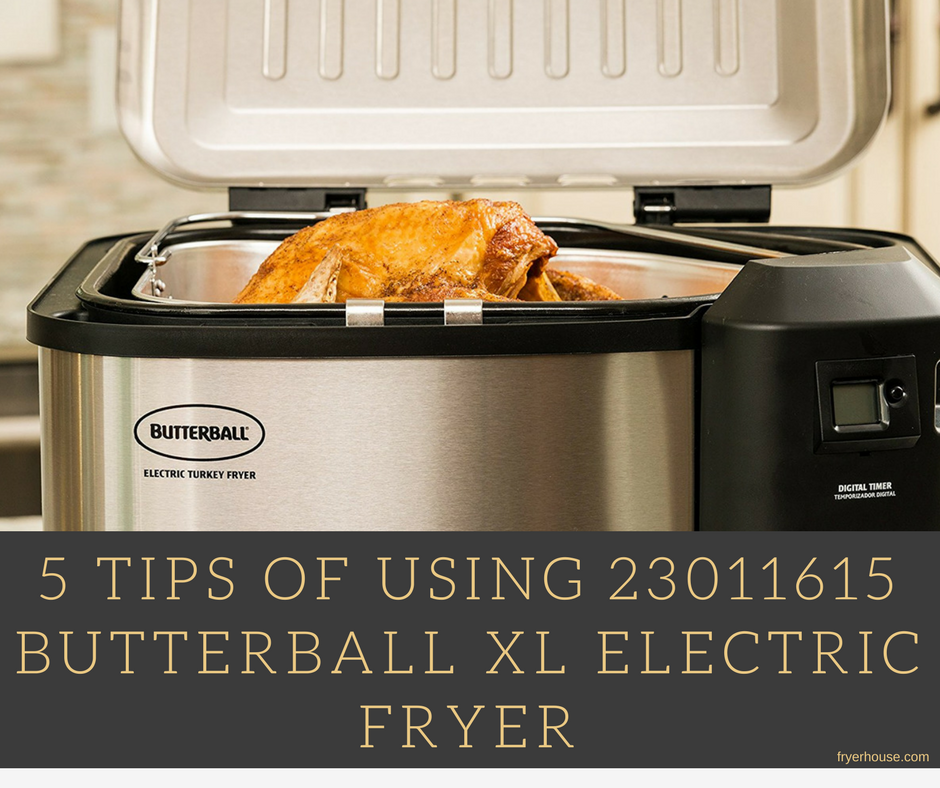 To better help you weigh your options, here are a few more reasons why this item can be a good pick for you. These points are all from actual 23011615 Butterball Electric Fryer reviews so you can count on them to be true.
1. It's easy to use.
Compared to all of the hassle that you'll need to go through to set up an outdoor deep fryer, the Butterball 23011615 XL is significantly easier to work with. To start cooking, you just need to plug it in, fill it with oil, and set the temperature.
It's very convenient as you don't need to bother about flame levels and adjustments. You don't need to check the temperature as it already has a ready indicator light. It also has a digital timer so you'll know how long you've been cooking.
2. Cleanups are not fussy.
Thanks to its oil drain valve, cleaning this appliance isn't that hard to do. You don't need to struggle to pour out the oil. You don't have to wrestle with the unit just to remove the debris left inside. The size of the pot might still make it unwieldy, though, but it shouldn't be too bad.
3. It's very reasonably priced.
Being an older model, the Butterball XL is already a lower-priced option. With everything it can do, it's practically a steal with its current price tag.
4. It can also be used for boiling and steaming.
Giving you more bang for your buck is the fact that this product can also boil and steam various kinds of ingredients. It will let you cook more dishes, making it an even more useful addition to your kitchen.
5. It will let you stay inside and multitask in the kitchen.
Outdoor deep fryers can't be left unattended for long periods of time. So if you're doing something in the kitchen, you'll have to take the time to step outside to check how your dish is doing.
The 23011615 Butterball XL can save you from all of that because it puts your deep fryer right in your kitchen even if you're cooking up a storm. It can be a more efficient cooking equipment for those who love to entertain guests.
[su_row][su_column size="1/2″][su_list icon="icon: check" icon_color="#228B22″ class="posbox"]
Product Benefits
Lets you deep fry a large fowl right in your kitchen
Very simple to operate
Cleanups can be a breeze
Versatile and do more than just deep fry
Rated to be safe to use indoors
Strains debris and residue so it won't get into the drained oil
Will let you reuse cooking oil
Makes some of the tastiest deep-fried dishes
Heats up fast
Can be more convenient to use than traditional propane-powered cookers
[/su_list][/su_column]
[su_column size="1/2″][su_list icon="icon: warning" icon_color="#ff0000″ class="negbox"]
The Negative Things
Can release a lot of steam so make sure to use it in a well-ventilated area
Not everyone is a fan of deep fryers with submerged heating elements
Uses a large amount of electricity so using it with an ordinary extension cord might not be ideal
[/su_list][/su_column][/su_row]
FAQ – Frequently Asked Questions
Q: Can you fry fish in this?
A: Yes, you can.
 Q: How many wings can it fit?
A: About 9 to 10 lbs is a good estimate.
 Q: Can you brine your turkey before deep frying with this?
A: Yes, just make sure to dry it thoroughly before putting it in.
 Q: Is this product UL listed?
A: Yes, it's also CSA certified.
 Q: Will it make your house smell like fried food after use?
A: It depends on the size of your house and how well-ventilated your kitchen is.
Final Verdict
Convenience, efficiency, and ease of use are three things that only a few deep fryers can offer. All of these are noted in this 23011615 Butterball XL Electric Fryer review, so it's a good sign that this item is worth considering. Optimistically, this helps you determine whether this product is a good choice for you or not.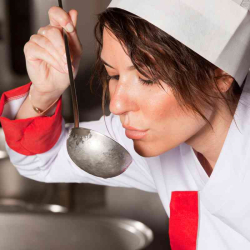 Latest posts by June Brandt
(see all)